A worldwide pandemic, technology and the ability to adapt on the fly have catapulted agriculture-based business into a new hybrid dimension that will likely continue.
In rapid succession, the agriculture workplace landscape morphed from a hands-on, in-person machine to one of virtual meetings, touchless billing and payment systems and greater demand for accessible and reliable internet services.
Why it matters: The way farmers interact with their organizations and suppliers could change as those groups change the ways their employees work.
While some businesses had not begun to entertain the flexible hybrid workplace concept, Syngenta was already training for the ironman of all work-from-home marathons – the pandemic.
"I do see the hybrid work environment is here to stay. That's not going to change," said Trevor Heck, president of Syngenta Canada. "It's going to be part of an employee value proposition. They're going to start to look for companies that have a work style, or work culture, that fits with them."
A recent study of Canadian workers by Robert Half, a global staffing firm, showed that a third of professionals would look for another job if they were forced to return to an office.
The transition to a flexible workspace offers remote working opportunities, good salaries and the option of advancement without requiring a significant life disruption, like transferring to a new city or province, said Heck.
Syngenta has found this to be the blueprint to luring non-agriculture-based talent from other sectors and into the company to fulfil expanding needs for digital platforms such as marketing tools, analytics, speciality software and even social media. The company is even finding scientists from outside of agriculture.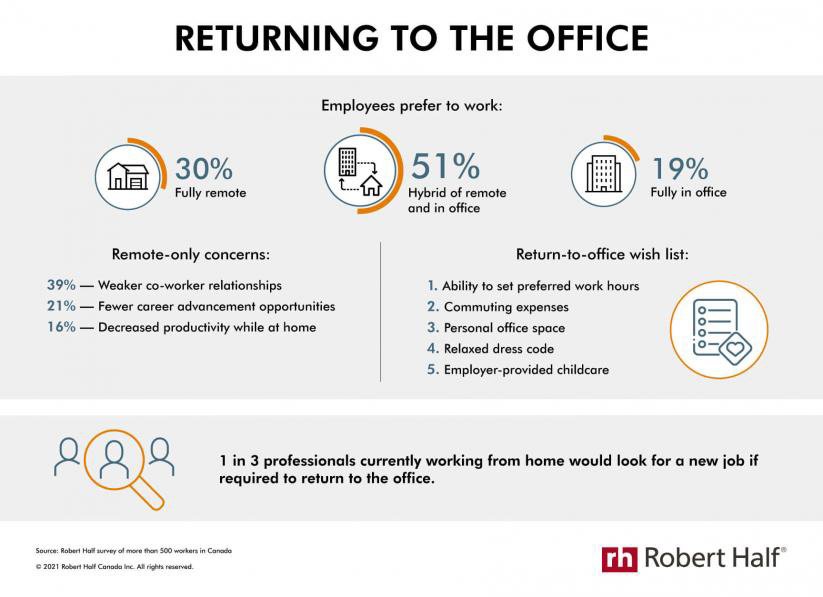 Managing the strains of new ways of working
The Ontario Federation of Agriculture, much like Syngenta, was already seeing the benefit of being digitally nimble when casting the talent net and had moved to a somewhat hybrid workflow for staff.
They didn't anticipate the mental health toll the pandemic would have as online meeting demands increased while face-to-face interactions decreased.
"There's a lot of incredible technology that everyone's been able to use – Teams and Zoom and webinars – which has allowed us to be really productive and stay connected in a lot of ways," said Cathy Lennon, OFA general manager. "But there's definitely fatigue associated with that as well."
Pre-pandemic, three meetings a day would be unheard of because of the travel time required. Now many in the agriculture industry juggle meetings from morning to night, she said.
"I see days where I, or members of our team, go from meeting to meeting to meeting because it's just a click away," she said. "I think the mental strain it's having is a significant impact across all sectors, but I can only speak to agriculture."
Despite the challenges, Lennon said the OFA saw increased levels of participation from members across the province in committees and annual general meetings.
Heck said a survey of knowledge workers revealed most want the flexibility of working remotely, but also the ability to connect with colleagues and clients in an office or community environment to develop personal connections.
"That's been one of the challenges during COVID is that those kinds of community connections and employee one-to-one connections have been disrupted," he said. "I think that's had a negative impact on people's work experience."
To address employee mental health, Syngenta joined the Canadian Mental Health Association's Not Myself Today program. They encourage employees to consider their mental health and to take breaks when needed to build long-term resilience for the pandemic.
"It's those kinds of elements that we're investing in because we feel that it's just part of the longterm resilience of employees," he said. "Even though people talk about productivity, in the end the last thing we want to do is see employees derail because we're not providing the support that we could be."
What does an agriculture hybrid office look like?
Post-pandemic, the OFA plans to capitalize on an in-person-virtual hybrid model for meetings to increase the diversity of input for the organization.
The new OFA offices in Guelph will employ a flexible hybrid working model, including face-to-face meetings, team brainstorming events and potentially host other online-only associations and organizations, like AgScape, with a brick-and-mortar facility for in-person events.
To address the shift to a home-based and hybrid-learning model of education adopted by most Ontario educators, AgScape relaunched its in-school programs as interactive digital experiences and virtual camps at the onset of the pandemic, said Taylor Selig, executive director of AgScape.
After assessing the viability of the work-from-home model for employees and the success of the digital programs reaching 5,000 educators, delivering 35,000 resources culminating in 400,000 student engagements, Selig said they decided to move to a virtual office.
"This shift also builds upon our sustainability goals and resilience as a non-profit organization," said Selig. "We are excited by the freedom and opportunity that moving to a virtual office environment permanently provides to us."
Selig said post-pandemic AgScape would return to in-classroom programming and continue to expand its geographic reach and impact through its online presence.
While agricultural businesses, organizations and programming have undergone significant technological evolutions, so have producers.
On-farm work has also changed
Keith Currie, first vice-president for the Canadian Federation of Agriculture, said agriculture had a good, steep learning experience over the last year on adapting to a touchless society.
The pandemic increased consumer market demand for local seasonal crops such as sweet corn, local produce and livestock products and the need for new and innovative online platforms where consumers could order, pay and organize product delivery or curbside pickup options.
The demand was so great, Currie, the OFA president at the time, spoke with Ontario agriculture minister Ernie Hardeman about funding for an agricultural-based online commerce program that many used to grow the direct marketing industry.
It also opened the industry to a whole new level of consumer engagement, said Currie. Producers could increase customer contact, capture an increased percentage of consumer dollars while providing good quality services and products online, said Currie.
"I think it's a positive way we can actually continue to build our consumer confidence and our public trust," he said. "And get more people out to our area to see our operations, talk to us about our operations and what we do. I think that'll go a long way in the public trust arena."