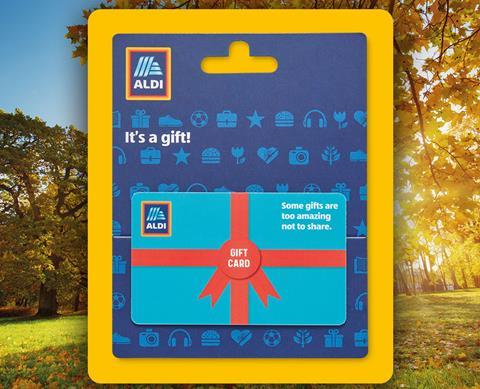 Aldi has launched gift cards for the first time in the UK, adding them next to the greetings card section in all 920 stores. 
It means customers can buy friends and family the 'gift of Aldi', this Christmas, up to a value of £500. 
Customers can activate the card and choose the value as they pay for their shopping. The plastic card can then be used to pay at the checkout, contact-free. 
"The Aldi gift card is the perfect present for any Aldi fan, whether it goes towards their food shopping or that must-have item from our Specialbuys aisle," said Julie Ashfield, Aldi MD of buying.
"We hope customers enjoy giving the gift of Aldi to their friends and family."
Despite the supply chain challenges disrupting the sector, Aldi UK CEO Giles Hurley recently said he expected the supermarket to have its "best Christmas range ever", this year.
"We're going to give customers the Christmas they really deserve," he said as Aldi announced its full-year results last week. "Whether that's our Belgian Chocolate and Caramel Thins or our 30-month aged British Christmas Pudding, British customers are going to have knockout in our stores this Christmas and it will be at a fraction of the price they pay elsewhere."
Hurley credited Aldi's "refined" range of just 2,000 products and predominantly British supply base for helping it keep stores stocked while rivals struggled.
On disruption experienced across retail to non-food imports from China – including Aldi's Specialbuys – he said: "We've been working very hard behind the scenes to try and ensure our customers are shielded from that and I think we've broadly achieved that and we're very happy with our plans for Christmas and what we've got coming in."
Source: www.thegrocer.co.uk