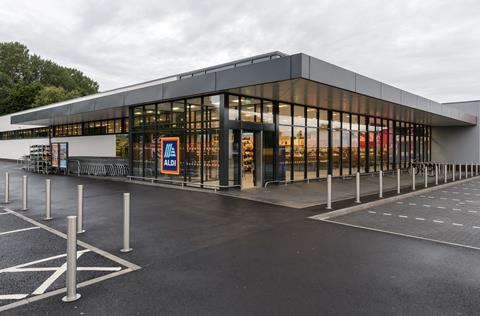 Aldi has been ranked the most hygienic of 10 major grocers in a study of Food Standards Agency ratings given to stores.
The research by Property Inspect, which makes software for monitoring an estate's cleanliness, found 99.7% of Aldi stores had achieved the maximum five stars in their latest FSA inspection.
Waitrose was second at 98.2% and M&S third at 96.7%. Co-op came bottom, with 88.6% of its stores having earned five stars.
However, the study also concluded hygiene levels across the 10 supermarkets were high, with only 0.9% of all their stores combined earning three stars or fewer.
In terms of ratings of three or below, Waitrose came top, with none of its stores earning fewer than four stars. 
"While big-name brands like these supermarket chains have generally high results across the majority of their stores, more can be done," said Property Inspect commercial director Warrick Swift.
"Given that a rating of three or below could lose a store as much as a third of its business, this is an issue where shoppers will vote with their feet."
The research did not include stores in Scotland, which is not covered by the FSA, nor branches awaiting a result or first inspection.
| Supermarket | Stores included in study | Number with five-star FSA rating | Number with FSA rating of three or below | Percentage with five-star rating | Percentage with three stars or fewer |
| --- | --- | --- | --- | --- | --- |
| Aldi | 744 | 742 | 1 | 99.73% | 0.13% |
| Waitrose | 341 | 335 | 0 | 98.24% | 0.00% |
| | 457 | 442 | 2 | 96.72% | 0.44% |
| Sainsbury's | 1225 | 1184 | 7 | 96.65% | 0.57% |
| | 726 | 692 | 5 | 95.32% | 0.69% |
| | 703 | 655 | 2 | 93.17% | 0.28% |
| | 2228 | 2061 | 9 | 92.50% | 0.40% |
| | 466 | 429 | 4 | 92.06% | 0.86% |
| | 530 | 475 | 11 | 89.62% | 2.08% |
| Co-op | 2369 | 2100 | 45 | 88.64% | 1.90% |
| Total | 9789 | 9115 | 86 | 93.11% | 0.88% |
 Source: Property Inspect
Source: www.thegrocer.co.uk