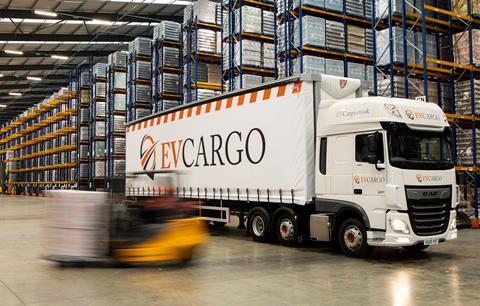 Logistics operator EVCL Chill was placed into administration on Saturday, with all operations having been transferred to key customers Asda and Sainsbury's or ceased, joint administrators PwC have confirmed.
The announcement follows rumours, reported by The Grocer last week, that the business was about to go out of business.
Helen Wheeler-Jones, Eddie Williams and Matthew Hammond of PwC were appointed as joint administrators of four limited companies: EVCL Chill Ltd, EVCL One Limited, EVCL Two Limited and EVCL Three Limited.
The accountancy firm said the administration did not affect the wider parent business EV Cargo Group, which continued to trade as normal.
The demise of the company, which had a turnover in excess of £167m last year, followed the pursuit of a "number of sale options", the administrators said. But while the business was cash generative last year, the loss of key customers and the impact of "acute driver shortages during 2021" on its fixed cost base had created "significant liquidity challenges".
"This has been a very difficult situation and involved intense discussions with key stakeholders on an accelerated basis to get to this position," said joint administrator Eddie Williams.
"As businesses move from survival mode to recovery, the financial climate is still very volatile," he added.
Headquartered in Alfreton, Derbyshire, EVCL Chill employed 1,092 full-time staff in warehouses and depots across the UK, including Daventry, Alfreton, Rochdale, Crick, Bristol, and Penrith.
The business operated 374 trucks and 432 trailers across its transport network, alongside more than 20,000 pallets of warehousing capacity, servicing blue chip food retailers and manufacturers nationwide, PwC said.
It added that 658 roles and "a number of services" had been transferred to its two key customers, Asda and Sainsbury's as part of their primary contractual arrangements.
This move "provides continuity for parts of EVCL Chill and those customers", the administrators said. However, the future remained more uncertain for the 434 staff who were not transferred, who would be met with today to update them on the administration process, they added.
As The Grocer reported last week, the transferral of some of EVCL's operations could cost its retail partners millions of pounds, according to one industry source, who suggested contracts with drivers and warehouse staff would need to be renegotiated. The result of this could mean having to pay out fully again to secure their services.
Questions also surround the future logistics operations of the many suppliers who contracted EVCL directly to deliver to the major supermarkets via secondary agreements.
The Grocer has heard that some suppliers were struggling to find other logistics providers with spare capacity due to the ongoing HGV driver crisis, meaning they would potentially have no route to market now and there could be potential shortages of some products in the mults over the coming days.
The collapse of EVCL Chill comes less than two years after its predecessor NFT Distribution Holdings was placed into administration by parent EV Cargo on 31 January 2020. Selected assets of the business were then acquired by EV Cargo in a pre-pack administration to create EV Cargo Logistics, which was renamed as EVCL Chill earlier this month.