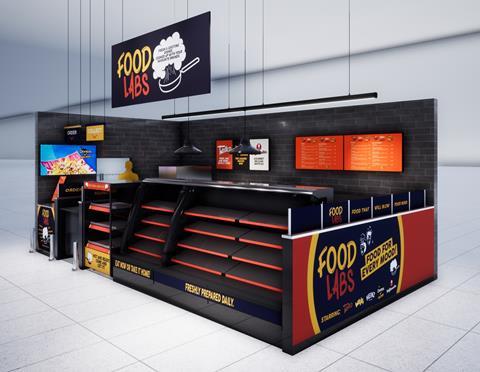 Asda has launched a five store trial of a new food to go concept, in partnership with Lean Kitchen Network (LKN).
The first of the new Food Labs counters has opened at Asda's Park Royal store, in London, offering a lunch and dinner food to go, with a breakfast offer to launch next year.
It is the latest in a series of trials Asda has conducted with food chains to utilise excess space in its stores since it announced a plan to build partnerships in 2020.
LKN has worked on the menu with the likes of Heinz, Doritos, Wotsits and Wafflemeister.
It also runs online restaurant Twisted London, which launched a trial with Asda a year ago that includes running the café at its store in Clapham Junction and offering click & collect orders and delivery on Uber Eats and Deliveroo.
Food Labs will also be launching via popular delivery platforms including Uber Eats in the coming weeks, to offer rapid delivery to the doorstep.
A further four sites are planned to open in the coming months, bringing LKN's menu and tech-driven food for now counters to Asda stores in Bexley, Edmonton, Watford and Colindale.
"Customers in our Clapham store have already embraced LKN's innovative menu that gives access to exciting dishes using iconic brands," said Helen Smale, senior buying manager of food for now at Asda.
 "We're confident that the concept in our Park Royal store will prove equally as popular, and make it even easier for customers to order in a number of ways. As we continue to work in partnership with LKN to trial new concepts, we hope to bring more intriguing collaborations to Asda customers."
Faraz Nagree, CEO and Founder of LKN, said: "We are thrilled to partner with Asda to share these innovative menus with customers across the UK.
"Expect exciting flavours, freshly prepared food and evolving brand partnerships showcasing the latest products at affordable prices."