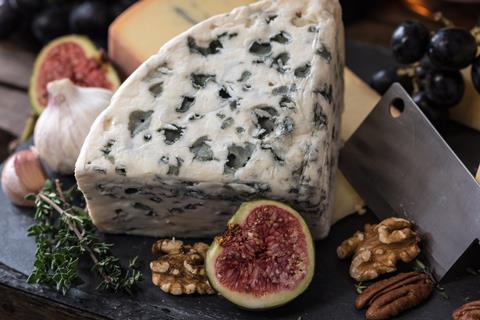 Asda has extended its line of softer, milder and more affordable blue cheese amid a fall in demand for traditional blues.
Stilton, roquefort and gorgonzola were all in decline as blue cheeses like montagnolo affine, cambozola and soft British regional varieties are on the rise, according to cheese supplier Elite Imports.
Asda saw a decline of nearly 100% in traditional stilton sales in 2021 compared to the previous year, and a rise in a preference for softer blues.
"Soft blue cheeses such as cambozola and montagnolo affine are becoming increasingly popular with younger cheese consumers who are less keen on the strength of traditional blue cheese like a roquefort or mature stilton," said James Waters, Asda's cheese product manager.
"These cheeses have the advantage of being mild and creamy in nature with an understated spiciness which melts in the mouth."
Supermarkets were now predicting a further 20% increase in sales this Christmas, Elite Imports said.
"Montagnolo affine and cambozola are blue cheeses for people who traditionally don't like strong blue cheese. Once you try them, you're hooked," said Catherine Duffy, marketing manager at Elite Imports.
The newer range also has the benefit of being cheaper than traditional blue cheeses, according to Waters.
"We're excited to launch these cheeses in our Christmas range this year as they're perfect on festive cheese boards or on a party graze table," he added.


Source: www.thegrocer.co.uk