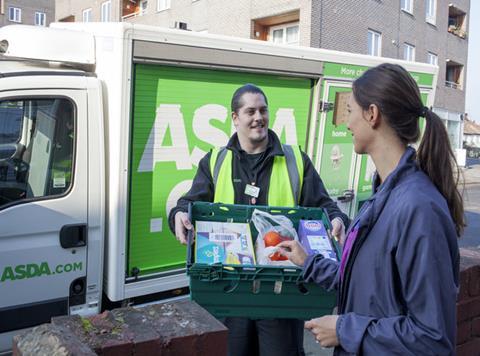 Asda is rolling out its one-hour delivery service to 91 more stores following a four-store trial in June which "exceeded expectations".
The 'Express Delivery' service gives customers access to the supermarket's full online range of 30,000 SKUs. Delivery is promised in 60 minutes if they live within a three-mile radius of a store offering the service, and order fewer than 70 items. Slots are charged at a flat rate of £8.50 with no minimum spend requirement.
Customers using the service can also track their order from the store to their door in real time.
The one-hour service was trialled at Asda's Halifax, Poole, Rotherham and St Matthews stores in the summer with the number of initial orders "higher than projected" the supermarket said.
The trial showed "there was a clear gap in the market for a speedy delivery service" said Simon Gregg, Asda's VP of online grocery.
Asda's big four rivals are ramping up the provision of speedier delivery options. Sainsbury's has revived and is expanding its one hour Chop Chop service, Tesco in May begun a trial of one-hour service Whoosh, while Morrisons customers have rapid delivery options from its partnership with Amazon and Deliveroo.
Few competing one-hour services offer a large supermarket's full range of SKUs however.
"As the only grocer to offer this service, we have seen a significant number of customers access this option, with slots regularly selling out at our pilot stores. We anticipate more demand for this flexible service now that many of our customers have returned to their place of work and children are back at school," Gregg added.
Gregg said Asda was always looking to "bolster its immediacy proposition to give customers more flexibility in how they shop". The retailer recently extended its rapid delivery partnership with Uber Eats to more than 300 stores, and earlier this year announced a trial of secure boxes installed at customer homes for unattended deliveries.
Source: www.thegrocer.co.uk