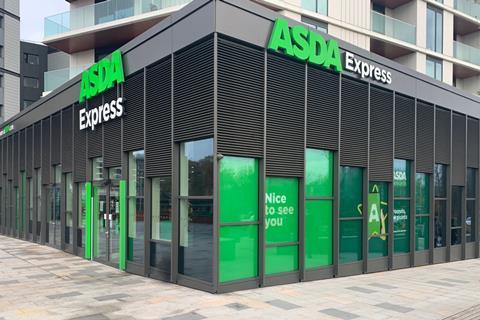 Asda is planning to open 300 Express stores by 2026, creating 10,000 new jobs.
Launching the second store this week in Tottenham Hale, Asda said the store network development marked its long-term growth strategy to become the UK's second-largest supermarket.
"Even though we are third-biggest superstore in the UK, there's still 25% of people who are only within a five-minute drive to an Asda," chief transformation officer Mark Simpson told The Grocer. "So there's still loads of opportunity to put the Asda proposition in front of lots of new customers."
Asda is looking to bring the Express concept and its value-led goods to more customers in convenient neighbourhood and residential settings, particularly in areas where there is not an Asda store nearby. London, for example, was a region where Asda was "massively underrepresented", said Simpson, posing a "huge opportunity" for the business.
With a range of 3,000 SKUs, each store is designed to cater for a broad range of customer needs, including top-up shops, food for now, and food for later.
These missions are accommodated with a range of fresh, ambient and chilled groceries, as well as products from Asda's premium Extra Special range and a selection of beers, wines and spirits.
Simpson explained that each store would be unique in a bid to tailor "the right proposition for the local area and demographic".
The Tottenham store, for example, leans more towards food to go and food for later given its position near a Tube station. There is also a dedicated world foods bay due to the "highly diverse area" in which it is located.
The first Asda Express, on the other hand, which opened on a housing estate in Sutton Coldfield last month, was designed to cater for more top-up shops.
In terms of growing the estate, Simpson said the business was open to all site acquisition opportunities, whether purpose-built or an existing site.
He added that it was crucial to maintain its "competitive pricing position", despite the traditional price gap between supermarkets and their convenience counterparts.
"There is a small price differential applied in store, but we're still significantly cheaper than our competitors," said Simpson. "We are the leading retailer from a price perspective in the UK, and our ambition is to be no different in this format."
Asda co-owner Mohsin Issa said: "A key part of our growth strategy is to provide customers with more opportunities to shop at Asda closer to where they live or work. With more than three quarters of the UK population visiting a convenience store in the last 12 months, the potential for growth in this market is significant.
"Our ambition is to become the convenience destination of choice by providing shoppers great value and a comprehensive and convenient range of products and services under one roof."
It comes as Asda recently opened its 67th Asda on the Move store in partnership with EG Group.