Energy use in the store model
Lighting
A 2018 study by UCL and Brunel University found UK supermarkets had "significantly improved" and reduced energy intensity in recent years. Reductions of up to 32% have been won in lighting, much of it through the use of LED lights. Iceland ploughed £8m into sales floor LED lighting in 2015, which has delivered a 50% cut in its lighting-related emissions. More recently, it has installed automatic light controls so only half are used when stores are closed to the public and none when security alarms are activated.
Refrigeration
Supermarkets use vast amount of energy on keeping everything chilled. But that energy use is falling, thanks to the advent of new technology. A 2018 analysis of 565 supermarket stores from one retailer in the UK found the amount of energy used by refrigeration had fallen by as much as 20% in the five years to 2017. Simple solutions work. M&S is using 'aerofoils' on open-fronted fridges, which guide cold air down more efficiently, thereby using potentially 30% less energy.
HVAC
To keep customers comfortable, supermarkets typically maintain a in-store temperature of between 18°C and 24°C. Air-con systems have to work against bakery ovens, open chillers, customer body heat, opening entry doors and the weather. Improvements are harder fought, with energy usage by supermarket HVAC systems falling only 8% in recent years. Tesco is using AI to fine-tune it's systems. "This will optimise our heating and air conditioning through predictive algorithms," the supermarket says.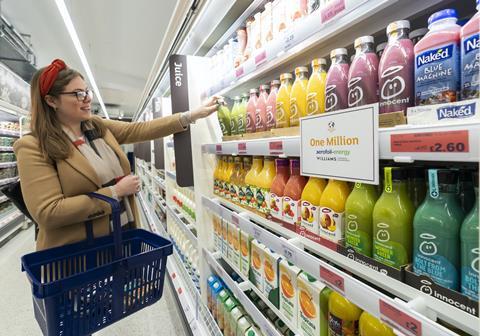 Customer vehicles
Close to a third of offline retail's carbon emissions are a result of customers individually driving from their homes to shops. The impact is more than double that of delivery vans, which make multiple deliveries, fulfilling the same amount of shopping. There are significant variables – like distance travelled. If they take public transport, walk or cycle, the emissions drop. But carrying a full basket is hardly desirable. Promisingly, Oliver Wyman predicts vehicle emissions will fall 30% by 2030.
Alternative energy
Many supermarkets are prioritising renewable energy sources. Some have gone all out on solar energy, in particular. Aldi has around 100,000 solar panels across 400 of its UK stores and all 11 distribution centres. On average, panels power around 10% of a store's electricity consumption each year, the discounter says. Meanwhile, M&S boasts one of the UK's largest panel arrays at its Castle Donington DC, while Tesco recently signed a deal for 15,000 solar panels to be installed on 17 of its stores.
Energy use in the online model
Delivery vans
Vehicle emissions are responsible for the most emissions in online operations. In Ocado's case, its fleet produces 73% of the company's total emissions (followed by electricity at 20%).
Ocado's proposed new Islington depot will use electric vans for customer deliveries as it works towards "operating the largest fleet of electric vans of any grocery retailer in the UK". Restocking the site will be done using only natural gas-powered LGVs, which are up to 65% lower in emissions than diesel LGVs.
Route optimising
The rise of online grocery has led to efficiencies thanks to the density of drop-offs that can be made by a single van. "The innovation that needs to happen, but won't," says Andy Needham, MD of online surplus retailer Approved Food, "is that supermarkets amalgamate deliveries so there is just one van visiting a street at any one time, instead of the current procession of an Asda van at one house, Sainsbury's two doors down at the same time and then Tesco turning up 20 minutes later."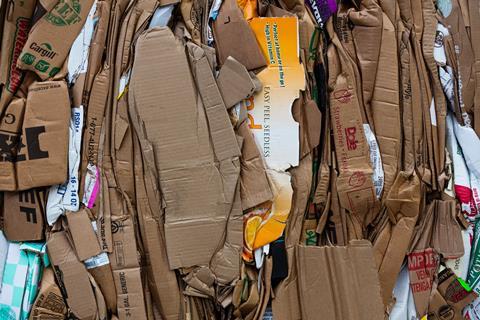 Packaging
Oliver Wyman found "over-packaging" of online orders represents 23% of total parcel weight in fashion, 10% in books, and 18% in consumer electronics. For online grocery, above product-level packaging is minimal. While the analysis considered the impact of carrier bags "marginal", online grocers have been confronting the problem. In April, Tesco removed the option for plastic bags and tray liners online. Meanwhile, Ocado operates a buy-back and recycling scheme for plastic carrier bags.
IT systems
The automated picking and packing systems used by online pure-players comes at considerable energy cost. According to Oliver Wyman, IT energy consumption amounts to 178g of CO2 equivalent emissions per product for e-commerce, totalling around a fifth of total emissions. Here physical retail – despite all the checkouts, scanners and control systems used in the space – is undoubtedly less impactful. In stores, IT emissions stand at 115g per product or 35% less than online.
CFCs
While huge grocery CFCs or 'dark stores' use less energy than stores, there are still improvements to be made. Major operators are joining the supermarkets in pursuing net-zero carbon targets. Logistics company Wincanton – which operates a CFC on behalf of Waitrose – this month launched a new environmental strategy that "will achieve its target to be net zero by 2040 across transport, property and waste". Under its plans, home deliveries will be net-zero carbon throughout its network by April 2022.