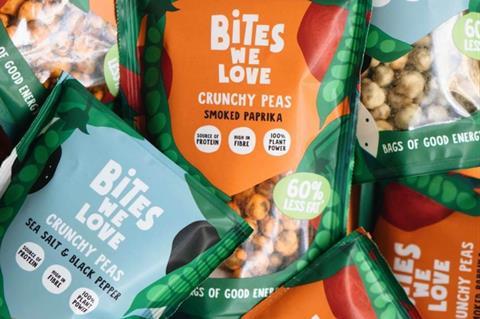 Dutch brand BitesWeLove has launched a trio of its Crunchy Peas snacks into Sainsbury's through the retailer's Future Brands initiative.
Its Sea Salt & Black Pepper, Smoked Paprika and Sour Cream & Jalapeño variants have rolled into 70 stores on an initial four-month trial period (rsp: £2.25/100g).
The seasoned roasted peas were "packed with flavour and goodness" and had the "perfect amount of crunch", said BitesWeLove.
They are vegan, high in fibre and contain "60% less fat than comparable vegetable snacks and crisps", it claimed.
The brand's core range would appeal to health-driven consumers and tap the growing demand for wholesome snacking options, it said.
BitesWeLove founder and director Marleen Basart said the UK retail listing was a "very big opportunity" for the brand, which launched in the Netherlands in 2015.
The UK on-the-go and savoury snacking markets were "a lot bigger" than those in the Netherlands, which would give the brand an opportunity to build a much larger customer base, she said.
"We wanted to launch in the UK since we started, it was our dream to do so," added co-director Liesbeth Gouwens.
The brand had worked hard to keep fats, salts and sugars in check during development in order to achieve an A-grade Nutri-Score on its savoury snacks, which is the gold standard for healthy brands in the Netherlands, said Gouwens.
This meant its existing products would avoid pending clampdowns on high HFSS products in the UK, she added.
The launch comes after Kantar data revealed that health needs drove 29.3% of snacking choices for Brits last year [52 w/e 21 February 2021].
A number of snacking brands are relaunching healthier versions of their products in a bid to escape the pending HFSS clampdowns.
Eat Real is reformulating its Sea Salt and Tomato & Basil Hummus Chips, reducing their salt content by more than 50%.
PepsiCo has overhauled its ricecake brand Snack a Jacks. Its reformulated Kickin' Sweet Chilli Crispies rolled out at the end of May and its HFSS-compliant Smooooth Caramel Jumbo Ricecakes land on shelves this month.