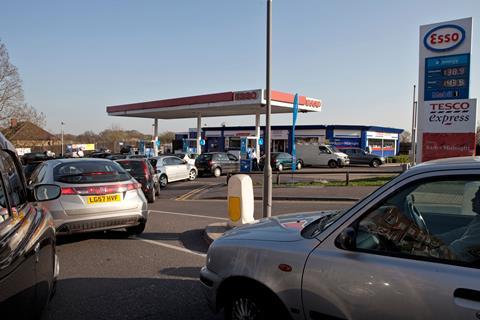 Boris Johnson is preparing to call in hundreds of troops to help deliver fuel as around half of small petrol stations across the country have run dry.
In order to alleviate the escalating fuel crisis, Johnson is considering using the army to bring petrol tankers to forecourts under emergency planning known as Operation Escalin.
The Petrol Retailers Association chairman Brian Madderson said 50%-85% of independent service stations are now out of fuel, according to a survey of its members on Sunday. 
EG Group was forced to begin rationing fuel on Saturday and placed a £30 cap on purchases across all its forecourts.
It comes after the government announced up to 5,000 visas will be available for foreign HGV drivers to help alleviate the current labour shortages. The scheme will allow EU nationals to work in the country until Christmas Eve.
The government was forced to U-turn on its strict immigration policy after a consumer-led fuel shortage hit the country over the weekend. The rush was sparked after BP told a government taskforce that a lack of drivers meant up to 100 service stations had been forced to close.
Andrew Opie, BRC director of food and sustainability, welcomed the move but warned the limit of 5,000 visas would be inadequate to tackle the current shortfall. "We urge the government to extend this programme, both in size and scope, to HGV drivers in all sectors of the retail industry."
James Bielby, CEO of the Federation of Wholesale Distributors, said the move is "too little, too late".
"An extra 5,000 HGV drivers might just do enough to keep pictures of panic buying for fuel at bay, it might help reduce the gaps on supermarket shelves, or keep the forecourts open, but it won't do much to reassure hundreds of thousands of restaurants, pubs and shops who are wondering what kind of Christmas they are going to be able to offer their customers."
Ian Wright, CEO of the Food and Drink Federation, welcomed the "pragmatic decision" to grant visas to HGV drivers but added "we need the government to continue to collaborate with industry and seek additional long term solutions."
Meanwhile, the government has also suspended competition laws in order to allow fuel companies to work together to tackle the crisis.