It was a mixed week for Morrisons. On the one hand, it lost its place as one of the big four to Aldi, overtaken by the discounter's relentless store opening programme (and equally relentless focus on price). On the other hand, it's promising to open "thousands" of Morrisons Daily convenience stores of its own.
The fact that Morrisons wholesale director Paul Dobson revealed the plans on the same day as Kantar reported Aldi's promotion is no doubt a coincidence, but it may also have been a welcome distraction from some of the negative headlines last week.
So how can Morrisons scale the Daily format up into the thousands, and what kind of time period is realistic?
There are currently 486 stores trading under the Morrisons Daily fascia across the UK and Channel Islands. That figure is made up of McColl's conversions, independent franchise partners including deals with the likes of Rontec, Harvest Energy and SandpiperCI, and its own Morrisons Daily stores located on petrol filling stations.
McColl's is the obvious starting point for upping that number. Morrisons is currently in discussion with the Competition & Markets Authority in a bid to avoid a full-scale phase 2 enquiry into its £190m takeover of the convenience chain, which entered administration in May.
At the time of the deal, McColl's had 1,160 stores. Of these, 270 had already been converted to Morrisons Daily and were the best-performing stores in the group. Before the business collapsed there had been a target to reach 450 conversions by November and the then McColl's leadership team had expressed confidence the eventual number that could be switched was even higher.
It seems Morrisons still harbours ambitions to convert more than 450 McColl's, but how many more would be suitable is still unclear. It is understood there are a number of loss-making McColl's stores, which Morrisons may look to offload. One convenience boss told The Grocer in May he estimated as many as 800 stores were "either in the wrong location or are the wrong size".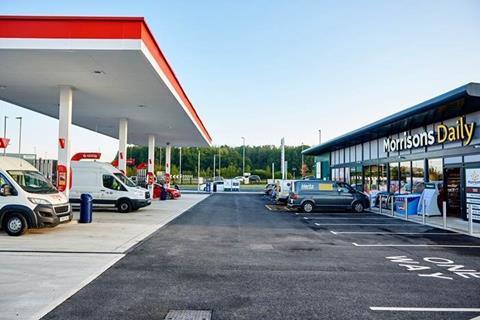 MFG
So, while converting more McColl's will play a role, it does not look like providing the turbo charge, in the short-term at least, to push Morrisons Daily into the thousands.
Another potential big win could be to look at Motor Fuel Group. The forecourt giant runs 925 sites and happens to share an owner with Morrisons in the form of private equity firm Clayton Dubilier & Rice. Its ownership of MFG was a key consideration for the CMA when it investigated CD&R's takeover of Morrisons last year, so it's reasonable to speculate that it may look to bring the two businesses closer together. Chucking MFG's sites into the mix would clearly take Morrisons a long way towards achieving its target.
"In addition to McColl's, MFG could offer a very considerable pool of forecourts that Morrisons Daily could immerse with," says Shore Capital analyst (and historic Morrisons broker) Clive Black.
"But we really need to see what CD&R's plans are with the MFG business. There has been periodic speculation that CD&R will be interested in selling MFG, and clearly, if MFG had new owners, we will be looking at potentially different strategies."
There is also, however, the fact that MFG has a seemingly successful relationship with Booker Retail Partners (BRP) as its main distribution partner. Any attempts to disrupt this to switch to a Morrisons supply arrangement could prove expensive and again is unlikely to happen overnight. However, as one convenience retailer says, "everything is for sale at the moment if the price is right".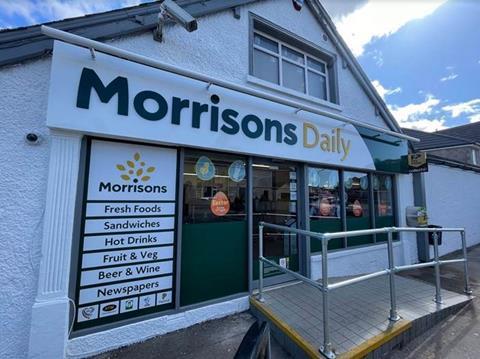 Independents
In the absence of a massive upscaling of McColl's conversions or a big deal with MFG, Morrisons will need to look at ramping up conversions to Daily with its existing partners and really accelerating its recruitment of independent retailers. It certainly isn't going to embark on a "very large, organic, capital expenditure programme, building hundreds of Morrisons Daily stores", argues Black. "It's more likely they will continue to work as a wholesaler and franchisor, seeking to work with store owners that are out there and building up the network that way."
Working with existing partners Rontec, Harvest Energy, Highland Fuels, MPK Garages and Sandpiper could provide a boost, but collectively their estates add up to just over 500 and these retailers currently have other partner relationships as well as Morrisons.
Wholesale supply continues to be extremely competitive, with not just the traditional large wholesalers vying for retailers but also major grocers Asda, Waitrose and Co-op.
There's no denying Morrisons Daily has been gaining plenty of interest with independents. It is already working with high-profile retailers such as Guy Warner, Harj Dhasee and Alex Kapadia. Kishor Patel, who confirmed he was leaving Nisa earlier this month, said Morrisons Daily was one of the options that appealed to him.
However, even allowing for this buzz, one wholesale expert said Morrisons "would do very well to recruit 80 in a year".
"The Morrisons Daily format is a proper franchise with a push model, and there are only a limited number of true indies that are willing to sign up to such an offer," he says. "Only large shops could even accommodate the push model.
"And, as the winter bites, many retailers will hold off store conversion and refits."
Another wholesaler adds: "Retailers are very loyal. Morrisons will win a chunk over but thousands will be very challenging or take a very long time."
A key to both attracting and maintaining these new retailers will be service levels. McColl's flagged up issues around availability in several of its trading updates following its switch to Morrisons supply in 2018. The supermarket giant revealed last week that high demand for its Daily format was driving a need to invest in its distribution capacity, which included the launch of a new depot in Wakefield in the summer. That depot is now servicing 200 stores, with another set to open this year in the Daventry area.
"Morrisons will need to conquer its infrastructure to succeed," says Filco Supermarkets MD Matthew Hunt.
Again, this is not something that happens overnight, but getting the backbone of a convenience supply network running efficiently could be the key to making expansion work.