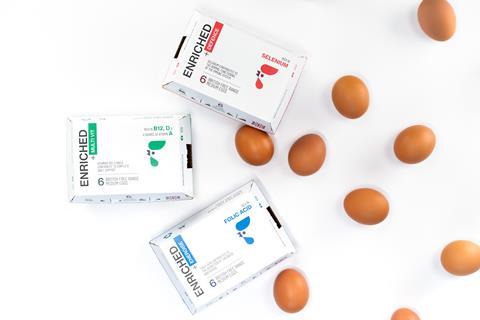 Stonegate Farmers, owner of the Clarence Court brand, has launched Enriched, a new range of eggs fortified with vitamins, into Sainsbury's stores.
Enriched (rsp; £1.99/six eggs) is on sale as of this month and is available in three variants; Energise, Defence and Multi Vit. The NPD offered shoppers a "wide range of benefits helping to reduce tiredness, support the immune system and provide daily support for both body and mind", the supplier said.
The different eggs are sourced from free-range hens fed on one of three enhanced, vitamin-enriched diets.
Energise eggs are rich in folic acid (B9) and two medium Energise eggs make up 36% of the recommended daily folic acid intake, according to the brand.
The Defence eggs are high in selenium, which supports the immune system and regulates metabolism. Stonegate stated that two medium Defence eggs made up 52% of a person's recommended daily selenium intake.
Meanwhile, the Multi Vit eggs are enriched with vitamins B12, D and A. Two medium Multi Vit eggs will make up 82% of the recommended daily intake of vitamin D and 266% of vitamin B12, the brand claims.
"Our free-range hens are fed a diet that is packed full of carefully selected nutrients and vitamins, which are then passed on to consumers through the eggs they produce," said Jay Painter, commercial executive at Enriched.
"Our goal with Enriched is to champion the power of healthy protein and provide a natural way for the public to improve their health through our delicious and nutritious eggs."


Source: www.thegrocer.co.uk