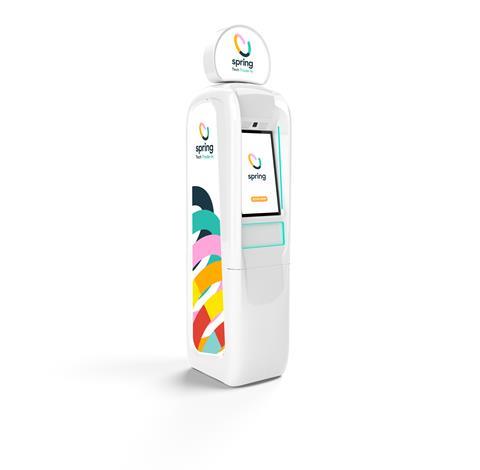 Co-op and Morrisons are rolling out in-store kiosks that allow shoppers to sell unwanted electronic devices including phones, tablets, e-readers and smart watches.
Customers enter details of the device on a touchscreen, drop it through a letterbox in the kiosk and are sent a quote within two to five days and, if accepted, payment for the item.
The kiosks are operated by Spring, which collects the devices, which "get repaired and put back into circulation". Where devices cannot be reused they are stripped of their precious metals – including gold, copper, aluminium, and steel – and recycled.
Spring – which accepts almost 12,000 devices – says no components will be "incinerated, sent to landfill or shipped overseas".
The service is initially launching in 20 Co-op stores in London with further locations in Manchester, Leeds, Brighton and Birmingham to follow. Morrisons locations are "coming soon" according to Spring.
Spring's plan is to work with other retailers and organisations to set-up more than 250 pods across the country in the next 12 months. Investors in the company include former Just Eat chief marketing officer Mat Braddy and former Sainsbury's CEO Justin King.
"Creating a circular economy is key to living more sustainably, that's why we're aiming to get almost 100,000 devices back into the world over the next year," said Spring co-founder Tom Williams.
"Spring makes it easy for both retailers and consumers to recirculate old tech, which not only puts money in their pockets but also has a major impact on the environment. Starting with Co-op, hundreds of Spring pods will be popping up at retailers around the country in the coming months," he added.
Latest government figures show the UK produced almost 1.6 million tonnes of e-waste in 2019, the equivalent of 23.9kg per person. The precious materials in those discarded devices every year in the UK are estimated to be worth more than £370m.
According to Spring, the average person owns 25 phones in their lifetime and there is an average of 20 old, unused small electronics in each UK household.
A 2019 consumer attitudes survey commissioned by Defra by Ipsos Mori has shown convenience plays a large factor in ensuring householders dispose of their unwanted electrical items properly, with 72% of consumers surveyed saying they would use collection points at supermarkets and shops.
"Our partnership with Spring will make it easy for consumers to recycle or reuse their electronic devices locally and prevent unnecessary waste," said Mark Matthews, Co-op director of innovation and format. "Making it easier for consumers to make small changes to their lives can add up to making a big difference for our environment."