The Brazilian EdenCoco Comercial Importadora e Exportadora has launched a new product in the coconut water market. It consists of a coconut of 400-500 grams, with an average circumference of 38 centimeters and a light brown colour, combined with an extremely accurate but easy-to-open system that keeps intact the sensory and microbiological properties of the coconut water, which is sterilized without the use of preservatives.
"The majority of coconut water currently on the market contains preservatives. Our product goes straight from the coconut tree to the consumer's palate. It is 100% natural coconut water, with no preservatives or additives added and the shelf life is thirty days. This is one of the factors that distinguishes us. Another aspect of our coconut water is that it comes in an elegant and modern design packaging that opens like an aluminium drink can," said Andre Cardella, CEO of EdenCoco Comercial Importadora e Exportadora Ltda.
"A stand ensures the stability of the coconut on any surface. Thanks to our biodegradable straw, included in the package, drinking our coconut water is effortless. It's healthy, practical and refreshing," said Cardella.
In addition to drinking the coconut water, the flesh can also be eaten. "We removed 70% of the shell of the coconut and placed a pull-ring on a semi-perforation, leaving the flesh intact. The nutritional properties and aroma are preserved in this way".
EdenCoco represents an exclusive product for Europe, as the supply of coconut water on the European continent comes from Asia. "The Asian coconut is not comparable to the Brazilian coconut. The latter is much more easily accepted on the European market, because the coconut water has a different taste and a denser flesh. The coconuts go through a strict selection process and are grown only on the best plantations in Brazil. They are supervised by professional agronomists who have proven themselves in the field of coconuts".
"Our packaging is modern, elegant and innovative. This makes it ideal for consumption on any occasion. It can be used to make drinks and cocktails and as a refreshing drink after workout. Of course, it can also be consumed at breakfast or lunch or during a break at work. EdenCoco is a very good way to ingest nutrients and minerals," said Cardella.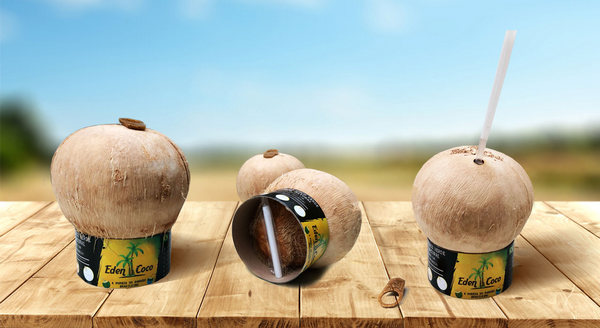 The demand for natural coconut water has grown recently because it is a healthy alternative. "It is conquering markets such as the United States, and if we consider that 80% of the coconut water on the European market is industrialized, we see in EdenCoco a unique, promising and profitable opportunity".
EdenCoco is willing to send trial packaging to its European customers so that the product can raise appreciation and awareness and establish consolidated customer relationships.