New location part of Costco expansion plan, with additional
Business Centres planned to open across Canada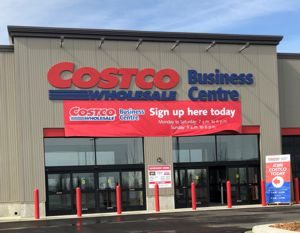 Edmonton, AB – Costco Wholesale opened its fourth Canadian Business Centre today, located at 10310 – 186 Street NW in Edmonton. The 127,000-square-foot facility has created 140 local jobs and unprecedented convenience for local businesses.
This new Business Centre is the fourth of its kind in Canada and follows the success of the Business Centres launched in Scarborough, Ontario in March 2017, Saint-Hubert, Quebec in September 2020, and Ottawa, Ontario last month. It is part of a Costco national expansion plan, with additional Costco Business Centre locations planned to open across Canada.
Open to ALL Costco members, the Business Centre concept is vastly different from the traditional Costco warehouse, with more than 70 per cent of the product offerings unique to the Business Centre and targeted to meet the needs of businesses of all sizes.
The new Edmonton Costco Business Centre offers more than 3,200 high-quality items, targeted at restaurants, convenience/grocery stores and offices – from bulk food items to commercial kitchen wares and cleaning supplies, to office furniture, coffee needs and everything in between. Examples include 16-litre canola oil, a variety of large format flours and sugars (up to 25 kilograms), full size 36-kilogram Parmigiano wheels, 10-kilogram jars of peanut butter and 18.9-litre maple syrup. Other exclusive items range from commercial meat slicers, mixers and food processors.
Business owners will find the same items available both in store and online by visiting Costcobusinesscentre.ca.  With business-friendly hours of Monday to Saturday from 7 a.m. to 6 p.m., and Sunday from 9 a.m. to 6 p.m business owners can shop at their convenience. With its own fleet of trucks, the Costco Business Centre offers next-business-day delivery to addresses inside of a delivery zone extending across the Edmonton area.
"We are thrilled to open our doors and offer this new service, which will better respond to the needs of local business owners," said Marc-André Bally, Vice President of Business Centres and Ancillary Businesses, Costco Wholesale Canada. "The Costco Business Centre concept is already a success in Ontario and Quebec, and we look forward to offering the same benefits to businesses in Alberta. Which we hope will bring many new consumers to discover the benefits of a Costco membership."
"Congratulations to the Costco Wholesale Canada team on the opening of their fourth Canadian Business Centre in Canada – the first in Edmonton," said Edmonton Mayor Don Iveson. "Not only will the new centre create 140 local jobs, but it will also, importantly, help meet the needs of residents and local business owners who are looking for the convenience this 'one-stop shop' provides."
"Costco members will find our product offering to be unique, while always offering great value," said Tom Benko, Warehouse Manager of the new location. "This convenient and spacious location will present a vastly different selection of business merchandise – at prices that only Costco Wholesale can offer and with the added bonus of white-glove, next-business day delivery service."
Costco Wholesale Business Centres are open to ALL Costco members. The annual fee is $60 for a Business Membership or $60 for a Gold Star Membership. All Costco Wholesale memberships include a FREE Household card and are valid at all Costco locations around the world.
Executive Membership
At an annual fee of $120 per year, Costco also offers an enhanced Executive Membership that includes a 2% reward (up to $1,000 annually) on all qualifying Costco purchases and a FREE Household card.  Those who choose the Executive Membership option receive exclusive merchandise offers, as well as special incentives on Payment Processing, Travel Insurance, Portable and Self-storage, and more.
About Costco Wholesale
Costco Wholesale currently operates 804 warehouses worldwide and 104 warehouses across Canada.  The first Canadian Costco Wholesale location opened in Burnaby, BC in October 1985, while the first Ontario location opened in Ottawa in 1991.
Costco Wholesale employs over 40,000 people in Canada with more than 14,500 in Ontario. Its Canadian head office is located at 415 West Hunt Club Road in Ottawa.
Revenues from corporate sales for the fiscal year ending August 30, 2020, were of $163.2 billion (US) (COST – NASDAQ).