Glacier FarmMedia – To monetize carbon sequestration, farmers must prove they are doing it. That means data, tracked over time.
From a soil science perspective, the benefits of carbon in terms of fertility and microbiology are well known, said Sam Duncan, chief executive officer of FarmLab in Armidale, Australia. It's the reason soil carbon levels are often included among the nutrient and other data in reports farmers get from annual soil tests and recommendations from their agronomists.
Why it matters: Having quick access to data that can be automatically analyzed can make more efficient use of potential carbon programs.
"But those test reports weren't being digitized," Duncan said. "You'd get a pdf or spreadsheet, basically read the agronomist's report, then stick it in the top drawer."
Duncan and his friend Shahriar Jamshidi saw an opportunity. In 2016, they launched FarmLab.
"The hypothesis was that if you could take a series of these reports going back in time and show the farmer the changes in soil carbon, they could link that back themselves to management practices."
This knowledge can be used immediately to inform farmers' decisions on inputs, but it also becomes the foundation for another potential revenue stream. By tracking soil data over time, they can prove their production practices are indeed sequestering carbon, which could allow them to enter carbon markets.
FarmLab is designed to allow farmers to easily do this. The company works with partner labs to directly provide soil testing to producers, with results mapped onto farmers' fields using publicly available GIS data. The whole package is loaded onto the cloud to put it at the farmer's fingertips from anywhere via a laptop or a smartphone app.
Duncan said the approach also leverages the deep local expertise of farmers themselves.
"The name FarmLab — we think every farmer is a scientist and every farm is a lab," he said. "The name goes beyond simply connecting farmers with soil testing labs."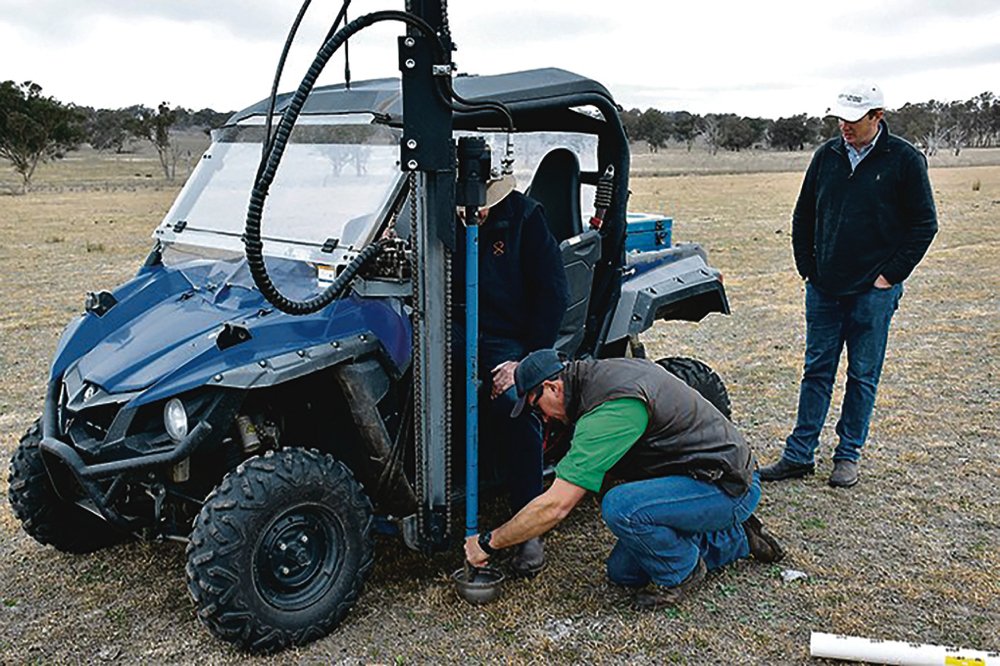 The company is also working at the innovation edge as part of the AUS$1.1 million Soil Tech Project at the University of Sydney. Started in 2018, the three-year project aims to translate existing soil science data into half a dozen digital soil management tools. FarmLab released its contributions for public use in 2019 and into 2020.
While tools such as FarmLab can get farmers closer to cashing in on carbon, Duncan said there are significant hurdles. Australia's carbon credit trading program has strict protocols on how and how many soil samples are taken, how they are analyzed and who is taking the samples. Getting into the market can mean spending AUS$50,000 to $100,000 — an investment that may not pay off for 10 years.
Searching for alternatives, Duncan and his colleagues looked at farmers working in regenerative agriculture. They found Land to Market, an international program that encourages practices that restore degraded land.
Soil stewardship is only one of the criteria used for a farm to achieve Land to Market verification. Once this is done, farm products get a stamp of approval that is worth a premium to consumers and to large food manufacturers.
"We firmly believe we can help and support these farmers to adopt these verification processes, but also be rewarded in the market," Duncan said. "So where in the carbon credit space you're rewarded for producing credits and you can sell the credits, in a market sense you get a premium for your products."
This approach makes it easier for farmers to participate, and indeed makes it possible to extend the initiative into the developing world. Duncan said about half a million of the world's 570 million farmers are smallholders working 2.5 acres or less.
They've set a lofty goal: recruit a million farmers and equip them with the tools to sequester a billion tons of carbon.
"So our focus then, with this initiative, is to take this to manufacturers with the people on the ground to support these smaller landholders ultimately to make sustainable choices," he said.
In the short term, FarmLab is busy recruiting 10,000 users for its system. The company encourages farmers to store their data on their system without cost, so they can capture value from their carbon sequestering practices when they're ready to subscribe to the service.
FarmLab makes use of public data sets put out by the Australian government and is looking for similar resources to expand.
"They really help with the soil management piece and that's the only thing we don't have in North America," Duncan said.
To fill this and other gaps, the company is reaching out to partners in other countries, such as the Kiss the Ground soil stewardship organization in various American soil testing labs. They are also exploring collaboration with Olds College and its Smart Farm in Alberta. This is part of its strategy to adapt FarmLab's offerings for Canada, tapping Canadian experience and expertise.
"Farmers want to know who they are dealing with, and we like to know who our clients are as well."
This article was originally published at The Western Producer.