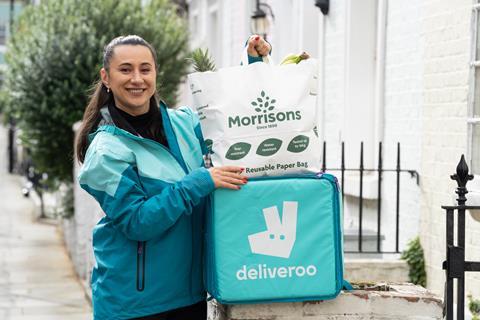 Deliveroo has launched a rapid grocery delivery service, Deliveroo Hop. The service will operate from dark stores and promises delivery to customers "in as little as 10 minutes".
The first Deliveroo Hop dark store launches today in central London, serving residents in Vauxhall and Battersea.
It offers a range of 2,000 items, including wines, ready meals and snacks, as well as fresh meat and fish. Deliveroo has partnered with Morrisons to serve as wholesaler for the dark store, providing branded and own-label goods, including from its The Best and Market Street ranges.
Deliveroo Hop is the courier company's first move to compete with spate of rapid delivery grocery players like Getir, Jiffy and Weezy, which are fast expanding across London and beyond.
The speed of delivery – typically under 10 minutes – offered by the new on-demand grocery players had left Deliveroo's grocery offering – with delivery times of 35 minutes or less – looking sluggish in comparison.
"Deliveroo Hop will enhance our on-demand grocery offering for both consumers and our grocery partners," said Deliveroo CEO and founder Will Shu.
The company said the new rapid service complemented Deliveroo's existing grocery offer, which delivers from around 4,600 grocery stores across the UK.
Deliveroo today said Hop would offer an "even better consumer experience". "Grocery management technology" would enable real-time inventory control and "eliminate the need for substitutions" while "leading warehouse management technology, combined with Deliveroo's world-renowned logistics algorithms" and its large network of riders would ensure the 10-minute delivery time, Deliveroo said.
Deliveroo founder Shu's enthusiasm for rapid grocery delivery is no secret. Last month he told analysts that "elements of the dark store model make a lot of sense".
"On the inventory management side, having a dark store with high levels of precision is critical to preventing issues like stock outs," he said at Deliveroo's half-year results in August.
"And because you're in a dark store the pick and pack is more streamlined and faster. From a consumer perspective the proposition is really good. Overall that stuff makes a lot of sense," said Shu, who admitted to trying all of the London-based on-demand brands.
Deliveroo Hop will offer some users a £10 discount for their first order as well as rewards for the most loyal customers throughout the launch period.
Morrisons has partnered with Deliveroo since March 2020 and has more than 320 of its stores offering delivery via the platform. The Hop partnership comes as the supermarket is axing store picking from 50 stores as it adapts to the easing of online demand.
Morrisons CEO David Potts said: "The rapid delivery grocery sector is developing quickly and is highly valued by customers. 
"The launch of Deliveroo Hop represents another key moment, enabling customers to choose from a wide selection of groceries from Morrisons and have them delivered by Deliveroo in as little as 10 minutes."