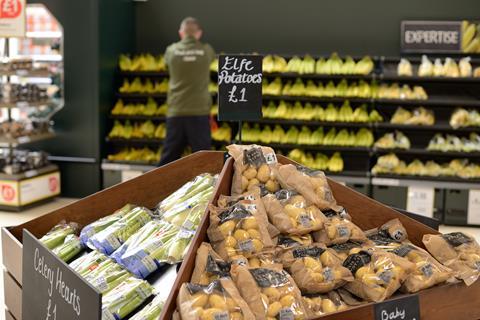 Henry's Dimbleby's plan to boost fresh fruit & veg intake risks increasing food waste by 600,000 tonnes a year, according to experts at Wrap.
The organisation told The Grocer that while it backed Dimbleby's move for healthier and more sustainable food, as well as greater transparency, there was a threat of huge "unintended consequences" because of the British propensity to waste fresh food.
Dimbleby's National Food Strategy report called, among other measures, for a £3.4bn wave of taxes on sugar and salt. He said part of the funds raised from this should be ploughed back into a Community Eatwell scheme, under which GPs would prescribe fruit & veg to those at greatest risk.
The food tsar also proposed other measures to make fruit & veg more affordable and said he wanted to shift purchases away from junk food by making it more expensive.
However, Andrew Parry, Wrap special adviser on food waste, told The Grocer it had serious concerns about the plans, despite supporting the overall direction of the report.
"We support the move to a healthy, sustainable diet but government policies need to support people to ensure it doesn't increase food waste," he said. 
"What Dimbleby and his team said is we all need to be eating more fresh fruit & veg and a bit less meat.
"But because fresh fruit & veg is more perishable we've estimated that unless people are helped not to waste food, the result of those changes to the UK diet could result in an extra 600,000 tonnes of food waste as an unintended consequence of trying to shift our diets."
Parry said it was vital if the government accepted the recommendations that it launched new education programmes in school and that adults were targeted with the latest information on food storage and how to prevent waste. 
Speaking with The Grocer this week, Dimbleby said he did not believe his proposals inevitably meant a boom in food waste, but said if it came to a trade-off between waste and healthier diets it would still be worth pressing ahead.
"My proposals for a 30% increase in fruit & veg consumption are about changing diets and consumption, they are not aimed at production. Yes, I suppose if supermarkets started giving away free brussels with all purchases or something like that it could see levels of waste go up.
"But if you say to me the only way we can increase fruit & veg consumption is by wasting more, I would say let's discuss the trade-offs. It might even be worth it."