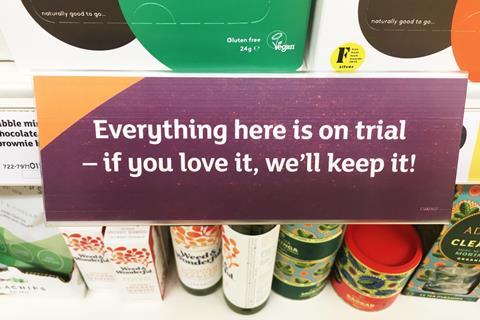 Are retailers serious about innovation? Do they truly want to step-change their ranges to offer more new, different and interesting products catering to the needs of shoppers, or do they just want to tick the 'future brands' box because they're four years behind Sainsbury's?
We hear at every IGD conference that anywhere between 50% and 75% of growth will come from products that retailers don't currently stock. This comes at the same time as the current scale incumbents reduce innovation, moving to pan-European and global models to cut costs.
In October 2019, Young Foodies launched a campaign called 'Rise to the Challenger', calling on all stakeholders across the industry to make a change to their business to work better with SMEs. Why? Because countless reports have shown SMEs add value back onto the shelves – they deliver authenticity, closeness to the consumer, newness and often deliver on health and environmental benefits. It's fair to say we need them badly right now, particularly with profitability challenges and commitments on COP26 and HFSS.
Sainsbury's realised this early, being the first to launch a scheme for challengers called Future Brands. It was heavily invested in from the start, with significant board buy-in. While the team would be the first to say it's not perfect, reports show it has delivered >50% incrementality and clear margin accretion to category. Hence they continue to grow the team and invest further in it, with a real sense of purpose.
As for the rest of the retailers? Late to the party, Morrisons, Asda and Co-op have launched their 'incubator' programmes for local, regional and challenger SMEs. Morrisons called it 'Growing British Brands', Asda called its 'Nurture' and Co-op has partnered with one of the discovery platforms. However, I have to say we despaired a little when we looked under the bonnets of these programmes.
Every new programme focuses on creating a better way to 'discover' new brands, as if that has ever been the real challenge. Buyers receive hundreds of emails every week from new brands or regarding new products, and they can visit countless trade shows or go online. Finding innovation is the easy part.
The art has always been in what happens next, which only Sainsbury's appears to have considered: dealing with the volume, the assessment of good vs bad, finding time to meet the brands, the costs of setting up new suppliers on the systems, supply chain structuring, commercial negotiations and ongoing account management and supply.
For buyers, there's pulling together these brands in cohesive shopper first activations, the KPIs demanding SKU and supplier rationalisation, the disconnect between less experienced buyers and senior commercial and category leaders running the strategy. There are not enough hours in the day to deal with existing 'fewer, bigger, better' suppliers, let alone 'best for new'.
All this being said, it's no surprise buyers roll their eyes when I ask how the new initiatives are going. Despite the best intentions of teams behind them, the latest discovery-only programmes have just increased the overwhelmed feeling in already overwhelmed retail teams. As for the brands, our recent SME poll shows our hypothesis is correct: other than Sainsbury's, most brands say the latest programmes have had no impact for them.
So what needs to change to make meaningful strides forward in both branded and own-label innovation? Programmes should be truly end to end, starting with discovery and finishing with ongoing supply. Buyers should be deeply involved but heavily supported by individuals who understand their strategies and know the SME landscape well. This needs commitment – senior sponsorship, scale ambition and time.
The q-commerce players have taken a braver approach. Since partnering with Young Foodies on innovation, GoPuff has moved up the ranks to be voted the easiest retailer to work with by SMEs according to a recent poll, and the partnership has led to a 1,000% increase in new brands on shelf over the course of eight weeks. Win-win-win is possible.
Retailers truly can transform the innovation landscape for own-label and branded products. They can deliver margin accretion and true incrementality and it can be delivered at scale to fit the fewer, bigger, better model of the modern retailer. But retailers must be pragmatic about the investment needed to make this vision happen.