Dole has been a council member of the China International Import Expo for three years already. The bright and sunny stand of Dole always stands out among the wide variety of stands with unique regional products. This year the expo welcomed another exceptional stand. Dole and Disney Shanghai worked together to display their new initiative: custom-made blueberry gift boxes.
This year Dole presented a brand new image with 53 kinds of fruit and vegetables from 13 different countries, including sweet bananas from the Philippines, blueberries from Chile, and Belgian pears. Dole also introduced 9 new products, including Dole avocados from the Philippines, red dragon fruit, baby pumpkin, cluster tomatoes, sliced Dole pineapple, Dole seedless sweet pomegranate, red jackfruit, freshly-sliced creamy Dole pears, and Brazilian muskmelons. Dole has made every effort to display a wide variety of products and satisfy diverse consumer demand.
Dole and Disney Shanghai collaborate to promote custom-made blueberry gift boxes
Dole first began to sell blueberries in 2017. Their main suppliers are located in Peru, Chile, and China, in particular production areas in Shandong, Liaoning, and Yunnan. The weather conditions in these production areas are very suitable for the production of blueberries. The blueberries inside the custom-made gift boxes come from Peru. The production season there begins in September and continues until January in the subsequent year. Five months is relatively short for a blueberry production season, but this region has abundant sunshine and a dry climate with only 12 degrees difference between the beginning and the end of the season. This is extremely suitable for the accumulation of sugars in blueberries.
The blueberries are handpicked to avoid bruising the individual berries. They are then pre-cooled before going through the selection and packaging process. Once the blueberries are placed in boxes, they are immediately stored in refrigerated warehouses to keep the fruit fresh. The core temperature of these blueberries is brought down to around 1 degree Celsius.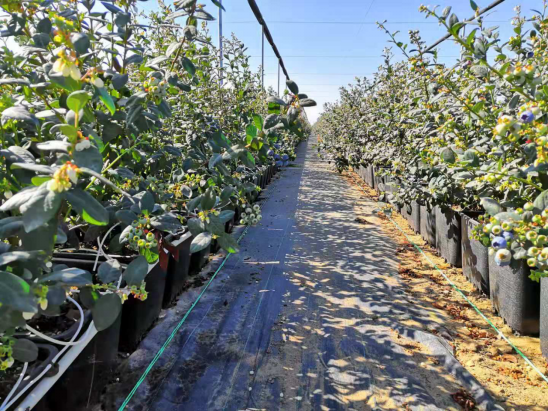 Blueberry plantation in Peru
One aspect of the custom-made blueberry gift boxes immediately stands out. Dole created a new image through the combination of their own logo with the beloved Disney couple Mickey and Minnie Mouse. The appearance of Mickey and Minnie Mouse gives the custom-made gift box an open and cheerful feeling that works particularly well with the fresh and healthy Dole blueberries. Furthermore, Mickey and Minnie Mouse celebrate their anniversary in November, which makes this gift box even more festive for the consumers in China.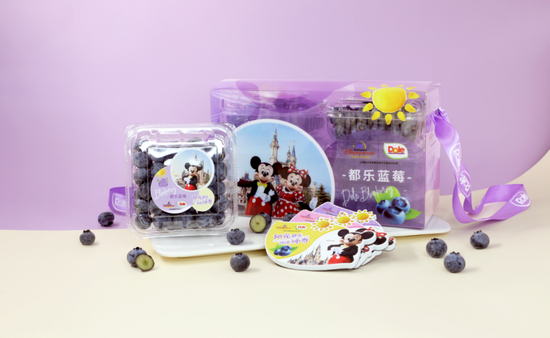 Mickey and Minnie Mouse blueberries with complimentary refrigerator magnet
This delicate and fashionable gift box also includes a Mickey and Minnie Mouse themed refrigerator magnet. The custom-made gift box therefore makes an excellent ambassador for Disneyland in Shanghai. The combination of fresh, top-quality blueberries and the cheerful Disney couple perfectly represents the welcoming spirit of Disneyland Shanghai, and brings this spirit to every customer who receives a custom-made Dole and Disney Shanghai blueberry gift box.
Source: sh.sina.com.cn