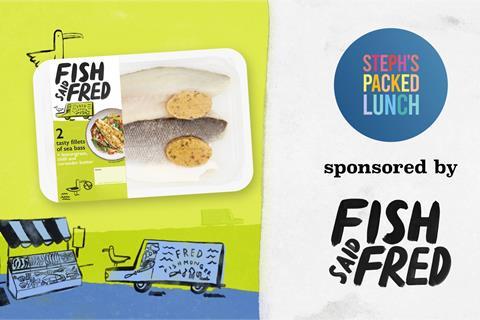 Fish Said Fred is marking a successful first year on the market with major supermarket listings and a TV sponsorship deal.
The chilled fish brand has rolled Whole Sea Bass, Whole Sea Bream, Pesto Crusted Seabass, Big Fillets of Sea Bass and Big Fillets of Cod into 200 Sainsbury's stores – adding to its listings with several leading grocers, including Tesco and Asda.
At the same time, Tesco has expanded its Fish Said Fred offer from three to five lines, with the addition of Sea Bream Fillets and Cod Fillets.
The brand has also unveiled a "heavyweight" TV sponsorship deal with the live Channel 4 programme 'Steph's Packed Lunch'. The 14-week push – Fish Said Fred's small screen debut – features product placement during the newly created, weekly 'Fish Friday' segment, as well as co-branded idents throughout each weekday show.
The aim was "to reach families and capitalise on Channel 4's strong reputation for much-loved food programming" said the brand.
It comes after Surrey's New England Seafood International (NESI) launched Fish Said Fred in June 2020 – "developed with familiarity, accessibility and simplicity in mind". Initially, four premium, responsibly sourced SKUs rolled into Ocado.
The brand soon expanded to 13 products, including Wild Keta Salmon Fillets and Smoked Haddock Fillets, and won listings with Tesco, Asda, Waitrose, Planet Organic and Wholefoods Market.
In its first year, Fish Said Fred, which was named after NESI founder Fred Stroyan, achieved retail sales of £5m, having sold around 1.1 million units in a chilled fish category dominated by own label.
The brand's latest listings and TV deal marked "a new milestone for NESI and Fish Said Fred, as we seek to make our brand more available and more visible to UK consumers, and inspire them to enjoy more delicious, healthy and sustainable seafood" said Lisa Cowell, NESI head of brand. "We want to make fish more accessible and less scary to people."