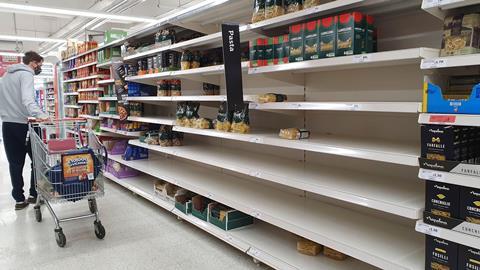 Food shortages cost the big four supermarkets more than £2bn in lost sales during the first nine months of the year, new analysis has revealed.
Out-of-stock levels at Tesco, Sainsbury's, Asda and Morrisons are now twice as high as before the pandemic, according to Nielsen.
The cost of lost sales to retailers could increase further in the coming months, as availability is increasingly strained by Christmas purchasing as well as fuel and labour shortages.
Supermarkets have already deprioritised certain bulky items such as bottled water to ensure continuity of supply in other categories, and this prioritisation will likely have to escalate as Christmas moves closer, said Ben Morrison, retailer services director at NielsenIQ.
"It's whether it will be retailers prioritising categories or suppliers prioritising retailers," he said.
Supermarkets also face a quandary over promotions. The big four retailers kept promotions at around 20% in September – still below pre-pandemic levels. Halloween and Christmas would typically see promotions rise, however with stock levels already under pressure, there are questions as to whether supermarkets can afford to ramp it up any further.
"Will retailers have the bandwidth to be able to run all their biggest promotions?" questioned Morrison. "They want the volume but need to make sure they can fulfil it."
Shopper visits to stores are showing signs of recovery, with 45 million extra trips in September compared to the same period in 2020, Nielsen data shows. Yet footfall remains down 6% on the same period in 2019.
Online volumes remain stable and more shoppers than ever are expected to order for Christmas online. But high-profile shortages of CO2 and fuel shortages in recent weeks could trigger changes to shopping patterns and drive more shoppers into stores, suggested Morrison.
"If you're not sure whether your turkey is going to be in your order, if it might be substituted for a replacement, then you might want to go into store and get your hands physically on an item."
Availability shortfalls are the result of a combination of production issues – namely labour and commodity shortages – as well as logistical challenges and in-store replenishment difficulties caused by higher purchase volumes, greater peaks and troughs in demand, and increased in-store picking for online deliveries.
At the big four supermarkets, soft drinks are worst affected with availability slumping to below 90% in September, according to Nielsen. "That's quite crazy for the UK," said Morrison, with availability usually hovering around 98.5%.
The big four's dairy availability fell below 95% in August but has now recovered. The data does not include fruit and vegetables or meat, fish and poultry.