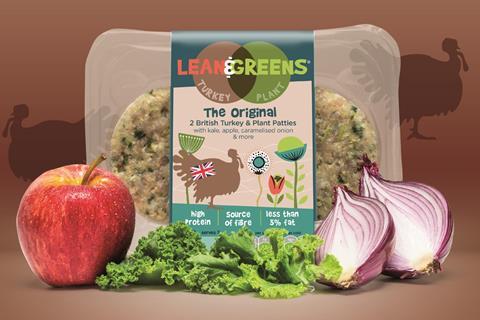 A new 'flexitarian' range of burgers, sausages and meatballs aimed at meat reducers and 'conscious shoppers' has been unveiled by Highland Food Group subsidiary Lean & Greens.
The six-strong lineup, which made its debut in Tesco last week, has launched under the retailer's Incubator programme, which counts Bol, Fever-Tree and Deliciously Ella among the brands it has previously helped find a footing in the industry.
Said to combine lean British meat, green plants and vegetables, grains and pulses including quinoa, kale, spinach, chickpeas, butternut squash, red kidney and cannellini beans, the new range starts from £2.50 (rsp).
The range includes The Original turkey and plant patties; The Mediterranean chicken and plant patties; The Italian chicken and plant meatballs; The Moroccan venison and plant meatballs; The Mexican chicken and plant sausages and The American turkey and plant sausages.
Consumer research by Lean & Greens found most people were reluctant to move to a completely vegetarian or vegan diet but were looking for healthier alternatives to meat.
"The truth is that only 5% who take up a non-meat diet can stick to it after one year, so the opportunity is there to develop inspirational products to satisfy meat reducers," said Euan Ross, sales and marketing manager at Lean & Greens.
"We balance lean British meat with what we like to call super greens plant protein and do so by combining bold flavours from around the world to create products that offer a fantastic alternative to a completely plant or meat-centred item. It's a great 50/50 option for those looking to reduce their meat consumption and boost veg intake in one go." 
The range comes as Tesco refreshes its own-label Meat & Veg range of burgers, meatballs and mince. Containing 30% veg, the products are merchandised in the same section as Lean & Greens and Heck.
"We're excited to be relaunching Meat & Veg in our stores. This healthy range of dinnertime favourites gives customers an easy way to reduce their meat intake whilst still providing the flavour and texture of a classic meat product," a Tesco spokeswoman said.