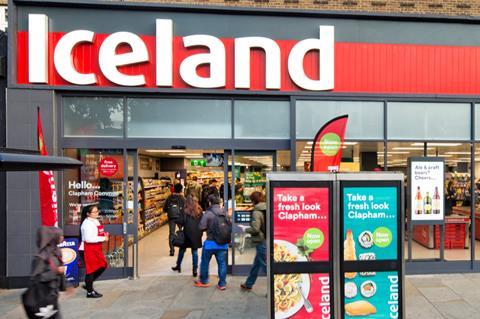 Iceland is launching £5 pizza and booze meal deals aimed at football fans watching the Euros.
A fiver buys two pizzas with a bag of wedges, a choice of side and ice cream. Alternatively, for the same price shoppers can get two pizzas and a choice of either four bottles of Budweiser or eight cans of Pepsi.
The food-only deal includes two Goodfella's pizzas – one Thin Margherita and one Thin Pepperoni – one McCain potato side, which can be either Lightly Spiced Wedges or Firecracker Wedges, and a Birds Eye side, choosing between 12 Chicken Dippers or 10 Veggie Fingers. It also includes a one-litre tub of Carte D'Or vanilla ice cream and represents a saving of up to £6.65, according to Iceland. The deal is available from now until 20 June.
The food and drinks deal comes with two Chicago Town Stuffed Crust pizzas, with a choice of Cheese Deluxe or Pepperoni, plus the included Budweiser or Pepsi. It represents a saving of up to £3.50 and will be available from 9 to 23 June.
Both deals are offered in stores and online.
The rescheduled Euro 2020 tournament gets underway this Friday, 11 June, in Rome, with the final set to be held at London's Wembley stadium on 11 July.
"National team fans know all too well the stress that comes with the job of supporting them through tournament football and this summer Iceland says a big fat 'yes' to stress eating," said an Iceland spokeswoman.
Source: www.thegrocer.co.uk