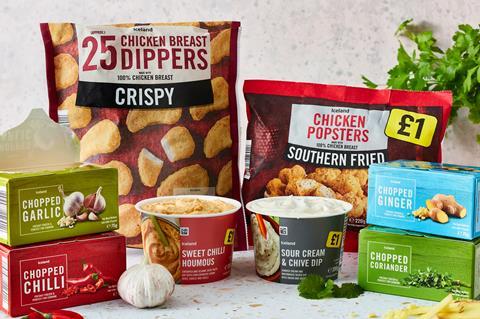 Iceland MD Richard Walker has urged the government to set mandatory plastic reduction targets for businesses.
Mandating progress would make it easier for Iceland to meet its own commitment to eliminate plastic from own label by the end of 2023, he said.
Walker was commenting as Iceland revealed the latest nine of its products moving into alternative packaging solutions. The move builds on a project Iceland began at the start of 2020, when it introduced new packaging for a swathe of fresh fruit & veg, after abandoning a loose produce trail when it damaged sales.
However, rather than eliminate plastic altogether, in some cases the new solutions use less of it than the packaging being replaced.
"We are continuing to innovate our packaging as we endeavour to remove plastic packaging from our products," said Walker. "Our team is working tirelessly to launch these packaging trials as we continue to monitor customer responses to reduced product visibility with the new packaging.
"While we are very proud of the progress we have made so far, our journey to becoming plastic free would be much easier if government set more aggressive, mandatory plastic reduction targets as a framework for business to operate within.
"Once again, we would also call upon our fellow retailers to make more ambitious commitments to reducing their plastic footprint so we can find solutions that reduce the need to rely on plastic packaging together."
The supermarket's latest effort sees nine products adopt either "plastic-free" or "heavily reduced" plastic packaging, Iceland said.
Frozen vegetables and herbs including garlic, coriander and ginger are moving into cartons, while Iceland's Soured Cream & Chive Dip and Sweet Chilli Houmous are switching to paperboard pots.
Frozen packs of 25 Chicken Dippers and Chicken Popsters are going in "first-to-market innovative paper laminate bags", Iceland said.
Meanwhile, Easy Peel Wild Red Shrimp is going "completely free from plastic" thanks to a new coated paper bag, a "truly ground-breaking innovation for frozen food", according to Iceland.
The new packaging is being trialled in 115 stores and stands to eliminate a claimed 36.6 tonnes of plastic a year.
In June this year, Walker wrote in a blog: "We have made good progress towards our goal of being plastic-free in our own-label range by the end of 2023, though meeting our target looks increasingly challenging simply because of the huge increase in overall plastic consumption."