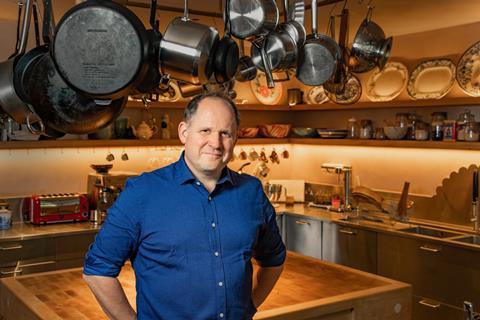 The food and drink industry will face a £3.4bn "tsunami of new taxes" on processed foods if ministers accept plans published today by National Food Strategy author Henry Dimbleby.
Among bombshell proposals in today's government-commissioned report, Dimbleby has called for a £3/kg tax on sugar and a £6/kg tax on salt used for all processed foods sold in supermarkets, restaurants and catering, sparing only small companies such as takeaways.
Leon restaurant founder Dimbleby recommended the new taxes be introduced in 2024 and replace the soft drinks sugar levy, which he said provided an example of how taxation can succeed if extended across the entire food sector.
His report claimed the move would "break the cycle" of junk food and save the NHS from a health and financial disaster caused by UK obesity levels, which he blamed as a "huge factor" in Covid deaths.
Dimbleby also claimed the CEOs of major food companies had told him privately they could not make the changes required to tackle the obesity crisis without legislation from government to create a level playing field.
The report predicted the new wave of taxes would reduce sugar intake by up to 10g per person per day and salt intake by up to 0.6kg per day, while raising £3.4bn for the Treasury.
His report admitted the tax would lead to price increases for a raft of HFSS foods.
However, he called for the proposed Sugar & Salt Reformulation Tax to be ringfenced to support a series of measures to make healthier food more available to poorer families, including a Community Eatwell scheme under which GPs would prescribe fruit and veg to those at greatest risk.
The report also called for the government to bring in mandatory reporting for large food companies, requiring them to publish an annual account of all sales of HFSS foods, meat and fruit & veg, so they can be held to account.
"We do believe food retailers want to be part of the solution," said Dimbleby. "However, voluntary measures work best if they are monitored and subject to public scrutiny."
The report said there needed to be major changes in the food production system, which Dimbleby claimed was fueling obesity levels while destroying the environment. He described reducing meat consumption as "by far the single most effective" weapon.
While Dimbleby stopped short of making a tax on meat one of his 14 official recommendations, the report said the UK needed to slash meat consumption by 30%. He called for major investment from the government to help the industry speed up the rollout of alternatives to meat products.
"Reducing meat consumption is the single most effective lever we can pull to improve the productivity of our land," it said.
"This is not a summons for everyone to go vegan. If we all just ate the amount of meat recommended by the government's Scientific Advisory Committee on Nutrition – most people do, but about a third of the population eats more – national meat consumption would fall by at least 15%, and our red and processed meat consumption by at least 27%."
Among proposals which do make the formal recommendations in the report, Dimbleby said the government should insist on minimum standards for future trade deals to protect food quality and standards and called for a £1bn investment in a better food system.
"The food system is a logistical miracle, full of amazing, inventive people," he said. "With the right leadership from government, it is well within our power to change the system so it makes both us and the planet healthier.
"Currently, however, the way we produce food is doing terrible damage to the environment and to our bodies, and putting an intolerable strain on the NHS.
"Covid has been a painful reality check. Our high obesity rate has been a major factor in the UK's tragically high death rate. We must now seize the moment to build a better food system for our children and grandchildren."
Reacting to the report, industry leaders told The Grocer it would be "disastrous" if the government agreed to Dimbleby's radical shake-up, claiming it would drive up prices for hard-pressed shoppers and accusing the report of lacking evidence.
One top supplier source said the proposals would hit industry with a "tsunami of new taxes". 
"Dimbleby's obsession with 'ultra-processed' foods is where the industry needs to draw a line in the sand," the source said.
"We just don't recognise that as a definition. It's a phrase, it's not science and it risks demonising thousands of products which we do not accept are unhealthy.
"They are effectively saying vast swathes of the supermarket is just junk and you are demonising thousands of products without evidence to back it up."
"This proposed tsunami of new taxes comes with the government already planning to bring in a ban on HFSS promotions in store and advertising restrictions on TV and online. The industry has not even felt the huge economic impact of those proposals yet and now we are faced with another potential hammer blow.
"At some point ministers have to stop and think what the impact of this could be on pricing. Dimbleby wants to make food more affordable yet the cumulative impact of all this could very well be driving up prices for hard-up families."
A leading supermarket source claimed the plans meant, while large retailers and suppliers faced huge new taxes, takeaways and small businesses which had never engaged with the government's obesity plans would escape with no action.
"It focuses only on large retailers and manufacturers. If we really want to make a difference this has to engage everyone, and particularly the growing number of companies who have never engaged and supply the worst food to millions of lower-income consumers and children – small, independent takeaways."
The source added: "It's fine to talk about dramatic things such as cutting meat by 30% or forcing every large company to publish data but there has to be substance to a policy.
"The target for cutting meat is a very blunt tool which doesn't differentiate between meat produced more sustainably (such as Welsh lamb) and meat produced less so, such as beef reared with cereals.
"It's fine for creating headlines but we need to look deeper at how all our food is produced."
BRC director of food & sustainability Andrew Opie said: "We welcome the call for a food strategy. There is a need for government to co-ordinate food policy to deliver the sustainable, affordable food consumers want.
"However, we need to move beyond headline-grabbing targets to a policy which truly encompasses every food business, from the largest supermarket to the smallest takeaway and accounts for the interests of consumers, the environment and producers in our supply chain."
Today's report was met with an avalanche of support from health campaigners and environmental groups.
"The UK food system is harming us and it's harming the planet," said Simon Capewell, professor in public health policy at University of Liverpool.
"We know with the pandemic people who are overweight are particularly vulnerable to infection. Now is the time for us to act.
"The problem is ultra-processed food. Our families are drowning in a sea of calories."