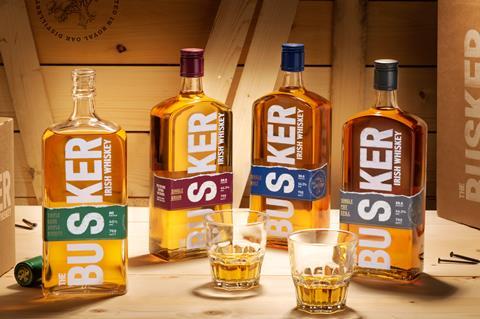 Irish whiskey brand The Busker is bringing its four-strong range of spirits to the UK.
Its single collection includes three traditional Irish whiskeys – Single Grain, Single Malt and Single Pot Still (all 44.3% abv) – which are produced at the Royal Oak Distillery in County Carlow.
Each boasted "an unmistakable taste profile, with nuances ranging from vanilla and oak, to rich spicy notes", said The Busker.
Its Triple Cask Triple Smooth (40% abv), meanwhile, combines all three of its single whiskeys.
The drink had been matured and finished in bourbon, sherry and marsala casks to bring out a "unique smoothness and intense flavour", it said.
The authentic 1833 Cantine Florio Sicilian marsala wine casks used during the ageing and maturing process for the Single Grain and Triple Cask Triple Smooth were a "major point of differentiation" for the brand, it added.
Triple Cask Triple Smooth will roll into the Co-op from 22 November (rsp: £24.50/700ml).
The trio of singles will be available to buy at Amathus stores (rsp: £29/700ml).
The Busker country director Marc Richardson said he had "big ambitions for the brand".
"Data from the Irish Whiskey Association recently revealed that Irish whiskey was the fastest-growing spirits category in the world over the past decade, with 140% growth in sales from 2010 to 2020," he said.
"We expect to see interest in Irish whiskey continue to grow and can't wait to be part of its journey."
In June, research by Bord Bia revealed that almost half of Irish food and drink companies exporting to the UK anticipated seeing an increase in sales over the year ahead.