It is the asparagus season – in a way. Usually, the leading trade fair for asparagus and strawberry cultivation in Germany takes place in November. Due to the Corona situation, the trade fair duo expoSE/expoDirekt unfortunately had to be cancelled, but the sector is still looking for the latest solutions in seeds, packaging and marketing.
We spoke to the globally active Swiss packaging specialist ATS-Tanner Banding Systems, which specialises in banding for a wide variety of products. Asparagus is just one of the many examples of goods that can benefit from banding, says Content Manager Thomas Weber: "In most cases, our customers from the asparagus sector rely on a 100 mm wide band made of high-quality printed paper." This width is ideal for holding the asparagus securely together but not damaging it. "The wide band protects the asparagus and also offers plenty of advertising space."
The ATS US-2100 TTP is the machine frequently used for this purpose: "The ATS US-2100 TTP  (TTP stands for thermal transfer printer) not only bundles automatically the asparagus; it also prints flexible information such as batch numbers or production dates on the tape," says Thomas Weber. That saves time, manpower and -above all- material.
Weber continues: "Manual labor is significantly reduced and productivity is massively increased. Thanks to the precise, infinitely variable and extensive adjustment options of the ATS banding machines, the bands are applied just as tightly so that the bundles are held together securely, but the individual asparagus are not damaged."
However, having that many many adjustment possibilities does not mean that the banding machine is difficult to operate – quite the opposite: "Banding machines from ATS are simple to use and can also be operated by untrained employees. The automatic printing of flexible data on the banding during banding means that further work steps – for example labeling – are no longer necessary. Thanks to low-maintenance ultrasonic welding, neither glue nor other adhesives are required. This simplifies recycling. In addition, the high-quality banderoles printed with up to ten colors stand out on the store shelf – they go perfectly with the fine vegetables. And last but not least, customers also love banderoles because they cause little waste and can be opened without appliances, without any problems."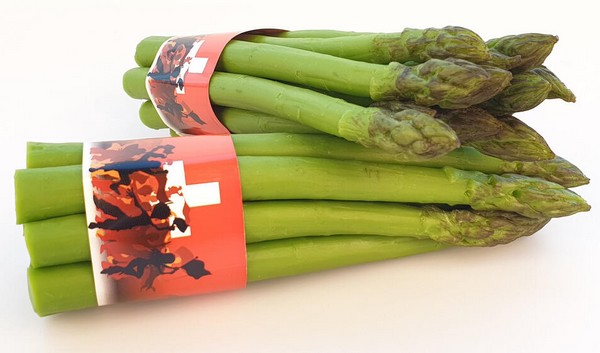 Both white and green asparagus are suitable for banding: "There are no big differences in handling when banding. The machine settings can perhaps vary a little because one variety tends to be harder than the other. In such cases, for example, our product accumulator comes into play so that you can quickly change from one product to another."
Asparagus is and remains a popular product, both in Switzerland and in Germany and other European countries. So sensible packaging also plays a decisive role in this sector, Weber knows: "It is obvious that producers – and this is not only true for asparagus producers – want to simplify and automate their packaging processes. On the other hand, there are consumers who are attracted by visually attractive packaging on the one hand and ecologically sustainable packaging on the other. Because banding covers all these needs, it is becoming increasingly popular – for asparagus as well."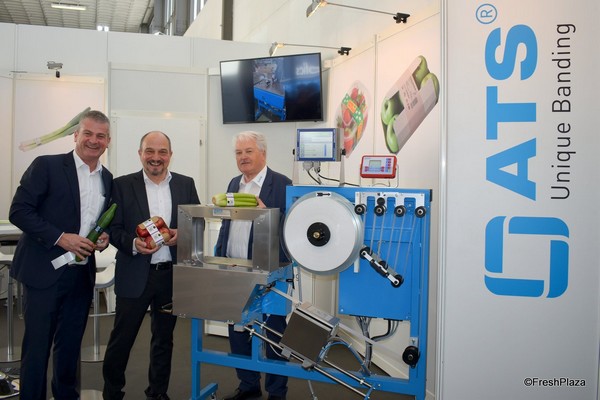 The exhibition team from ATS-Tanner Banding Systems at the 2020 Fruit Logistica.
Note: due to the Corona situation, expoSE 2020 will not be held this year. Instead, the organising VSSE will be holding a detailed online trade fair in the 2nd week of November. For more information on this, please visit expo-se.de & Freshplaza.de.
For more information:
Thomas Weber


ATS-Tanner Banding Systems AG
Poststrasse 30, CH-6300 Zug
Tel.: +41 56 676 67 14
t.weber@ats-tanner.ch 
ats-tanner.com