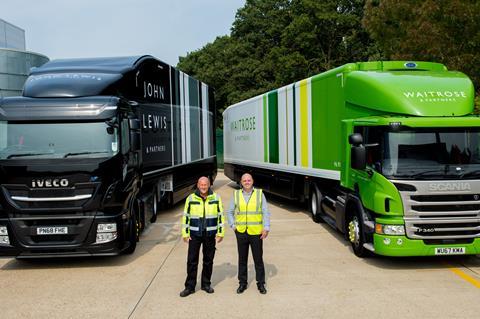 The John Lewis Partnership is opening an LGV Driver Academy in November to tackle the lorry driver shortage.
The group is aiming to train applicants in 13 weeks to sit the DVLA LGV theory and practical safety tests.
The JLP plans on taking up to 90 people per year. The fast-track training is designed for drivers who already have experience driving smaller delivery vehicles, according to the company.
Training places will initially be available for current JLP employees, but new spaces will open in January 2022 for those outside the business.
"This investment in training is a longer-term solution to the industry shortage," said director of supply Mark Robinson.
"We will pay our drivers to do further training to change roles from delivering groceries to Waitrose customers, to driving a 3.5-tonne truck to deliver goods to our shops, or learn how to deliver and install washing machines, TVs and lighting, providing excellent customer service for our John Lewis customers."
Waitrose's parent company is also increasing the number of 12-month LGV driver apprenticeships it offers to people who are starting out their driving careers.
The new driver academy will have four locations – Aylesford, Bracknell, London and Milton Keynes.
The move follows the partnership's announcement that it was increasing its LGV drivers' pay up to an additional £5,000 a year in efforts to tackle the current labour shortage.
Additionally, it is also offering a £1,000 sign-on bonus to new LGV drivers with C+E licences joining the business before November this year.
"Due to the size of our business and range of services, we can offer drivers not just a job, but unrivalled career opportunities," Robinson said.
M&S logistics partner Gist also announced last week that it had launched an in-house HGV training and testing centre.
Gist said it was recruiting up to 80 eligible class C drivers and provisional HGV licence holders in the hopes it will increase the number of drivers working for the company in time for the peak holiday trading period.
"The logistics industry has a critical part to play in addressing the HGV driver shortage," said Gist CEO Michael Chambers.