Toronto-based metal detection specialist Fortress Technology has launched its latest pathogen cross contamination deterrent – the Meat Pump Pipeline.
Bacteria, including salmonella and campylobacter, multiples by doubling every 20 to 30 minutes depending on the conditions, and prefers high protein foods prevalent in liquid form. With compliance demanding the highest levels of sanitation, the Meat Pump Pipeline has been designed to assist wet pet food processors inspecting high-viscosity meats to optimize hygiene standards and tackle cross contamination, without compromising metal detection sensitivity.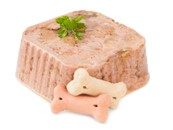 To beat the spread of foodborne bugs and prevent bacteria accumulating in industrial pet food processing environments, the Meat Pump Pipeline is IP69K rated and USDA compliant. This means it can withstand harsh meat processing environments and high-pressurized washdowns after every product changeover.
With no obtrusive support frame and no external boxes to accommodate electronics, and as a result of its reduced surface area and minimal use of fasteners, there are fewer places where protein residue, water ingress and bacteria can build up and potentially get embedded in pipes, nooks and crannies.
Being fitted to a mobile frame means that the system is easier to roll out, giving sanitation employees access to difficult to reach parts which can be easily dismantled and deep cleaned to prevent bacteria accumulations. Average clean times should take a matter of minutes, helping to maximize uptime in round-the-clock pet food processing sites.
Unlike most pipeline metal detectors on the market, the Meat Pump Pipeline is not fixed to the floor or ceiling. Instead, the metal detector can be maneuvered to upstream processing lines where it can be connected securely and simply to vacuum fillers.
Compared to the alternative of trap magnet systems used in high viscosity meat inspection lines, the new Fortress Meat Pump Pipeline doesn't just identify and reject magnetic ferrous metals, but stainless steel too.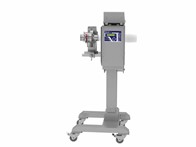 To overcome product effect caused by the highly conductive nature and iron content of meat, the Fortress Meat Pump Pipeline applies a powerful digital signal processing technology to clearly distinguish the signal generated by a metal contaminant from the product being inspected. The system also integrates Auto-balance to rebalance the coil heads within the unit, which may over time expand or contract due to changes in product temperatures passing through the pipeline. This helps to maintain metal detection sensitivity.
Featuring sophisticated data capture and Contact Reporter Software, the pipeline system satisfies Quality Assurance mandates, ensuring traceability compliance with stringent North American meat processing requirements, including GFSI/SQF, BRC and HACCP.
About
Fortress Technology Ltd. is a privately-owned Toronto based company. Fortress Technology is the only metal detection manufacturer that, since its inception in 1996, custom manufactures metal detectors to suit its customers' needs, application and specification while ensuring optimal performance. Dedicated to their Never Obsolete Commitment, new technology is developed to be backwards compatible and accessible without having to purchase an entirely new system. Renowned in the industry for their speed, accuracy and simple operation, Fortress systems are used widely within a range of food industry sectors including bakery, meats, ready meals, dairy, confectionery, fresh foods, frozen foods. In addition to product manufacture, the company offers a range of before and after sales service and support services including consultation, product testing, training, preventative maintenance plans, spare parts and validation visits. Fortress is a global enterprise providing worldwide coverage from its manufacturing facilities in Canada, the UK, and Brazil.