Managing a chestnut forest at 650-700 meters above sea level is challenging. Terra Amica from the Italian town of Loiano in the province of Bologna are currently harvesting their chestnuts. An air blower is used to facilitate the work. This moves the bolsters to predetermined areas, after which they are collected.
Group photo taken at the chestnut forest of Terra Amica – Menetti
"It's a great help in facilitating the harvest and reducing the time it takes. The bolsters, containing the chestnuts, are stacked in a pile. Everything is then sucked into a machine that separates the leaves from the empty husks and removes any impurities from the chestnuts," said the owners Domenica, Gabriele and Andrea Menetti.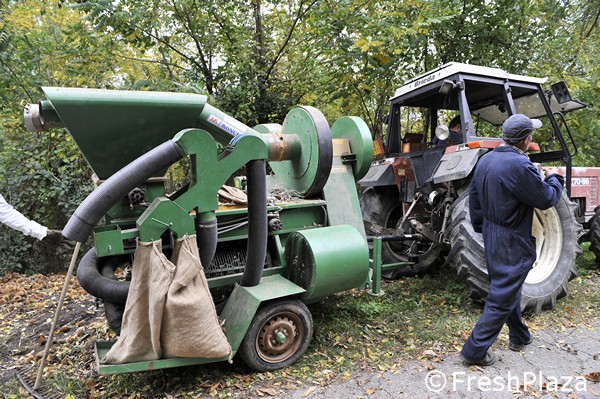 The machine with which the chestnut bolsters are sucked up
The chestnut currently being harvested on the mountainside of Loiano is 15 ha is the Marrone Biondo. The farm has a total of more than 200 hectares of chestnut trees, and the family has been living here for 60 years. In addition to the aforementioned owners, the younger generation also helps in the company, represented by Matteo, Nicolò and Samuele.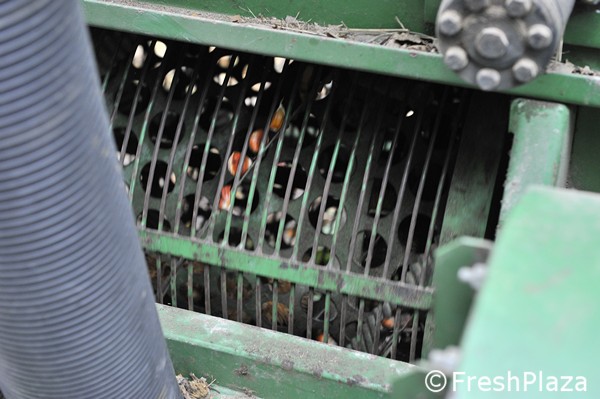 The part of the machine where the chestnuts/browns are separated
"This year the harvest is excellent. The quality is good as well as the calibers, 50% of which are of top quality. Prices are very high at the moment. We have only recorded two positive years in recent years, including this one. Otherwise either the gall wasp, the weather or the rot in the chestnuts always caused serious problems," explained Domenica.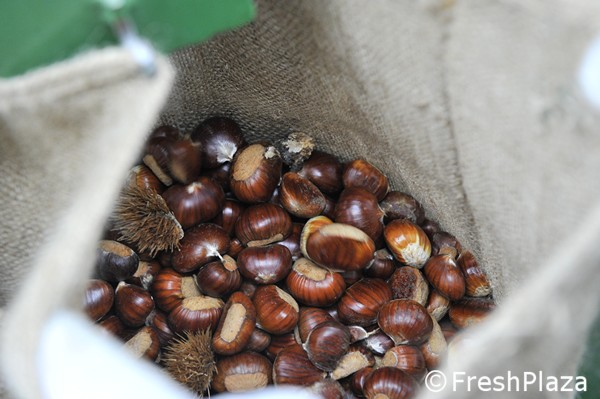 Before the selection 
The chestnut forest is of ancient origins. Actually, chestnut trees were planted in those areas where no other cultivation could produce an income. "Managing a chestnut forest is not cheap, because it requires several stages of work. It needs annual maintenance, regular pruning and cleaning. This reduces the risk of disease," said Gabriele Menetti.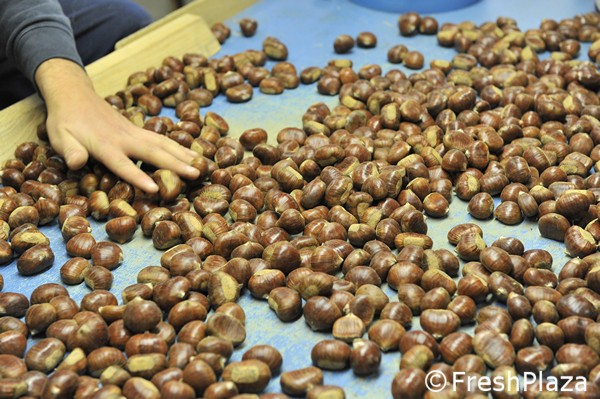 First selection
Among those who harvested on 26 October 2020 were also Renzo Panzacchi, president of the Association of the Emilia Romagna chestnut growers' consortia and Benedetto Accinelli, agronomist consultant.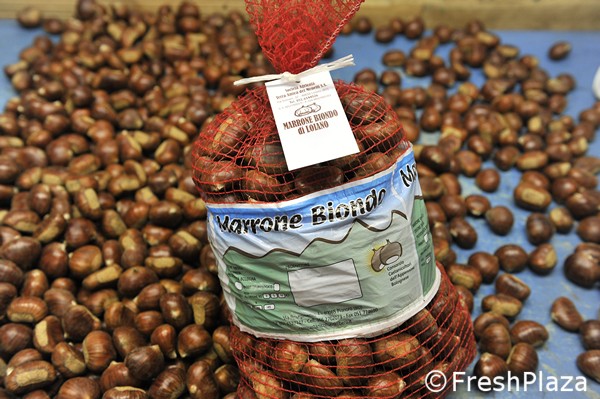 Packaging of 5 kg with two labels showing the variety Marrone Biondo of Loiano and the farm.
"To obtain a high-quality harvest a light organic fertilization is carried out in spring. Besides preserving the oldest trees, some of which are even 200 years old, we are also expanding the forest through grafting. After grafting, it takes about 6 to 7 years for a tree to produce chestnuts," concluded Domenica.
Contact:
Az. Ag. Terra Amica dei Menetti
Via Simiani 37,
40050 Loiano (Bologna)
Phone.: 051/6544526