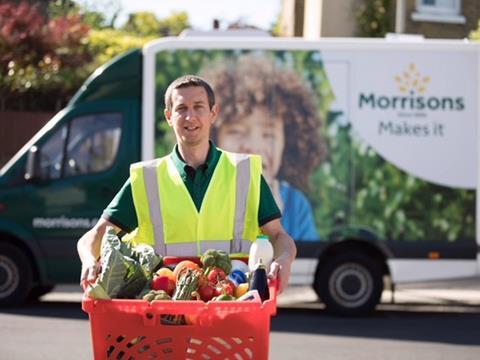 Morrisons is axing store picking from 50 stores as it adapts to the easing of online demand in the wake of lockdowns.
The supermarket is offering the roughly 1,400 affected staff the choice of either an alternative role or voluntary redundancy.
Like other supermarkets, Morrisons used store picking to drive emergency expansion of its online capacity to meet rocketing demand in lockdowns last year. In March 2020 Morrisons announced plans to rollout store picking to 100 extra stores.
However, online demand has fallen as shopping habits normalise following the easing of coronavirus restrictions. Online grocery's market share stood at 12.2% in the four weeks to 5 September, down from a peak of 15.4% in February, according to Kantar.
The axing of online store-picking at 50 Morrisons branches leaves 146 providing the service.
"At the start of the Covid-19 pandemic we rapidly grew our store home delivery service to serve the many customers who moved from shopping in store to online," said a Morrisons spokeswoman.
"As we enter this next phase of the pandemic and with many restrictions now eased, we must now adapt and make some changes to the size of our online operation to meet our customer demands.
"From October, we plan to close online home delivery in a number of stores. We will continue to maintain the same service levels, including the number of customers and postcodes we deliver to, through our existing home delivery stores as well as our fulfillment centres.
"All colleagues affected by these proposed changes will be given the opportunity to either move into an alternative role within our business or apply for voluntary redundancy. As part of this consultation process we will be offering all hourly paid colleagues within affected stores the opportunity to also apply for voluntary redundancy."
Stores affected include Leek in north Staffordshire, where dozens of staff are said to have been placed in the consultation process.
Store picking helped Morrisons become an online 2020 Christmas winner among its peers, with online growth of 190% in December according to Kantar, despite having handed back CFC space to Ocado in 2019.
Morrisons also acts as a wholesaler for Amazon, supplying goods for Prime.