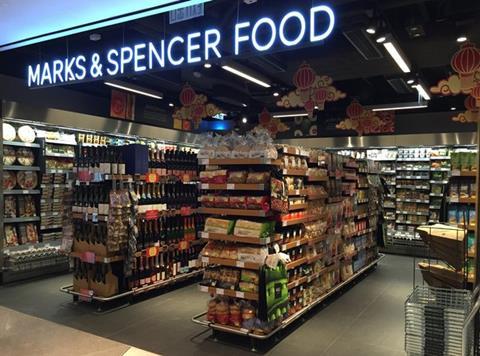 M&S is already cutting Christmas products in Northern Ireland due to concerns over upcoming post-Brexit border checks.
Chairman Archie Norman said the decision to delist Christmas products was already being made because "it's simply not worth the risk of trying to get it through".
He warned there could be empty shelves and higher prices in the region because of the new checks set to begin in October.
"It risks being incendiary for the public in Northern Ireland because you can't think of a more visible demonstration of how you're no longer a full part of the United Kingdom then you can't get your favourite Christmas products," he told BBC Radio 4's Today programme on Wednesday.
In a separate letter to Brexit minister David Frost, Norman added the current issues were "very threatening" to M&S's operations on the island of Ireland.
Supermarkets sending goods from Great Britain to Northern Ireland are currently exempt from most checks under a grace period due to end in October. As it stands, from then on all products will become subject to the same level of checks they already undergo when entering the EU.
The new EU checks have forced M&S to employ 13 full-time vets to complete the paperwork, which can stretch to 40,000 pages per week. Norman said 40% of its trucks were delayed by between six and 48 hours, "which means that most of the content of that wagon will have to be destroyed".
The retailer said in May that it had been hit with additional costs of £27m-33m of extra costs on the island of Ireland due to Brexit.
Norman called for a "common sense approach to enforcement focused on the ends, which is protecting consumers, not the bureaucratic means". This would include changes such as the digitisation of paperwork to allow the easy correction of small mistakes.
The UK government is set to publish its latest proposals on changes to the NI protocol today.
According to the Financial Times, the plans will include a proposal for an "honesty box" approach in which companies whose goods are destined only for sale in Northern Ireland would be exempt from checks on the Irish Sea border.
The UK is also expected to threaten to trigger the protocol's Article 16 due to the detrimental impact the agreement is having on trade.