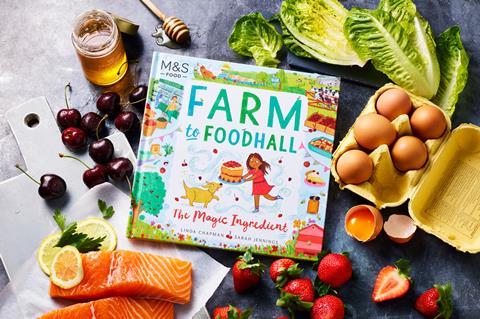 M&S Food is launching a children's book with a focus on sustainability and healthy eating.
The book, titled Farm to Foodhall, The Magic Ingredient, was co-created and published by HarperCollins Children's Books and tells the stories behind some of M&S's Select farmers partners.
The goal of the book is to educate British children about sustainable agriculture and ethical sourcing and consumption.
The move is part of the retailer's Fresh Market Update campaign, which showcases British farmers' work. M&S often collaborates with its Select farmers partners to tackle issues such as water use, pesticide reduction and soil health to contribute to a more sustainable agricultural industry.
"M&S Food has always partnered with Select farmers and growers that we know and trust to produce delicious food in a way that maintains our reputation for trusted value and protects the planet for future generations," said M&S Food MD Stuart Machin.
Farm to Foodhall, The Magic Ingredient follows the life of main character Amalia and provides young readers with stories, fun facts and recipes developed by the M&S Chef team.
The launch comes after M&S's recent Family Matters Index study, which asked families across the country about the issues that most concerned them post-pandemic.
Read more: Marks & Spencer study shows UK families are more worried about health and finances post-Covid
The research encompassed 10,000 participants and results were published last month. A third of respondents said healthier eating was a discussion subject in their households.
In addition, climate change and its potential impact in future generations topped the list of "big picture concerns" for nearly two-third of respondents with children.
Machin said the stories told in the book will help spark conversations within families "who we know are deeply concerned about the impact of environmental damage on future generations".
"It will inspire young minds and help children to learn more about where their food comes from, the effort that goes into producing it, and the importance of establishing ethical and sustainable farming practices now and long into the future," he added.
Retailing at £5 per copy, the book will be available in stores nationwide from 27 July.