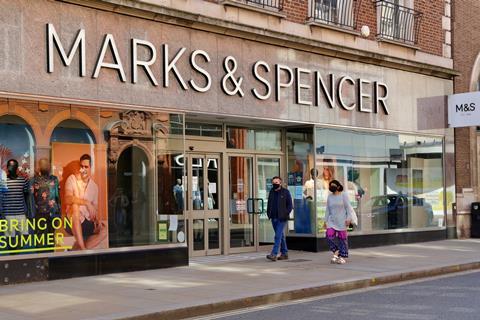 M&S is set to close stores in Maidstone, Bristol and Poole next year as part of its estate redevelopment programme.
Its COO and MD of food, Stuart Machin, wrote in a blog that the company had to "make difficult but necessary decisions" in order to "deliver a fit for the future estate".
"We have proposed closures of older stores in Maidstone, Bristol and Poole," he added. "In each of these markets, we believe we are already well set up to serve customers thanks to our ongoing investment, whether that is at the Maidstone Eclipse Retail Store, which opened less than two years ago or through Cribbs Causeway in Bristol – one of our five 10x stores where we are trialling the latest digital innovations to radically improve customer experience." 
On Tuesday, the retailer announced it was shutting the doors of its Broadmead store in Bristol town centre in January 2022 after nearly 70 years of business.
Regional manager John Dorrington told colleagues that the decision to rotate the store estate was based on the fact that "shopping habits are changing".
"Our priority now is to talk to our colleagues about what this announcement means for them and wherever possible, offer them alternative roles with M&S," he said.
"We appreciate that this will be disappointing news for some, and we would like to thank all our customers who have shopped with us in the store.
"We will be working hard to keep serving them in our 17 stores across the south west including Cribbs Causeway and Longwell Green."
Last week, M&S said its decision to replace the existing Clothing & Home high street store in Paisley, Renfrewshire, with a renewed food hall had already resulted in a revenue per foot increase of over 20% in the first 15 weeks.
And earlier this week, the chain opened a 130-seat café at its new food hall in Leamington Spa – which is located at a former Debenhams site.
The moves are part of the group's larger "turnaround" plans to revitalise the store estate. In May, it announced it would close 30 of its branches in the next decade.
Read more: Marks & Spencer: six things we learned about its recovery plan
M&S is now favouring retail parks, and focusing on full-line stores and making more space for food.
CEO Steve Rowe said in May that he had 17 new or extended full-line stores in planning, including a number of former Debenhams sites, over the next two years.
M&S's traditional high street and city centre locations suffered a decline in sales due to the shift to online shopping in recent years, which was accelerated by the pandemic.
Machin wrote in this blog: "Building a store estate that is fit for the future is central to our far-reaching transformation programme.
"We want the right stores, in the right locations, that are set up to serve today's customer brilliantly.
"To achieve this, we need to rotate our store estate; investing and renewing in our target markets, underpinned by an asset management programme which looks to repurpose or redevelop our existing space."