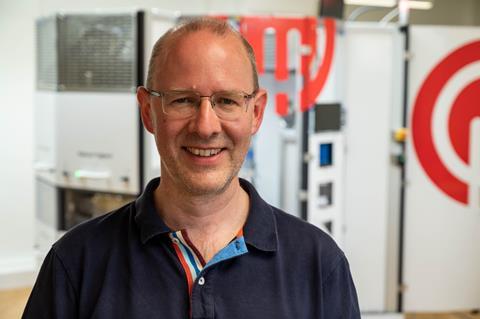 Ocado-backed food robotics firm Karakuri has appointed former McLaren Racing chief engineer Dr Peter Schroder as its chief technology officer.
Schroder joins from the CTO role at McLaren Applied, a division of McLaren Group, which brings technology from its F1 team to industry.
During his time as chief engineer for the Formula 1 team, Schroder oversaw development and delivery of technologies across all aspects of car and race operations, including McLaren-Honda's Formula 1 energy recovery system.
Schroder will lead Karakuri's engineering team as the company develops "the world's first robotic canteen", its DK-One robot, ahead of a pilot installation later this year.
"Karakuri ticked so many boxes for me when it came to moving on from Mclaren," Schroder said.
"This is a startup with the ambition and drive to develop an entirely new category of made-to-order healthy convenience food using the latest technologies across hardware and software. The achievements the team have made so far are amazing and I'm looking forward to upping the ante and pushing the innovation forward even further," he added.
Karakuri – which takes its name from the traditional Japanese mechanised puppets – was founded in 2018 by Barney Wragg and Simon Watt, two friends and former colleagues who had worked together at computer chip design firm ARM. Ocado acquired a minority stake in the business in 2019.
The company is developing robots to prepare freshly-made, customisable, ready-to-eat meals. Its DK-One robot – a pre-production version of which was launched in December – can prepare freshly-made, customisable, ready-to-eat meals from 18 hot and cold ingredients with precise portion accuracy. The company claims the robot can output a meal every 10 seconds.
"At Karakuri, engineering innovation is at the heart of everything we do," said Wragg. "To lead such a complex multi-disciplined engineering organisation requires a CTO with phenomenal people skills, a passion for driving change and innovation and unprecedented technical ability. Peter is the perfect fit."
Mike Muller, Karakuri's current interim CTO and co-founder of ARM, will remain a member of Karakuri's board of directors.