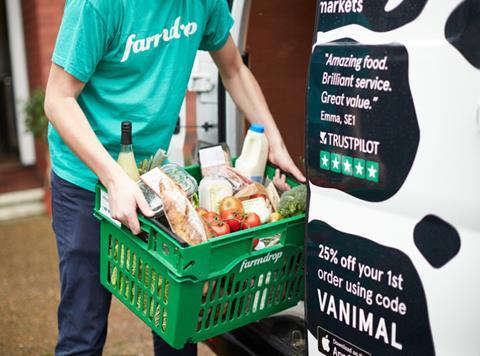 Online grocer Farmdrop has ceased trading after failing to secure the funding needed for its survival, The Grocer has learned.
The business informed customers it was permanently closing and yesterday (16 December) would be its final day of deliveries.
Farmdrop told one customer, in an email seen by The Grocer, that it had been placed in administration.
"Unfortunately, Farmdrop has now been placed in administration and is permanently closed," the email from the customer service team said. 
"We will no longer be delivering any future orders from today onwards. The 16 December was the last day we delivered. If you have paid for an order with us, we would recommend getting in touch with your bank or card supplier to initiate a chargeback." 
Farmdrop has made heavy losses since its inception in 2012 – which totalled more than £30m in just the past four years – and has raised more than £30m in funding across several rounds.
In its latest set of accounts filed at Companies House for the year ended 30 June 2020, the company's auditor UHY Hacker Young warned the business needed significant funding to continue trading as a going concern.
Losses at Farmdrop came in at £10m in the year despite revenues more than doubling to £12m as the pandemic drove up demand for its food sourced from local farmers, fishermen and other producers. The accounts stated the company employed around 175 staff in the period, with the wage bill coming in at more than £7m for the year.
"Over the years, it has been our aim at Farmdrop to provide our beloved customers with amazing groceries from the very best hand-picked producers," read an email sent to customers this morning. 
"In doing this, we have aspired to have a great impact by influencing change in the food system for the better. To deliver on this mission, we have been working constantly over the last 18 months to secure the support and capital we need to continue in this effort. 
"As of yesterday, it has become apparent that we have exhausted all possible options. It is with very heavy hearts that we must let you know that we will no longer be able to serve our cherished customers."
It added: "We are so incredibly grateful for the amazing support that you, our customers, have provided to Farmdrop and all of the special producers we have worked with over the years. 
"We at Farmdrop are proud we've been able to create positive impact for our producers, customers, and the wider food community. We hope that this legacy will inspire positive change in how food is grown and appreciated for a long time to come. 
"It has been our absolute pleasure to provide you with the very best groceries from our wonderful suppliers and we are so sad that the journey will end here. From all of us at Farmdrop, we wish you the very best."
Suppliers look set to miss out on collecting invoices owed by the company as a result of the collapse.
Kate Clark, founder of organic ice-cream maker Luscious, said her business was owed money dating back to May.
In a post on LinkedIn, she said: "Sad – but not surprised – to hear that Farmdrop has tonight ceased trading. We are owed money on invoices going back to May – and despite repeated requests for payment, these invoices remain unsettled.
"But the most appalling part of this story is that they continued ordering from suppliers, ourselves included, (many of us small producers) whilst not paying the outstanding invoices. We refused to fulfill the orders after a while, having realised they were in trouble."
Farmdrop was backed by Skype founder Niklas Zennström's venture capital firm Atomico, Wheatsheaf Group, Impact Ventures UK, Zoopla founder Alex Chesterman and Asos co-founder Quentin Griffiths.
The Grocer has contacted Farmdrop for further comment.