Farmers reliant on foreign workers are becoming more active in protesting regional variations in worker protocols relating to COVID-19.
They took their tractors to Simcoe streets recently to protest regional quarantine requirements and a federal switch in testing procedures. 
Farmers in Haldimand and Norfolk counties are especially concerned with steps taken by their local medical officer of health that are stricter than federal guidelines and requirements set in other areas of the province.
"The local health unit has such powers if we don't dot our I and cross our T with our quarantine plans," said Frank Schonberger with Farmers of Ontario's Garden, a new grassroots group organized to represent the producers. 
"They can stop our flights from coming into Canada for migrant workers," said Schonberger.
Why it matters: Haldimand-Norfolk County Chief Medical Officer of Health's tight temporary foreign worker (TFW) COVID-19 quarantine restrictions threaten fruit and vegetable harvest, particularly early season produce, due to a lack of workers.
Haldimand-Norfolk Chief Medical Officer of Health, Dr. Shaker Nesathurai, already suspended worker flights to a farm that had an outbreak, defined as one or more positive tests, said Schonberger.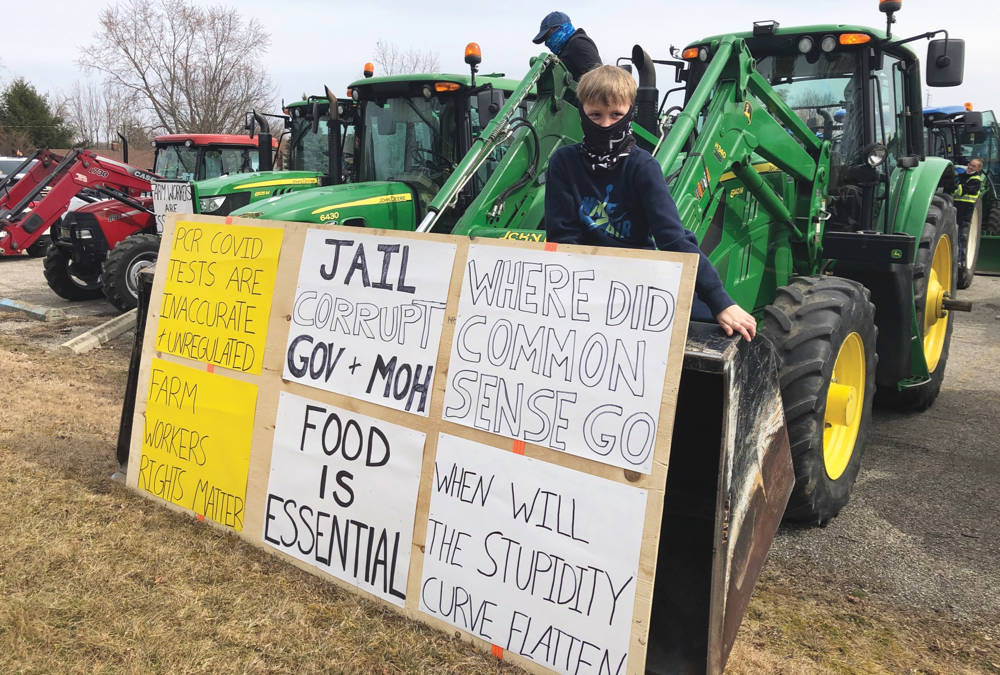 Nesathurai's orders under the Haldimand-Norfolk Board of Health Section 22 limit the number of migrant workers able to quarantine in a bunkhouse to three, contrary to the federal standard, which calls for maintaining a social distancing of two-metres during the mandatory 14-day quarantine.
Additionally, his proposed letter of instruction was sent to farmers on the evening of March 14 with an enforcement date of 12:01 a.m. March 15. It similarly limited the number of TFWs able to be transported together despite arriving on the same flight and disallowed buses, forcing farmers to use private vehicles instead. 
Schonberger said the transportation restrictions heighten the risk compared to using a single driver and a bus, which is acceptable in the rest of Ontario. 
"This is nothing short of harassment that's going on to the small family farm," he said. "I have work to be done at home. I have to get my machinery ready, my fields ready, my packhouse ready, my bunkhouses ready – and I'm here fighting for the farmers in Norfolk County."  
Producers were required to have quarantine plans submitted to the health unit before November and were informed about updated testing and government oversight at the beginning of 2021. Nesathurai's most recent letter of instruction on bunkhouse and transportation numbers trumps those protocols. 
"The inconsistencies in these regulations – it's just unbearable anymore," said Kristal Chopp, Norfolk County Mayor and Board of Health chair. "We are with you, we are behind you, and we will do whatever is necessary to stand behind you and fight."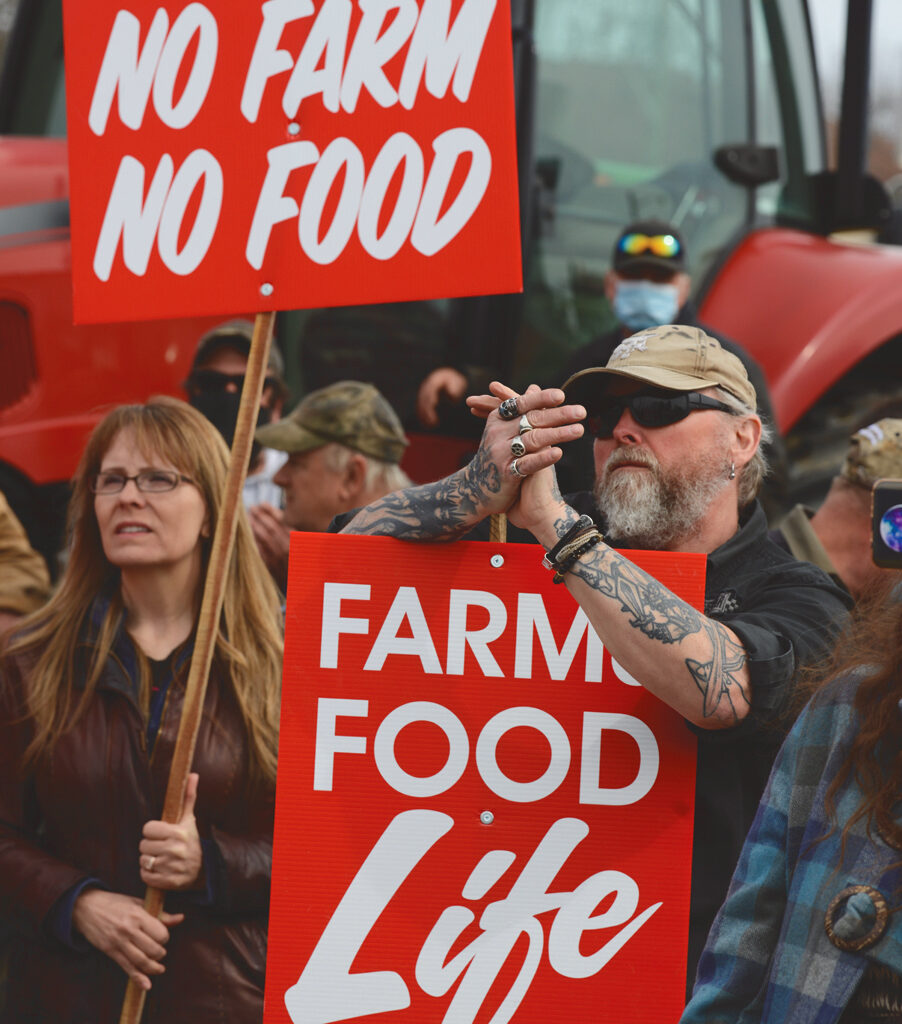 Chopp has requested an urgent meeting with the provincial government, the Minister of Health and Ontario's Chief Medical Officer of Health because the board no longer feels it can fulfill its legal obligations under the Health Protection and Promotion Act. Chopp said if there is no meeting, the County could end up without a Board of Health.
"All options, at this point, are on the table, and if that requires the Board of Health resigning as a whole, I think we are all prepared to do that," she said.
The crowd called for Chopp to rescind Nesathurai's orders, a power she said the mayor does not carry.  
A man carrying a young girl confronted Chopp, challenging her to ignore the orders because "they're unconstitutional and illegal." 
He whipped the crowd into a frenzied chant of "Just say no."
"I'm behind you. You want me to say it's bullshit?" said Chopp. "I think it's bullshit!"
While the comment garnered cheers from the crowd, Schonberger was reserving his opinion until action has been taken, adding producers have gotten no help from the mayor to date despite repeatedly bringing the issue to her attention. 
Schonberger suggested a provincially run TFW-specific quarantine program, similar to British Columbia, would override Nesathurai's orders and take the onus off farmers to perform the 10-day switch testing.
In 2020 the British Columbia government spent $17 million on accommodations, meals and laundry service for 4,997 TFWs who arrived between April and December. Ontario hosts approximately 23,000, so a move to B.C.-style accommodations would be costly. 
Moe Obeid, of Obeid Farms, questions why the Norfolk region has stricter protocols than the rest of the province, especially when the Windsor-Leamington area doesn't with a similar number of TFWs and outbreak issues throughout 2020. 
 "That's all we're trying to get changed – keep everybody safe, but we want a little bit of a happy medium," he said. "We're not asking for a lot."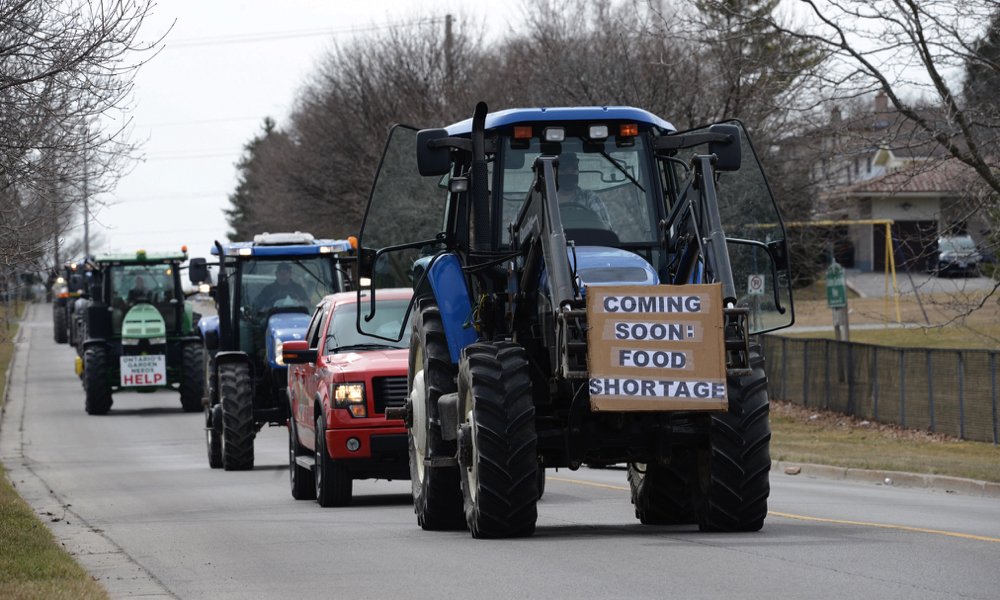 He understands why Nesathurai wants to protect the regions already financially taxed and with limited health care resources, but he should trust the on-farm modifications made to meet federal COVID-19 safety requirements for all workers on the farm.
Ernie Hardeman, Ontario Minister of Agriculture, Food and Rural Affairs, said he's aware of the strain farmers in Haldimand-Norfolk are under trying to get TFWs ready for the season while following the Chief Medical Officer's orders. 
"We all need to be clear that the number one priority is the safety of the people," he said. "So far we haven't seen evidence that what's being proposed (in Haldimand-Norfolk) is better than, or safer for people than what we're doing (provincially and federally.) There must be some way in between." 
Schonberger acknowledged the overwhelming support from the community, saying he never expected to see 250 tractors filing in behind him when the movement started six days before.
He issued Premier Doug Ford a challenge to come to the region and see how precarious the situation is, but be prepared to work because there's plenty of land needing tending.
"Let's not give up the fight," Schonberger said. "Don't put your tractors back in the barn. We might have to go a little farther down the road yet."