A tight market for farmland in Canada and good crop prices continue to drive increasing land value, although the increase in Ontario in 2020 was lower than in 2019.
Farm Credit Canada (FCC) recently released its 2020 farmland value report, which showed a 4.7 per cent increase in Ontario values, compared to a 6.7 per cent increase in 2019.
Why it matters: Farmland value has a significant effect on farms as higher value can limit expansion, but for current farm owners, it can increase borrowing power.
There was an increase in value across the country of 5.4 per cent in 2020, up slightly from 5.2 per cent in 2019. The increases in 2020 and 2019 represent a cooling of the fast-rising national farmland prices of the past 10 years, with a top of 22.1 per cent gain in value in 2013.
Low interest rates and high farm income are driving increasing demand for land and therefore increasing value, said J.P. Gervais, FCC's chief economist, during a call with reporters.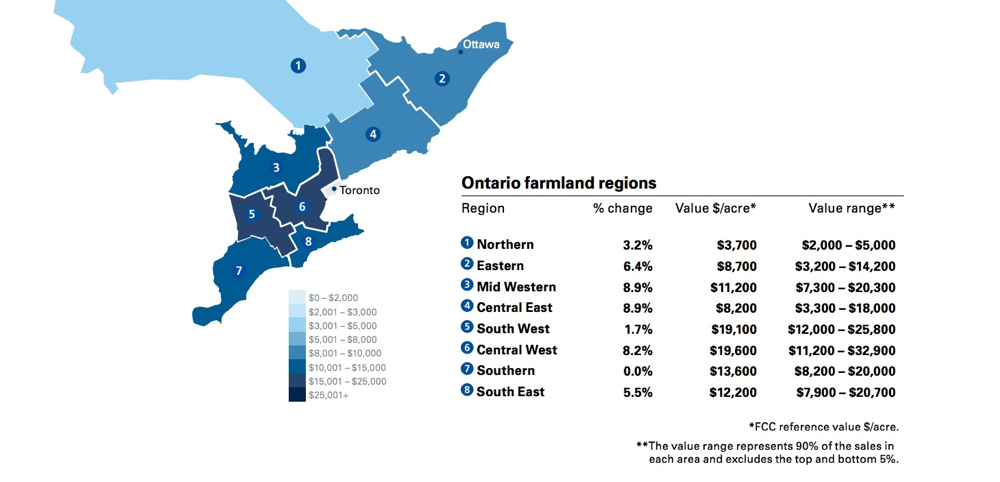 Ontario and Quebec land values are also being driven by the COVID-19-created exodus from cities. With major urban areas in Ontario and Quebec, the trend is especially prominent in those provinces.
Indeed, the largest farmland value increases were around Toronto, with greater than eight per cent increases.
Gervais says Ontario's land values are already high, which means there's less room for them to move higher. That can partially explain the fact that Ontario farmland gains are slightly below the national average for 2020.
There were areas of lower increase in Ontario in 2020. The area including Middlesex and Huron counties showed a 1.7 per cent gain, and the furthest southwest region had no increase in farmland value.
Farm cash receipts have been strong in Ontario with an increase of 8.7 per cent in 2020.
Livestock farmers saw more disruptions than crop farmers in 2020. Dairy farmers had challenges with rapid market changes early in the pandemic, but by the end of the year, the market had rebounded. Supply managed farms continue to drive significant parts of the increase in value, says the FCC report.
Hog and beef farmers had more challenges depending on where in the country they farm and how much local processing was affected by COVID-19 shutdowns.
Crop receipts are expected to stay high through the rest of 2021, says Gervais, so he expects that will also provide strength in land values.
The direction of interest rates is unknown. Farmers, like other businesses, have benefited from long-term low interest rates, driven even lower in 2020 by central banks lowering prime rates during the pandemic.
However, there are numerous signs that interest rates and inflation are rising.
The Canadian dollar also has a significant effect on farm income, but Gervais doesn't see the value of the dollar rising much more than it has now, to around US80 cents.
"At 80 cents seems to be a ceiling," says Gervais.
The range of farmland values published by FCC represents 90 per cent of sales data collected by FCC in the past year. The range excludes five per cent of the highest and lowest sales to remove the outlier values and keep the range reflective of typical sales prices.