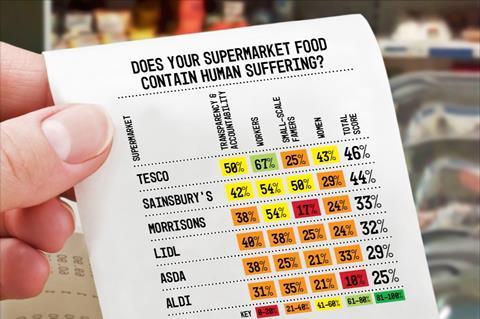 The future of Oxfam's annual ranking of supermarkets on their human rights policy is in doubt thanks to disruption in the pandemic.
The charity's 'Behind the Barcodes' campaign has published a supermarket human rights 'scorecard' at the end of June each year since 2018. The campaign scours information published by Tesco, Sainsbury's, Morrisons, Lidl, Asda and Aldi, and ranks them from first place to last based on the safeguards against exploitation in their supply chains.
However, there has been no 2021 scorecard and Oxfam was this week unable to say when or if there would be another one.
"Due to the impact of Covid-19, we are currently discussing next steps and timings for the campaign," said a spokeswoman.
Furloughing of staff is thought to have been one element of the disruption to the campaign.
Each year the campaign has heaped pressure on the bottom-ranked supermarket with petitions and protests. It has also spurred supermarkets into acting. In 2019, days after coming bottom in the latest scorecard, Lidl said despite disagreeing with Oxfam's assessment it would review human rights in its supply chain. The discounter went on to claim a UK food retailer first in December 2020 with the publication of a human rights impact assessment.
In 2018, despite also arguing Oxfam's assessment was misleading, Aldi appointed a senior international director responsible for human and labour rights after the campaign criticised it for having no senior executives explicitly charged with overseeing the area.
The stalling of the scorecard comes at a time when experts believe there is an increased threat of hidden exploitation in supply chains thanks to the pandemic.
"Whenever you get sudden peaks and troughs in demand and unexpected pressures and stresses on the system it can create vulnerability to slavery, and Covid is certainly one of those times," said Slave Free Alliance technical services manager Shirley Goodrick.
"We all know a lot of people are getting pinged [by the NHS app] and there's stress on logistics due to Brexit, Covid and the driver shortage. That can create stresses on normal ways of operating which can create opportunities for exploitation."