Party food
Taste the Difference Lemongrass Prawn Skewers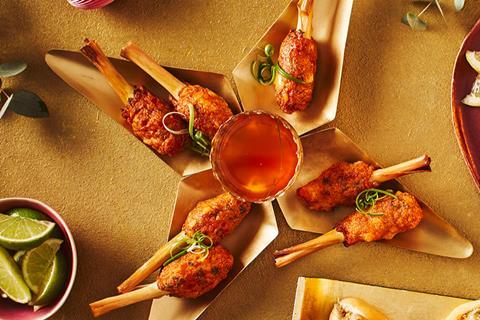 £3.50
Sticks of lemongrass take the place of a wooden skewer, helping to reduce packaging while also enhancing the bites with aromatic flavours, says Sainsbury's. The prawns are combined with sweetcorn, red bell pepper, green beans and water chestnuts for a "fresh and filling" light skewer bite. They will go on sale from 8 December.
Taste the Difference Mini Hot Dogs with Apple Drizzle & Crackling Crumb
£5.50
Sainsbury's claims to have enhanced the classic hot dog with British roast favourites: a topping of tart apple drizzle and crackling crumbs. Available 12 December.
Taste the Difference Chicken Waffles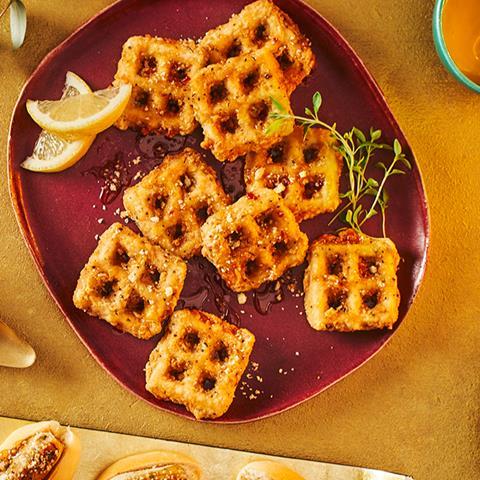 £3.50
The American classic reworked. Who needs chicken and waffles when you could have them both in one? Sainsbury's Christmas party version of bite-sized waffles are made from chicken, coated in a southern-fried batter for the "ultimate hybrid finger food". Topped with a sweet maple drizzle, they also come with a waffle crumb to be sprinkled on top. They hit stores from 17 November.
Taste the Difference Mini Baking Camemberts with Caramelised Onion Chutney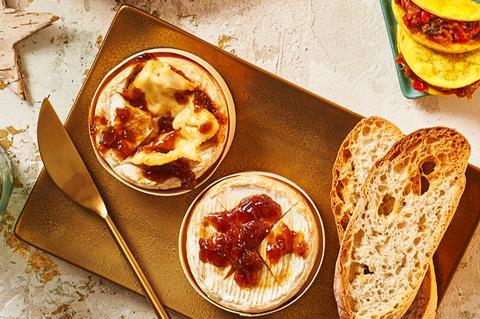 £3.50
Sainsbury's recommends serving with crusty bread and fresh, crunchy crudités for dipping to elevate the family cheeseboard. Available 1 December.
by Sainsbury's Pigs in Snowy Blankets (Dragon Sushi Rolls)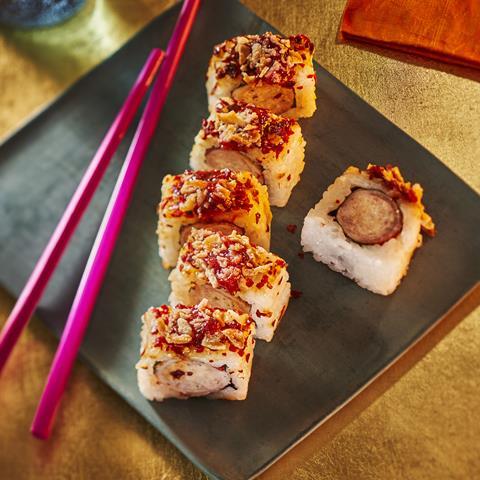 £3
Now here's one you haven't seen before. Sometimes it seems the supermarkets are trying to one-up each other with ever more ambitious pigs in blankets. Sainsbury's has thrown a spanner in the works with this new take, seeing pigs in blankets combined with a cranberry sauce and nori seaweed. Then, the piggies are wrapped in "sticky, snowy" sushi rice blankets before being topped with even more cranberry sauce and crispy onions for a Christmas treat that's both savoury and sweet. Available 1 November.
On the go
by Sainsbury's Grinch Snacks Brussels Sprout & Parsnip Snacking Bhajis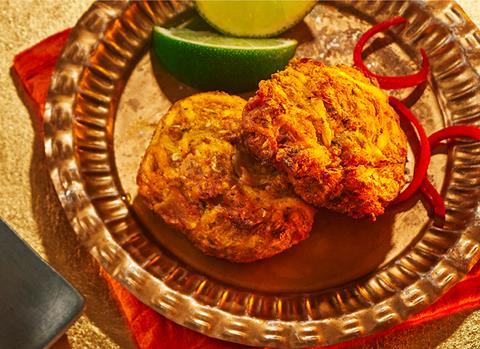 £1
Sainsbury's claims to have given the humble bhaji a festive glow-up with the addition of shredded brussels sprouts, parsnips and warming spices. It will hit food-to-go chillers from 1 November.
by Sainsbury's Rudolph's Night Before Christmas Feast Sandwich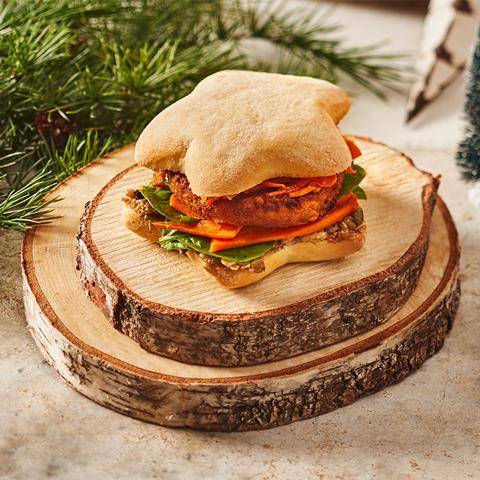 £3
For the stars of Christmas, Sainsbury's has brought together all things plant-based in this bun. It features a fresh carrot and root veg patty with umami glazed carrot ribbons, slathered with a caramelised carrot chutney. Crunchy candied spiced seeds top this veggie sarnie. Available 1 November.
by Sainsbury's Beef Wellington Special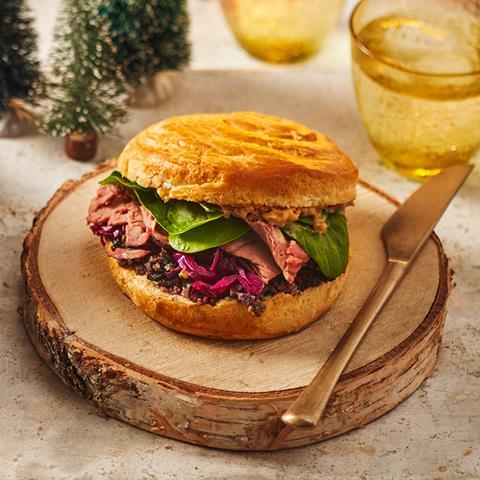 £3.50
Sainsbury's is putting this particular sandwich into hybrid croissant rolls, which it says are light, flaky and the perfect stand-in for the pastry of a beef wellington. Inside are slices of sous vide beef with a truffle flavour mushroom duxelle, gravy mayo and festive red cabbage and spinach, in a bid to create a Christmas dinner on the go. Available 1 November.
Fish course
Taste the Difference Ready-to-Eat Whole Canadian Lobster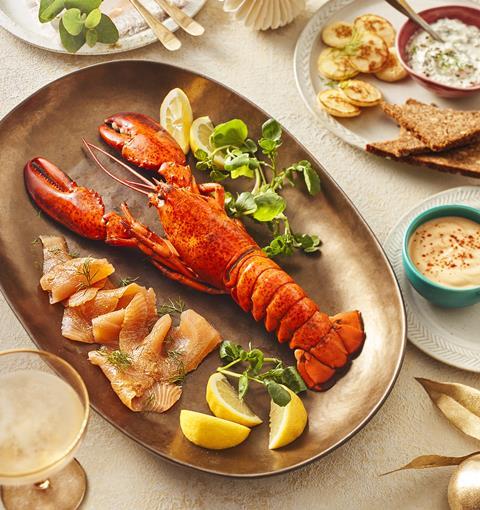 £12
Sainsbury's describes its ready-to-eat lobster as a "great value showstopper". It is cooked in its shell to ensure tender leg and claw meat and a naturally delicate, sweet flavour, it says. It will roll into shops on 20 December.
Taste the Difference Bucks Fizz Smoked Salmon
£4.45
Seen to the left of the lobster above, two brunch favourites combine for a Christmas twist. Slices of mildly smoked, responsibly-sourced Scottish salmon are soaked in a prosecco and orange glaze for a citrusy Bucks Fizz hit, which the retailer has also topped with gold shimmer. Available 1 December.
Taste the Difference Crab & Lemon Mousse Pots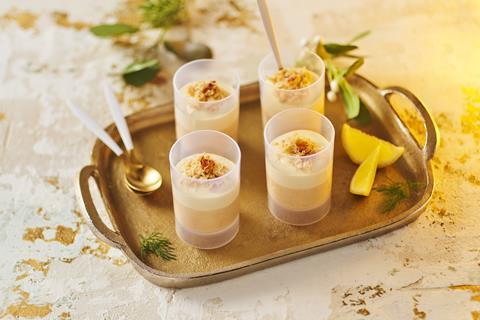 £4
Sainsbury's describes this light course as "fresh and flavoursome". The pots layer crab mousse with lemon mousse to create a ready-to-serve "convenient yet premium first course". The mousse is topped with Orkney white crab meat. Rolling out on 8 December.
Christmas dinner centrepieces
Taste the Difference Pork & Cranberry Wreath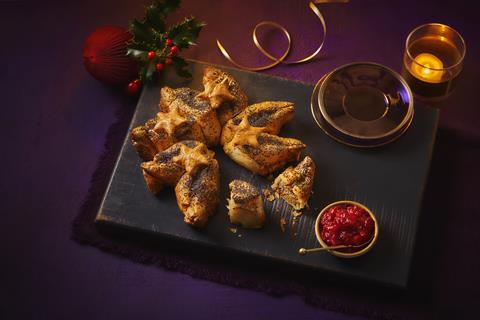 £6.50
The retailer is aiming for the wow factor with this star-shaped centrepiece. It's no ordinary sausage roll: the festive sharer is made with seasoned outdoor-bred British pork and sweet cranberries, all encased in a butter-enriched puff pastry. For a luxury finish, the wreath is sprinkled with poppy seeds and an edible gold shimmer. Available 8 December.
by Sainsbury's Spiced Easy Carve Lamb Leg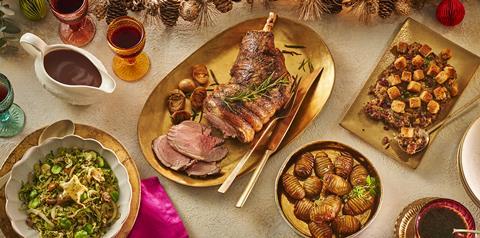 £13
Sainsbury's was inspired by the resurgence of the carvery to make lamb the star of the show this Christmas, building on its 37% spike in popularity during Christmas 2020. Its boneless British lamb leg, flavoured with festive spices including juniper, ginger, clove and bay, is shanked at one end for easy carving, and is accompanied by a ruby port and rosemary gravy. Available 15 December.
Taste the Difference Maple & Marmalade Gammon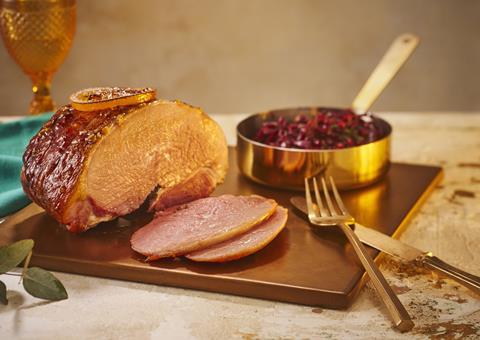 £15
Selected cuts of outdoor-bred pork are used in Sainsbury's Maple & Marmalade Gammon, which is hand-cured with sea salt for a rich flavour. The joint is accompanied by a "sweet and tangy" maple and marmalade glaze, which the retailer says makes it perfect for the spread at Christmas lunch or to serve sliced during a Boxing Day buffet. It hits stores on 9 December.
Vegan options
Plant Pioneers No Chicken Kievs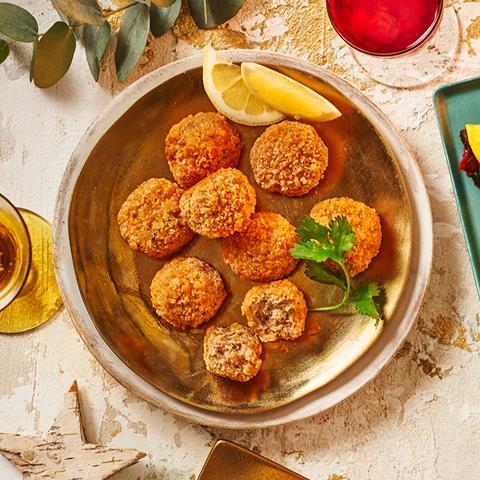 £3
A classic comfort food reimagined in plant-based form, says the retailer. Filled with an "oozing" vegan herb sauce, these mini chicken-free bites are made from young jackfruit, potato and soy protein, and are coated in breadcrumbs and then deep-fried for a crispy finish. Available 8 December.
by Sainsbury's Mini Black Bean Tacos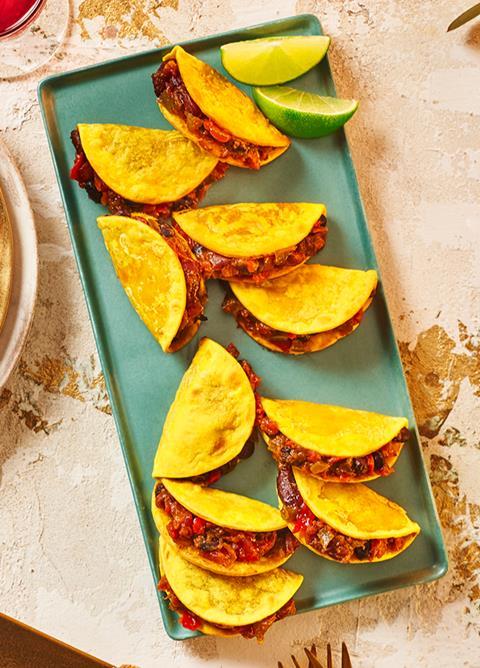 £3
A veggie flavour sensation, these Mexican-inspired mini tacos are destined for the Christmas party food spread. Shells are filled with a spiced black bean mix to add a touch of heat to a festive buffet. Available 8 December.
Plant Pioneers No Turkey Crown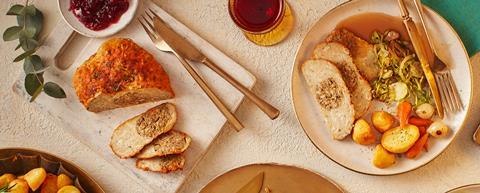 £5.50
For those after a plant-based main that's the closest to a classic, Sainsbury's suggests its No Turkey Crown. Complete with stuffing, this meat-free centrepiece is topped with a sage and onion melt for added festive flavour. It rolls out on 8 December.
Plant Pioneers No Salmon En Croûte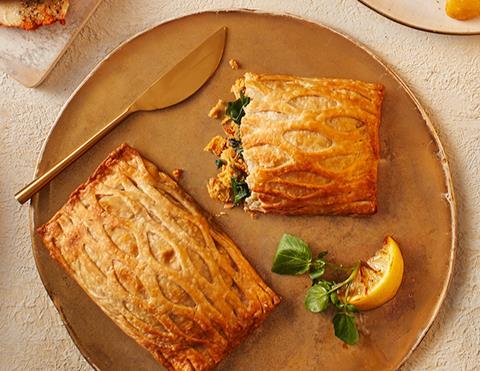 £5.50
The No Salmon En Croûte's vegan puff pastry wraps around a salmon alternative of jackfruit, soya and oyster mushrooms layered with garlic and dill white sauce. Available 15 December.
Plant Pioneers No Gammon with Maple Glaze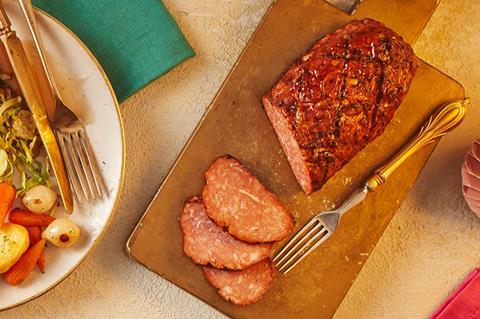 £5.50
Sainsbury's is claiming a first with its plant-based gammon roast. The meat substitute is made from wheat and pea protein and coated in a sticky and sweet maple glaze to give it a glossy finish. It will go into stores on 8 December. 
Taste the Difference Festive Miso-Stuffed Butternut Squash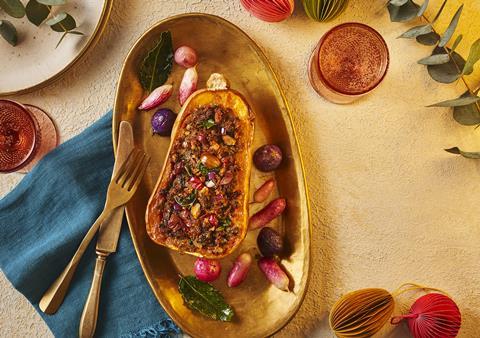 £5.50
To counterbalance the savoury Christmas feast, Sainsbury's will also be offering this sweet squash. This roasted butternut squash is stuffed full of rich miso-marinated mushrooms, crisp kale, chestnuts and a juicy jewelled cranberry stuffing. Available 13 December.
Plant Pioneers Cheese Selection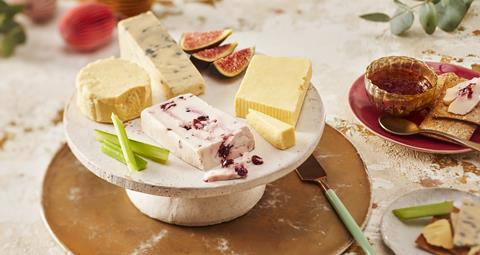 £4.50
Sainsbury's is to launch its first entirely vegan cheeseboard, with the promise no one should miss out at Christmas. It features four dairy-free options: caramelised onion cheddar-style, traditional cheddar-style, wensleydale-inspired with cranberries, and a plant-based blue. The selection will hit chillers from 1 December.
Sweet treats
Taste the Difference 4 Cookie Cup Pies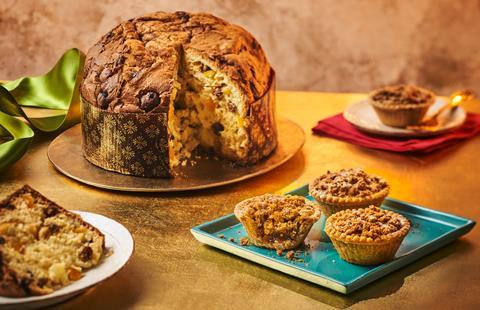 £2 
A modern take on classic mince pies. Sainsbury's describes the product as buttery, cookie-style pastry filled with a "velvety smooth layer of caramel", topped with a caramelised biscuit crumb and finished off with a dusting of shimmering gold sugar. Available 27 October.
Taste the Difference Lemon & Passion Fruit Bûche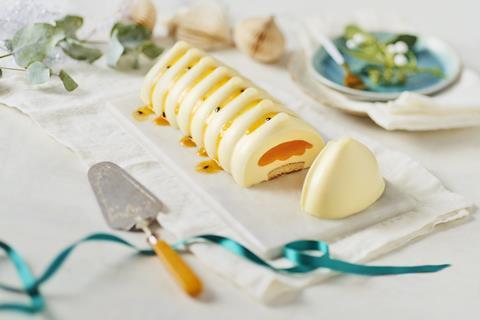 £10
This lemon bûche blends whipped cream with Belgian white chocolate and Sicilian lemon for a "creamy yet refreshing mousse", says the retailer. A passionfruit and orange curd is hidden in the centre, while the dessert is finished with a shimmering passion fruit and orange drizzle. It rolls out on 20 December.
by Sainsbury's 5 Yule Pups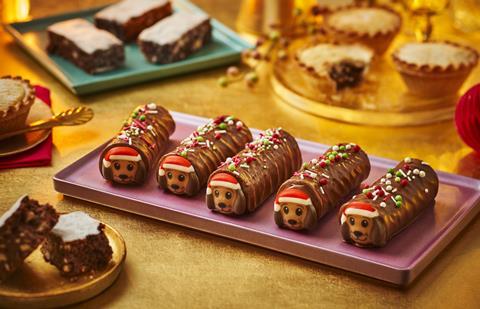 £2.20 
They're not caterpillars, they're not reindeer – they're puppies, and these ones are just for Christmas. These mini yule rolls contain a "soft and light" chocolate sponge cake rolled in a vanilla filling and covered with milk chocolate. They hit shelves on 27 October.
Taste the Difference Gingerbread Fudge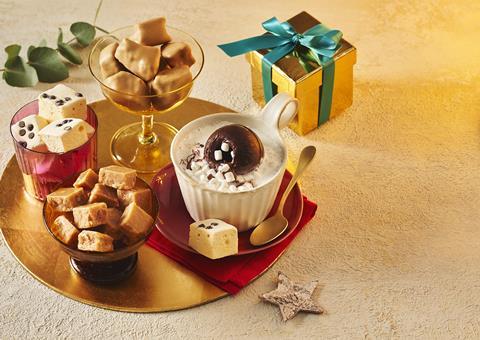 £3
Marketed as an "after-dinner delight", a classic Christmas film snack or gift for friends and family. Available from 3 October.
by Sainsbury's Snowman Cheesecake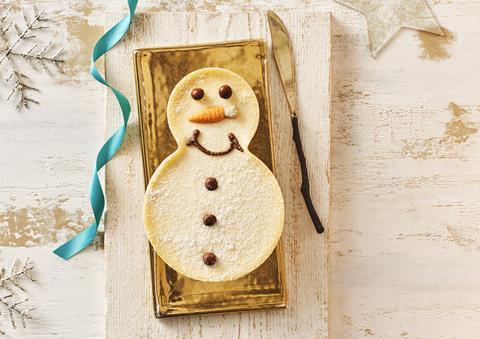 £5
Sainsbury's swears its friendly Snowman cheesecake will be a hit with kids and adults alike. The fun design sees a buttery biscuit base topped with baked vanilla cheesecake, finished off with cereal ball buttons, an icing carrot nose and an iced smile. Available 20 December.