There were extraordinary scenes this week, even by recent standards, as an unquantifiable audience of food companies attempted to log in to a hastily organised webinar by NHS bosses on how a new daily contact testing (DCT) scheme would attempt to prevent a workforce crisis.
With the Covid-19 'pingdemic' in full swing, ministers had announced they were to allow special exemption for up to 10,000 food workers, which would allow them to take daily tests at work rather than self-isolate, amid growing fears of absence rates leading to food shortages on shelves.
But those who joined Monday's webinar, which is to be repeated several times this week, say the bombardment of technical abbreviations from the NHS Test & Trace bosses was enough to bring them out in a cold sweat.
And that was before the legal and logistical implications for companies agreeing to set up the DCT scheme emerged.
So is this system the answer to the workforce labour crisis? Or, with Covid infection numbers now seemingly in reverse, is it likely to go the same way as previous asymptomatic testing schemes, which have struggled to earn mass uptake because of the red tape involved?
On Sunday the government wrote to retailers, suppliers and wholesalers at the 500 key production sites selected for the exemption, saying it had taken a "risk-based approach to identify those businesses to prioritise for testing to ensure food supply across England's supply chains holds up".
Defra is promising by the end of this week 200,000 lateral flow tests will arrive with the selected companies.
It follows criticism of government delays in tackling the pingdemic, which has threatened to cause staffing issues greater than at any time since Covid's arrival.
Too little too late?
Last week saw companies growing impatient, amid repeated promises of intervention, for the eventual announcement of details of the scheme, with absence rates said to be hitting 30% in some pockets of the UK.
However, some of the government's most vocal critics were this week sounding much more confident it was on the right track.
FWD CEO James Bielby, who had earlier slammed the government's response as "chaotic" and "too late", has since said in a report in the Observer the rollout goes further than initially thought, including to wholesalers, and called it "a really good move".
He also told the Today programme: "Those business who are part of the first wave have been contacted and will be up and running this week so we're going in the right direction."
Others, however, are livid at what they see as "cherry picking" of eligible companies by Defra without consultation.
• With one in three Covid victims having no symptoms, DCT aims to find asymptomatic cases while also easing absence rates
• Under the scheme for the food industry, instead of self-isolating for 10 days after getting pinged by the NHS Covid app, a worker can choose to have seven days of daily lateral flow device tests (LFD) in the workplace
• Staff who test positive have to self-isolate but will also be offered a more accurate PCR test to double check
• Qualifying companies need to set up asymptomatic testing facillities (if they have not already), sign up to the Egress data security system, commit to online training and make a series of legal declarations about the testing
• As well as training staff to carry out and oversee the tests, companies must commit to ensuring test facility conditions including a temperature of 15-30 degrees and no porous floors. Social distancing measures must also be in place
• Participants deemed to have failed to comply with the rules on reporting data or safety measures can be kicked off the scheme and face legal action.
Source: DHSC
It's understood fewer than 150 food and drink companies have been invited to take part in the scheme, and Defra has refused to release the list even to key trade bodies.
"We are not talking about 500 companies here but 500 sites," says one senior supplier source. "It's far fewer than that when it comes to companies."
Andrew Kuyk, director general of the PTF, says he is "extremely concerned" at the "lack of transparency" over the list.
Another supplier source says: "I have spent the weekend trying to get more information and being stonewalled by Defra.
"Defra's refusal to say who is on this list has huge implications for companies facing this crisis and the potential to be extremely discriminatory. This decision could make the difference between being viable and non-viable [as a business]."
The possibility has also been raised that companies may baulk at the cost and red tape involved in the new system, especially now Covid numbers appear to be heading in the right direction again.
"There is clearly a worry in Defra that parts of the supply chain are facing major problems with staff absences and there is the potential for chaos," says the senior supplier source.
"But the impact of this is varying widely. It is quite random and hard to predict and I believe many companies will look at the hoops they have to jump through to be involved and think twice.
"Daily testing is extremely costly and may end up being pointless if, as we all hope, the numbers are now going down.
"I simply don't think this system is cut out for a mass rollout beyond the really big companies, despite claims smaller companies are being missed out."
Data security
The Grocer understands NHS Test & Trace bosses stressed in the webinar any company taking part would have to agree to a "serious amount" of legally binding quality and clinical compliance assurances, and risked being kicked off the scheme as well as court action for non-compliance.
Among other things, firms taking part need to sign up with the government's data security partner, Egress.
They will have to set up asymptomatic testing sites at their distribution centres or factories if they have not already been part of such trials, and commit to a series of legally binding data reporting obligations, along with training staff to conduct and oversee the daily tests.
Several named individuals will become responsible at each company for the process.
That means we can just carry on with what we've been doing anyway, only now we've got the government's blessing
NHS bosses also warned there would be particular challenges for companies in areas hit by localised outbreaks of variants of concern (VOCs). "It's very clear the amount of complexity involved is going to make this very difficult for smaller companies," says one industry source. "I think it's really going to be difficult for SMEs because they just don't have the resources.
"It's also a legally binding process and, we must not forget, voluntary as far as the staff are concerned."
Indeed, it's understood the NHS bosses stressed companies have no right to force staff to take part in the programme.
"The individual has a choice: they are able to stay at home and isolate for 10 days… an individual has to be a volunteer [to be in the scheme]," the webinar audience is said to have been told.
Yet the government's move also comes amid anecdotal evidence some companies have effectively forged their own testing practices, in the absence of government intervention to tackle the pingdemic sooner.
British Frozen Food Federation CEO Richard Harrow says some companies have told him they had already taken matters into their own hands.
"The response from one of the companies I spoke to was 'OK, that means we can just carry on with what we've been doing anyway, only now we've got the government's blessing'," he says.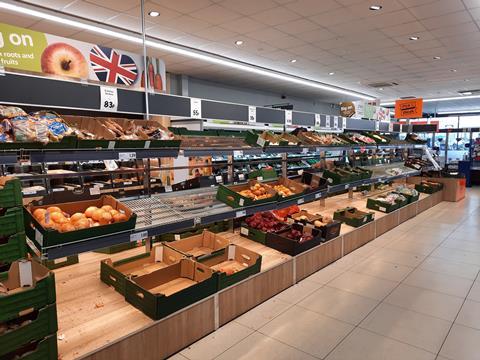 In its letter to the selected companies, Defra says its "ambition" is for the DCT scheme to be rolled out more widely "over the coming weeks". It says it recognises some will think it did not previously do enough to protect their supply chains.
That's with quarantine rules set to ease on 16 August, so that people fully vaccinated will no longer be required to self-isolate after getting pinged by the NHS Covid app.
Speculation over what happens after that key date is veering wildly depending on the latest infection figures. One source says he believes it is "inevitable" self-isolation for staff will continue beyond 16 August.
However, another source believes, with infections now falling and Tory backbenchers baying for blood over the cost of lockdown measures to date, it will be "almost impossible" for the government to backtrack. "Whilst undoubtedly there are concerns over staffing, the situation with the infection rate is changing at such a fast rate I'm not sure how serious the government is about continuing to roll this testing out over the coming weeks," says the source.
"I suspect it may see this as a temporary fix even if it doesn't go ahead with the 16 August relaxation.
"In fact, my suspicion is they wouldn't have announced this at all if the figures were what they are today. But it could mean this is the model the government might look to use if things go bad again in the autumn and there is another big spike."
Plans for mass testing have had a habit of being overtaken by events in this pandemic. DCT, despite being the most advanced and fleet of foot system yet, may face the same fate – depending on those daily numbers.