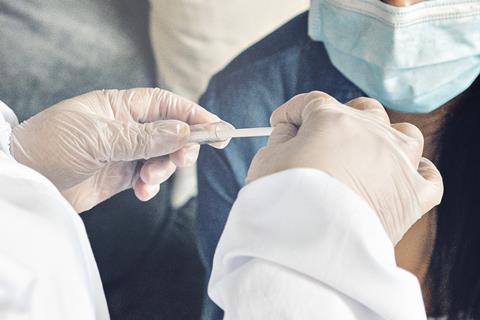 Industry leaders have slammed government delays in its response to staff shortages hitting the sector, accusing ministers of taking days to answer calls for urgent measures.
The government is still to publish details of expected measures to enable exemptions for some food industry workers from rules that have forced tens of thousands to self-isolate after getting 'pinged' by the NHS Test & Trace app. 
With the situation adding pressure to a sector already grappling with the HGV driver shortages, and reports emerging of empty shelves in supermarkets across the country, one leading source described the government's response as "farcical and shambolic".
While supermarkets absence rates are thought to be typically standing at about 10%, they are said to have hit as much as 30% in some pockets of the UK, with the midlands and north of England particularly badly hit.
Some stores have begun moving staff between locations to tackle particular hotspots.
New measures are expected to allow people in food industry jobs to apply to be exempt from self-isolation rules, but the change is not expected to extend to whole workforces. It is also expected to be limited to certain "named individuals", and sources warned it could take days of further delays before companies can put the measures in place.
"The government has been called on to deal with this crisis since the weekend. It's now Thursday and there is still no clarity ," said one senior supplier source.
"There is a serious risk of this whole situation falling into disarray if the government does not get a grip. It seems absolutely absurd to let this drag on especially with the threat of food shortages rearing its head. It smacks of an abdication of responsibility."
The Grocer understands Defra bosses have been deluged with calls form food companies demanding clarity, while union bosses have urged ministers not to reduce safeguards in place for staff.
"The pingdemic was entirely predictable and is unsustainable," ex-Sainsbury's CEO Justin King told The Grocer.
"Cases are rising but many customers will refuse to wear masks as is their right, and colleagues, understandably, will ask their employer to enforce them.
"The reliance on an app, which is clearly a very blunt instrument, doesn't really help. Some will slavishly follow, others delete. Others still make up their own rules as to what they should do in the event of being pinged.
"None of this has the force of law. Net trust in the role it can serve in a long-term management plan for Covid has evaporated. It will need a major reset and relaunch, likely alongside Test & Trace, if it is to survive."
BRC director of food & sustainability Andrew Opie said: "The ongoing 'pingdemic' is putting increasing pressure on retailers' ability to maintain opening hours and keep shelves stocked.
"The government needs to act fast. Retail workers and suppliers, who have played a vital role throughout this pandemic, should be allowed to work provided they are double vaccinated or can show a negative Covid test, to ensure there is no disruption to the public's ability to get food and other goods.
"With community cases soaring, the number of healthy retail staff having to self-isolate is rising fast, disrupting retail operations."
FDF CEO Ian Wright said: "Food production has been hit hard by isolations with a number of companies needing to scale down output to cope with worker shortages.
"We welcome the government's update food production workers will be exempt from the requirement to self-isolate, but we urgently need clarification from the government including further detail on how the scheme will work."
One retailer said it had been moving staff across stores to alleviate the issue.
"We are managing it but wouldn't want it to get worse," said a spokesman, who added: "We are worried about August, when booked holidays will compound the problem."
Another supermarket source added: "It is an issue, the pingdemic is definitely a real thing and we are seeing a rising number of cases."
But he said it was still "nowhere near as yet the level of absence rates we had during the lockdown last year.
"It is concerning, and we would welcome moves by the government to announced measures for key staff," he added.
Iceland, having managed to keep all stores open during lockdown, said it had now been forced to close some stores because of the number of staff pinged. "The great irony is we're now all getting vaccinated," said CEO Richard Walker.