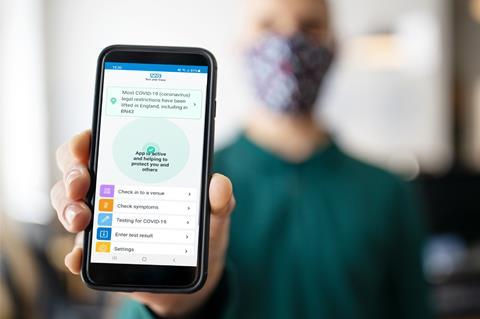 The bosses of Iceland and M&S have risked "spooking" the public into panic buying by fuelling a media frenzy over the 'pingdemic', a major supermarket has claimed.
Iceland MD Richard Walker has made a series appearances on TV and in national newspapers in recent days saying absence rates have forced him to close stores and cut opening hours.
Meanwhile M&S CEO Steve Rowe told The Times at the weekend the number of M&S staff getting 'pinged' by the NHS app was "growing exponentially", and any labour shortage could lead to changes in store hours. 
They have been part of mounting calls from industry over the issue, which last night led the government to introduce exemptions from self-isolation rules for up to 10,000 food supply chain workers.
However, as the week has progressed and reports have emerged of empty shelves appearing in supermarkets, shoppers have also been warned not to panic buy, including by Walker himself.
"Our absence rates are manageable and there are very few availability issues, but panic buying is now our main worry," a source at a major supermarket told The Grocer.
"We've had probably 20 media calls this morning – BBC, ITV – they all want a supermarket boss to talk about this problem, but the problem for us now is one created by Richard Walker and Steve Rowe.
"We're having to go back to our positions around panic buying: if people start panic buying, what are we going to do?
"We've got a line ready saying stores have good availability but we're not going out with it because it could change by the afternoon if people start panic buying.
"And now Richard Walker is saying don't panic buy! 
"It's the role of supermarkets to be careful about spooking people."
While supermarket absence rates are said to have reached as high as 30% in some pockets of the country, the typical rate is understood to stand at closer to 10%. Reports have varied from retailer to retailer, with some saying they are not concerned over the numbers and stores are open as usual.
Welcoming the government's introduction of exemptions to self-isolation rules, BRC CEO Helen Dickinson said: "Disruption is limited at the moment, and retailers are monitoring the situation closely."
Announcing the exemptions, environment secretary George Eustice said: "The last 18 months have demonstrated that we have a highly resilient food supply chain. There are sufficient food supplies in the system and people can and should shop as normal."
An Iceland spokeswoman said: "Richard Walker has consistently said that this is absolutely not about panic buying and also explained that we have seen very few empty shelves in Iceland.
"He has openly said that the media needs to not scaremonger and specifically asked them not to show images of empty shelves.
"Richard has clearly stated that there is not an issue with stock or supply, and that there is more than enough to go around.
"This is about staffing levels and efficiencies in keeping stores open, and not having to close them or run them on reduced hours. The government needs to protect and support the food retail industry by addressing the self-isolation rules which are putting too much strain on critical business that are trying to feed and support the nation."
M&S said Rowe's comments were in line with those from the BRC on a genuine challenge for retail operations, and he made no reference to shortages on shelves.