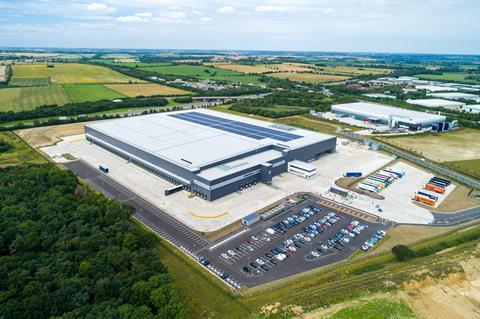 Up to 10,000 food supply chain workers will become exempt from self-isolation rules to ease the 'pingdemic' but the government has stopped short of including shopworkers.
Following talks with industry leaders yesterday, the government last night announced exemptions for workers at about 500 "critical" sites, including supermarket distribution centres.
Workers at the sites will no longer be automatically required to self-isolate after getting 'pinged' by the NHS Covid-19 app and will instead be offered daily Covid testing.
The scheme is to start in 15 supermarket DCs followed by 150 more depots next week, with a total of "up to 500" within its scope, the government said.
It follows growing concern this week over the threat of staff absences leading to shortages in supermarkets, with reports emerging of empty shelves.
"We are working closely with industry to allow staff to go about their essential work safely with daily testing," said environment secretary George Eustice.
Talking to Sky News, Eustice said the move didn't stretch to stores because "that would be a big departure from the approach we have now".
Health secretary Sajid Javid said: "As we manage this virus and do everything we can to break chains of transmission, daily contact testing of workers in this vital sector will help to minimise the disruption caused by rising cases in the coming weeks, while ensuring workers are not put at risk."
Defra said approvals would "follow shortly" for exemptions for "named critical workers" who fully vaccinated.
After a week of mounting calls from the sector for measures to ease staff shortages, BRC CEO Helen Dickinson said the government now had to make up for lost time.
"Retailers are working closely with government to identify hundreds of key distribution sites that will benefit from the new daily contact testing scheme," she said. "It is absolutely vital government makes up for lost time and rolls out this new scheme as fast as possible.
"Disruption is limited at the moment, and retailers are monitoring the situation closely. Government will need to continue to listen to the concerns of the retail industry in the coming days and must be prepared to take further action if necessary."
British Frozen Food Federation CEO Richard Harrow said the announcement went "part of the way" but not far enough, while lacking urgently needed detail.
"It shows yet again government does not understand how connected the food supply chain is. Only opening part of it is unlikely to solve the overall issue," he said.
"Plus, who is in and who is out, who decides and how do they decide? Confusion continues to pervade and I have been advised no list until Monday. This is worse than useless."