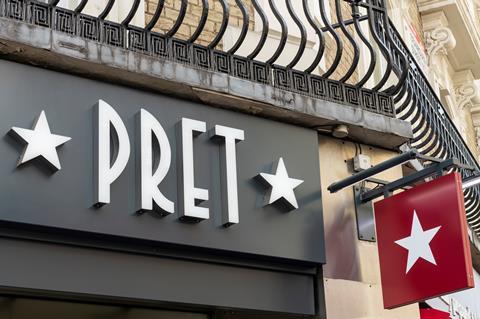 Pret a Manger has plunged more than £250m into the red as the Covid pandemic wiped more than £400m from sales in 2020, newly filed Companies House accounts have revealed.
But the fast-food chain this morning also unveiled an ambitious growth plan to double the size of the business in the next five years and open more than 200 new shops in the next two years as a recovery gathered momentum following easing of Covid restrictions.
Revenues at the business collapsed 58% to £299.4m in the year ended 31 December 2020 as its stores were forced to closed as the UK went into lockdown and footfall in city centres across the country disappeared.
Pret's operating losses for the year totalled £256.5m, compared to a loss of just £25m in 2019, and adjusted EBITDA moved from a profit of £138.7m to a loss of £82.2m.
However, the group said its recovery had gathered pace in 2021, with trade now approaching pre-pandemic levels and profits returning thanks to a transformation programme put in place in the summer of 2020.
Pret has significantly expanded its online delivery service, launched its products, including coffee and bake-at-home frozen croissants, granola and ketchup, in the supermarkets and with Amazon and Ocado for the first time, grown its footprint in suburban areas and motorway service stations, and launched a coffee subscription business.
It also closed more than 30 stores and made about 3,000 employees redundant as it battled to stay afloat.
The group said the pandemic had pushed it to deliver more change to the business model in one year than in its 30-year history.
New plans announced today included expanding into new international markets, growing its shop estate and investing further in new digital capabilities.
The plans are backed by a new £100m investment from owner JAB Holding, which acquired the business for £1.5bn in 2018, and Pret founder Sinclair Beecham. The investment comes on top of an initial injection of £185m to support Pret through the coronavirus crisis.
As well as continuing to develop its menu, the business also plans to expand its shop estate in the UK, with more than 200 shops set to be opened in the next two years, largely located in regional and suburban areas.
The first major franchise partnership was signed over the summer, with further agreements expected later this year.
Many of the new shops will be located in transport hubs and motorway service stations, further building on Pret's existing partnership with forecourt operator MFG and motorway services operator Moto.
As the company expands, Pret will roll out a recruitment programme, aiming to hire at least 3,000 new employees and baristas by the end of 2023.
The number of employees now working across the business has grown 28% since the start of 2021, with more than 6,000 staff in the UK, as well as almost 2,000 workers in the US, France, Dubai and Hong Kong.
CEO Pano Christou said: "Last year we were in the eye of the storm during the height of the pandemic. Now we have the chance to build a bright new future for Pret.
"What the pandemic has shown us is that even at the darkest moments, more people want to experience Pret – whether that's customers outside of London and other big cities, new franchise partners who want to work with us here and overseas, investors in our business, or people who want to grow their careers here and be part of what we're trying to build.
"It's been an incredibly tough two years, but we have a big opportunity ahead. Last year, we delivered more change than in thirty years of Pret's history. As we move into the next phase of our transformation, we want to keep the same pace of innovation, but use it drive new growth."
Christou told The Grocer the business planned to continue to focus on the retail channel and widen distribution with UK supermarkets, as well as expanding further into new categories and launching in retailers in Europe, North America and Asia.
"It is about ensuring we have products in categories that really complement the brand," he said.
"The retail channel will be a growth area for Pret for years to come. The sales so far have been much stronger than we anticipated."