Finest Vegan Christmas Dinner Box for Two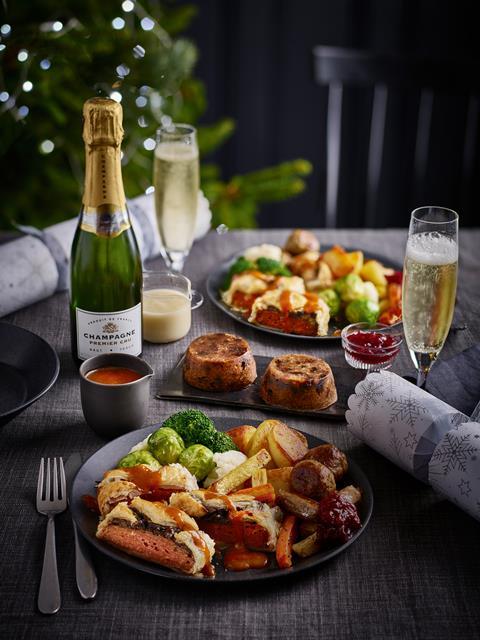 Rsp: £35
Designed for those looking to dine in style and save time with their festive food shopping, the box is filled with 15 items, including a flaky and golden 'No Beef' Wicked Kitchen Wellington made with pea protein and mushroom duxelles. The centrepiece is served alongside plant-based takes on festive favourites such as herby stuffing balls and cocktail sausages. Traditional trimmings such as crispy roasties, thyme-roasted carrots, port-infused cranberry sauce and sprouts are also packed into the Christmassy ready meal.
Tesco's buyers say a Christmas dinner would not be complete without a boozy Christmas pudding, so have included two mini vegan versions filled with sultanas, cider and rum, served with a brandy sauce. To top it off, diners can toast the meal with a glass of Finest Premier Cru Champagne. The two-person meal deal will roll into stores from 4 October.
Plant Chef Festive Parcels with Beet Sauce & Horseradish Crumb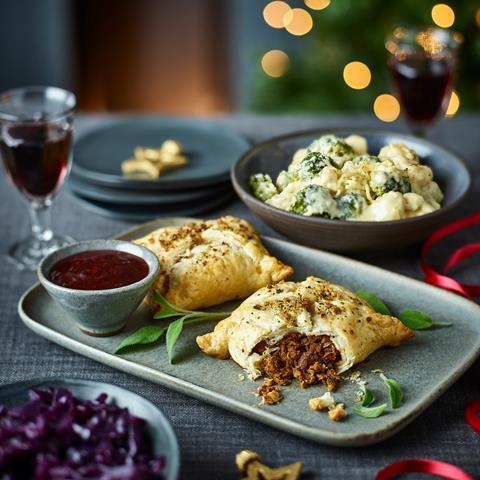 Rsp: TBC/400g
"Golden" parcels of plant-based pastry, filled with roasted parsnip and carrot, served with beetroot sauce. For smaller gatherings, these parcels serve two and go on sale from 13 December.
Wicked Kitchen No-Turkey Roast Crown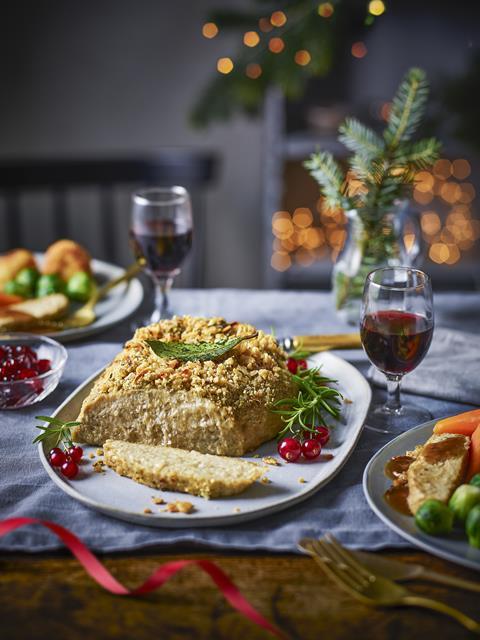 Rsp: £5/400g
Tesco's Christmas Wicked Kitchen has been pioneered by high-profile executive chef Derek Sarno, who has created this "tender and juicy", easy-carve turkey-free crown made with savoury soy and wheat protein, then topped with a vegan coconut melt and a sage and onion stuffing crumb. It cooks in 45 minutes and carves like real turkey, the retailer says. Up to four people can enjoy this centrepiece when it goes on sale from 13 December.
Plant Chef Cauliflower and Broccoli Gratin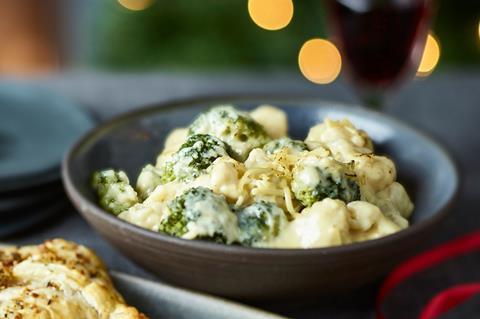 Rsp: £2.25/350g
A take on roast dinner classic cauliflower cheese, this cauliflower and broccoli in an oat drink and coconut alternative to cheese sauce is finished with a coconut alternative to cheese sprinkle. It serves two people and hits shelves from 25 October.
Wicked Kitchen Mature Cheddar Alternative & White Wine Bake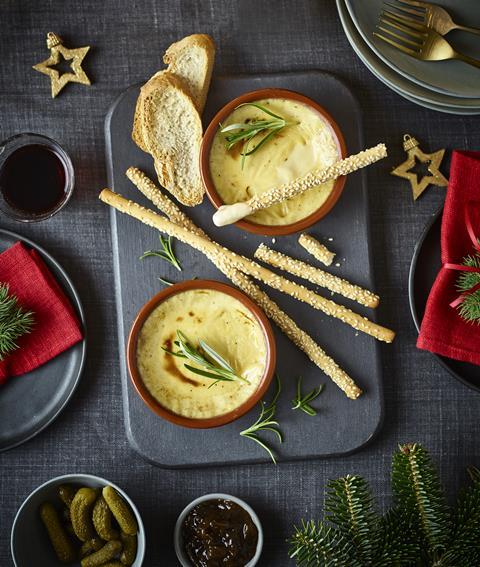 Rsp: £3/150g
A "velvety" vegan smoked cheddar cheese fondue, says Tesco. The fondue is infused with white wine and served in a ceramic dish for a sense of occasion. It contains a smoked coconut alternative to cheddar cheese, serves three and goes on sale around 15 November.
Plant Chef Meat-Free Mini Not-dogs & Burgers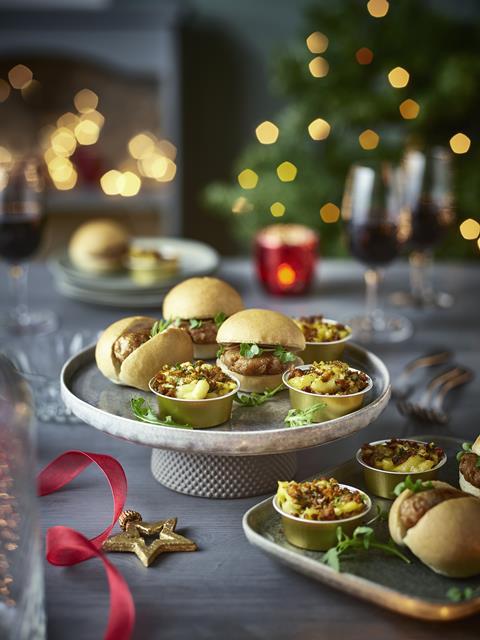 Rsp: £5/234g
No longer will veggies and vegans be confined to houmous and veggies at Christmas parties. Tesco's mini meat-free burgers and plant-based Cumberland sausages in glazed white rolls are intended to ensure there is a fun dish for all palates. They go on sale from 25 October and serve up to eight people.
Wicked Kitchen Mini Mac Party Pots
Rsp: £4/256g
Macaroni smothered in a vegan smoked cheese sauce, topped with crispy fried onions and a plant-based chorizo alternative. These come party-ready, serving up to 12 in individual mini pots from 25 October.
Wicked Kitchen Spiced Rum Christmas Pudding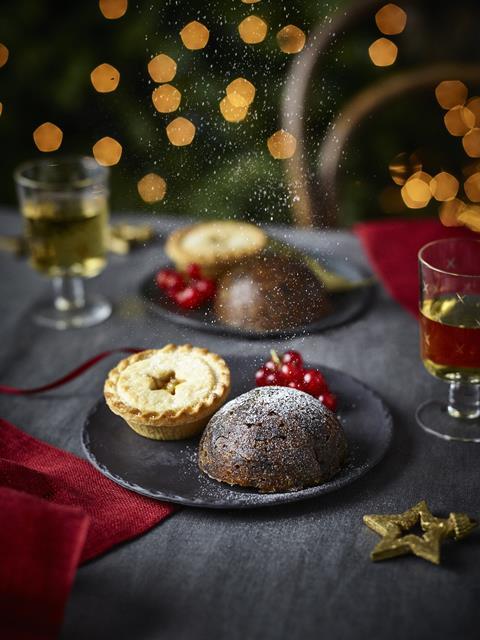 Rsp: £1.50/100g
These individual fruity Christmas puddings are lightly spiced with cinnamon and ginger. Filled with "succulent" vine fruits, golden spiced rum, whole blonde glacé cherries and crunchy split almonds. Finished with an extra shot of golden spiced rum for Sarno's signature "wicked" flavour. They go on sale from 27 September.
Wicked Kitchen Awesome Apple & Salted Caramel Pies
Rsp: £2
Plant-based shortcrust pastries with a sweet and spicy aromatic chai flavour, Bramley apple chunks and salted caramel sauce arrive in stores from 27 September, serving up to six.
Wicked Kitchen Belgian Chocolate and Salted Caramel Log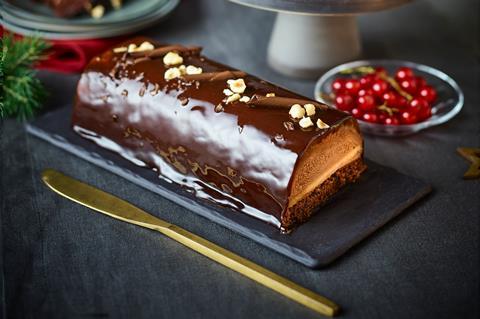 Rsp: TBC/570g
Tesco describes its log as a "rich, decadent dessert for chocolate lovers". Layers of bitter dark chocolate, balanced with a smooth hazelnut ganache to create a bang on-trend sharing dessert. The frozen log will need to come out of the freezer to defrost, before serving about six people at room temperature. It launches on 1 November. 
Wicked Kitchen Chocolate and Salted Caramel Cake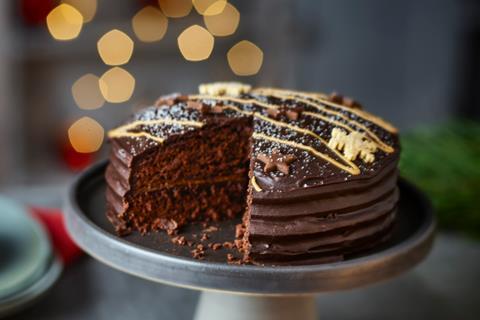 Rsp: £7
Continuing to bet heavily on popular salted caramel flavours, Tesco is planning an "indulgent" vegan chocolate caramel cake made with beetroot and filled with a Belgian chocolate frosting. It is finished with sea salted caramel sauce, topped with a Belgian chocolate frosting and decorated with sugar work. It makes for eight servings and goes on sale from 27 September.