Party food
Mini New Yorker Style Pastrami Toasties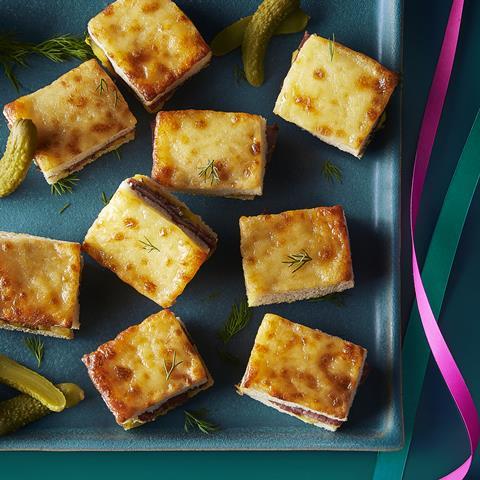 £5
A twist on a favourite sandwich, filled with cheddar and emmental cheese, pastrami, mustard and pickles. 
Savoury Vegetable Pies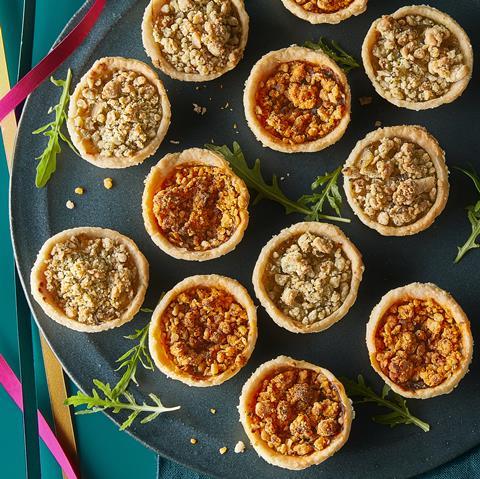 £5
This dozen is a vegan mix of "rich" mushroom pies and "creamy" leek and vegetable pies, made with puff pastry.
Mixed Dim Sum with a Spicy Soy Sauce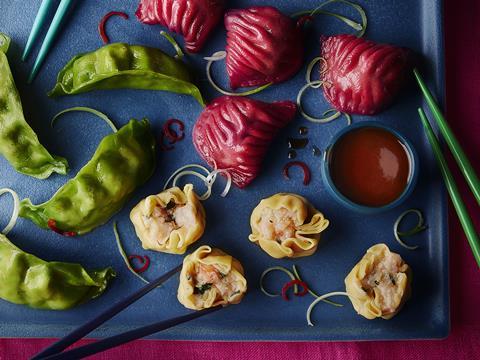 £6
A delicious selection of steamed dim sum, says Waitrose. The party packs contain four purple king prawn har gow, four green vegetable gyoza and four king prawn siu mai with a spicy soy dipping sauce.
Centrepieces
Slow-Cooked Bone-in British Venison Shoulder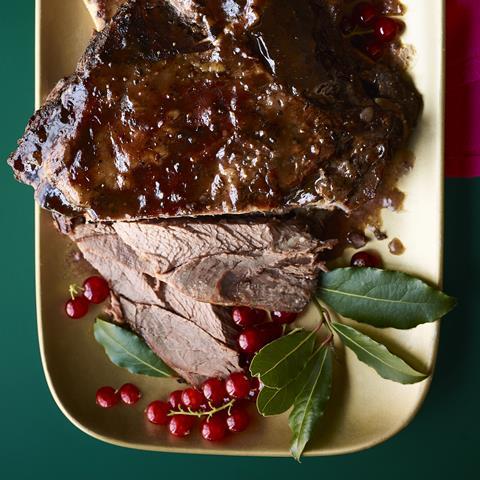 £25
A bone-in venison shoulder slow-cooked for 10 hours to intensify its flavour, according to Waitrose's chefs. It comes with a redcurrant and juniper jus in a bid to create a standout Christmas dinner table centrepiece.
Three Fish Roast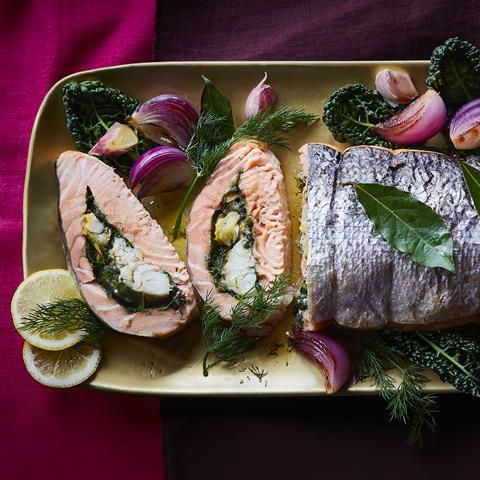 £30
Forget the three bird roast. Waitrose has reached the next level of indulgence with three premium fish. The outer layer is a Scottish salmon fillet, encasing cod and smoked haddock with baby spinach in a lemon and dill butter.
Vegan Jewelled Roast with a Fruity Centre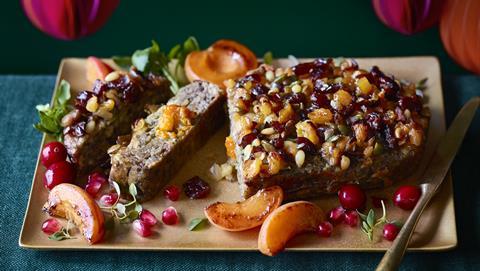 £5.99
In an attempt to elevate the humble nut roast, Waitrose is offering this savoury mushroom-based roast with sweet caramelised onions, chestnuts and a clove-spiced apricot centre. It is topped with a crunchy, colourful garnish of apricots, cranberries, crushed chestnuts, sunflower seeds and pine nuts.  
Boneless Leg of British Lamb with Apricot and Rosemary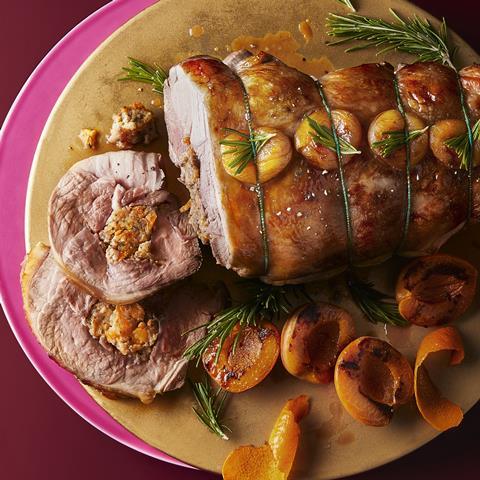 £22
A whole boneless leg of lamb with a fruity apricot and orange stuffing, garnished with dried apricots and rosemary. 
Ultimate Slow-Cooked British Pork Belly Feast with Crackling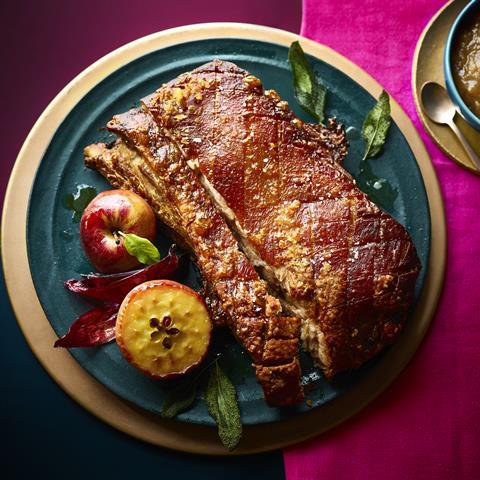 £30
A British bone-in pork belly joint slow-cooked for 10 hours to create tender meat with a crispy crackling, served with a spiced apple and cider sauce.
Cheese
Baking Camembert with Truffle and Acacia Honey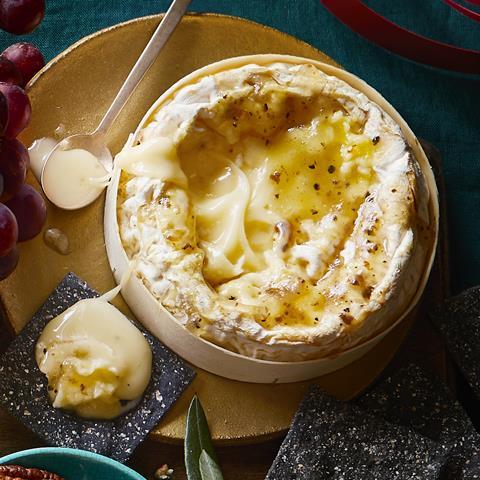 £3.75
Rich melted camembert meets honey and aromatic truffle, says Waitrose. It takes note of the trend for truffle cheeses among upmarket retailers, adding to options from posh farm shop Daylesford.
Chocca Mocha Wensleydale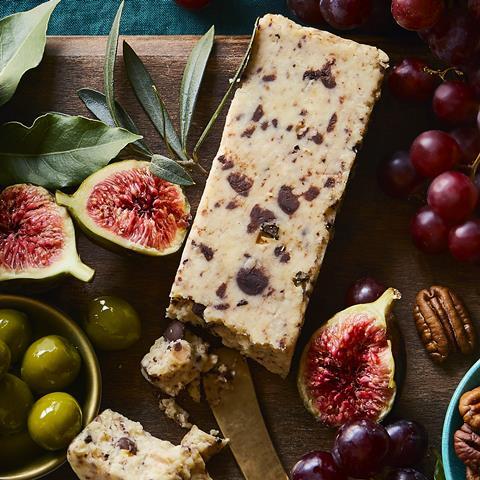 £3
Sweet and savoury meet here for Waitrose's cheese selection. Creamy wensleydale studded with chocolate-coated coffee nibs, and a dash of coffee liqueur. 
Baking Camembert with Garlic Doughball Wreath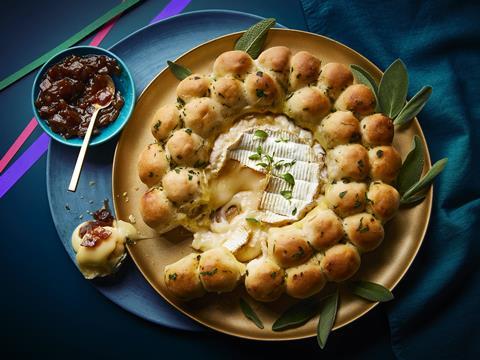 £6.50
A rich baking Camembert and tear & share doughball wreath glazed with olive oil, parsley and garlic, with a caramelised red onion and sherry vinegar chutney.  
Desserts
No.1 Sicilian Orange Nocciolato Panettone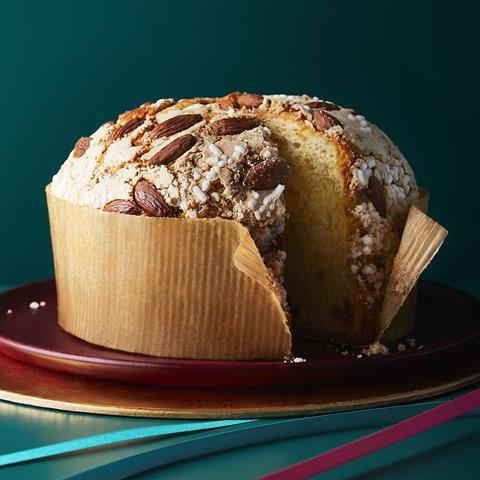 £14
This Italian-made panettone kicks off Waitrose's formidable dessert offer. It's made in Italy with Sicilian candied orange peel and Arancia Rossa di Sicilia IGP Sicilian blood orange paste. Finished with a sweet, crunchy, crackled hazelnut frosting, almonds and sugar strands.
Heston from Waitrose Espresso Martini Chocolate Torte
£12
Featuring the name of its creator, Heston's "rich and indulgent" coffee and chocolate mousse is layered with salted caramel chocolate ganache and espresso martini-soaked chocolate sponge, on a crisp wafer biscuit base. 
Vegan Winter Pudding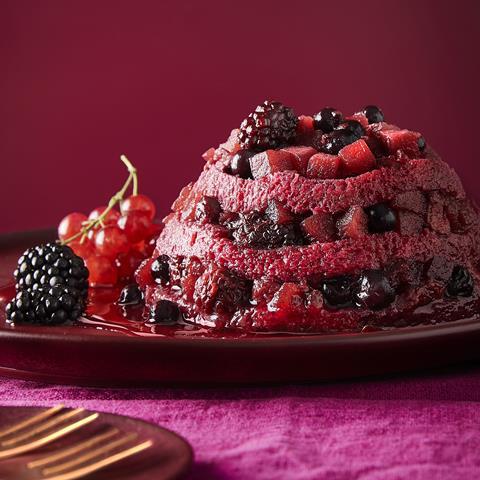 £5
Apples, blackberries, raspberries and blackcurrants layered with bread, and soaked in a lightly spiced fruit sauce.
Gianduia Torta Da Festa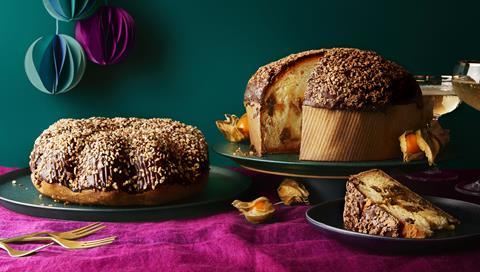 £8.50
The retailer has taken plenty of inspiration from Italy with its Gianduia Torta Da Festa (seen left). Popular in the Piedmont region of Italy in the lead-up to Christmas, torta da festa simply translates to 'party cake'. A cross between a panettone and pandoro, this cake is baked in a low mould and has a hazelnut and chocolate filling, topped with bittersweet dark chocolate and sprinkled with nibbed hazelnuts.
Tiramisu Panettone
£10
Italian panettone with Italian dessert wine (seen right), coffee syrup and a sweet mascarpone filling, topped with dark chocolate and coffee biscuit pieces.
Heston from Waitrose The Giant Cracking Penny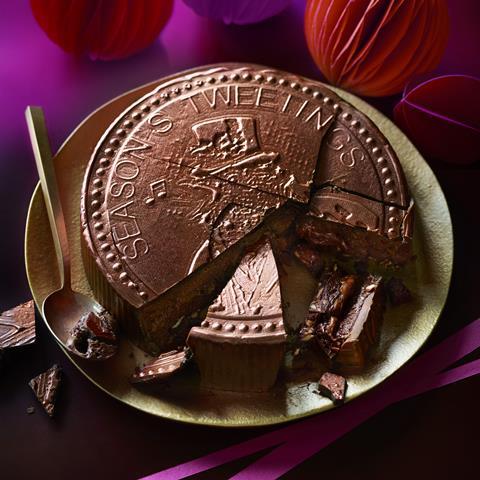 £20
Another Heston creation, this time inspired by a childhood treat of chocolate coins glinting from the branches of the Christmas tree. These are made with a shimmering bronze Belgian chocolate shell surrounding rich chocolate mousse with hazelnut ganache, on a chocolate and hazelnut base.
Raspberry and Vanilla Panna Cotta Star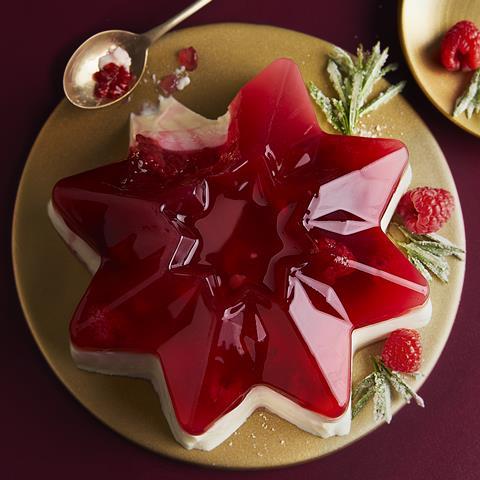 £TBC
A creamy vanilla-flavoured panna cotta star topped with jewel-coloured raspberry jelly.
No.1 Black Forest Bûche de Noël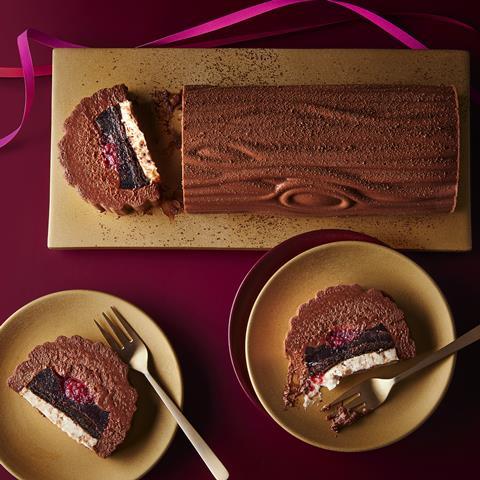 £TBC
Made with rich Belgian chocolate and layers of Morello cherry compote, kirsch jelly and crisp, Belgian white chocolate ganache.
Sandwiches
Smoked Salmon, Egg and Truffle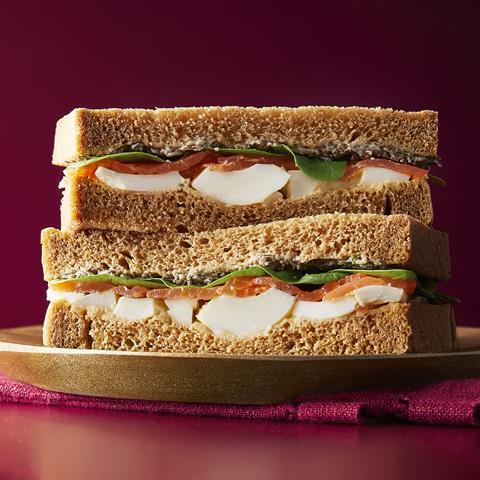 £3.80
Scottish smoked salmon, free-range egg mayo and mushroom and truffle sauce in light rye bread.
Vegan No Lobster Marie Rose Roll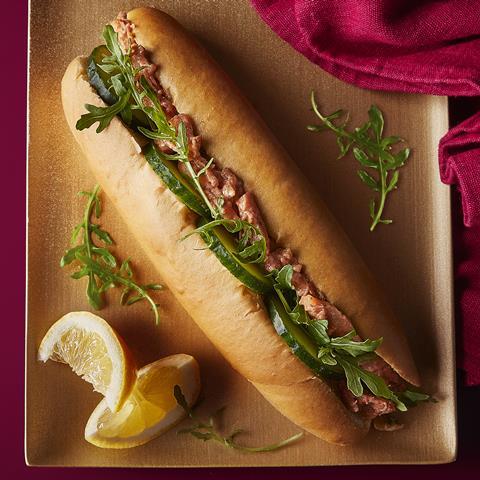 £3
A vegan brioche-style roll with roasted king oyster mushroom, vegan Marie Rose sauce, semi-dried tomato and lovage.