March 2020 marked the last in-person RC Show, Canada's premier foodservice trade show, before COVID-19 became a behemoth. A reimagined virtual edition of the show debuted for 2021. Historically the event serves up a smorgasbord of innovative food products, but this year was an exception. However, I did manage to ferret out three product lines that stood out from a pantry full of "seen it before".
Shake On the Umami
Kick up the umami and add depth to sauces, sides, entrees and soups. Joe Salvo is the Master of Mushrooms at Ponderosa Mushrooms, specialists in the wild and exotic. Their unique dried gourmet mushroom powders amplify the flavour of myriad culinary creations. The powders, prepared in-house with fresh mushrooms that are dried and ground, are 100% dried mushrooms, with nothing else added. The range of twelve varieties includes Shiitake, Porcini, Portabella, Oyster, Morel, Lobster and Chanterelle.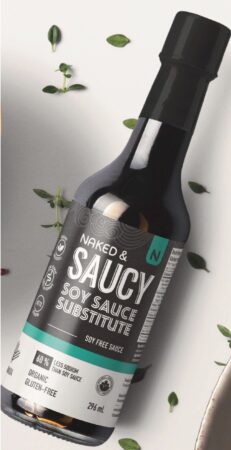 Naked & Saucy
Soy sauce often contains gluten but not Naked & Saucy, soy-free soy sauce substitutes (that's a mouthful!). So how do they make it? With fermented coconut sap. It's the base ingredient in the range of seven Asian sauces that are soy-free, gluten-free and organic. Five skus are sodium reduced, with up to 80% less sodium than soy sauce. Flavours include sesame ginger teriyaki, chili garlic, sweet Thai chili, peanut, and vegan oyster sauces.
H.I.P. Dough
MiMi Foods, the dough experts, elevate pizza to the next level. They've created a high-in-protein (H.I.P.) pizza dough made with "00" Canadian flour, which delivers "amazing taste and texture". Available in stone-baked par-baked crusts and versatile dough balls to turn out baguettes, bagel knots and donuts, among other tempting concoctions.
As CPG food consultants, Birgit Blain and her team get brands ready for retail. Her experience includes 17 years with Loblaw Brands and President's Choice®. Contact her at Birgit@BBandAssoc.com or learn more at www.BBandAssoc.com